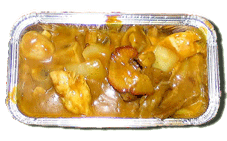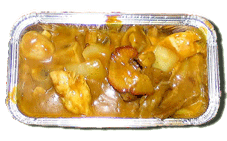 You'll need:
2 lb (900g) lean meat/mince or diced, washed vegetables (eg. capsicum peppers, broccoli, mushrooms, runner beans)

1 heaped tspn red chilli powder

2 heaped tspns ground coriander powder (Dhaniya)

2 heaped tspns cumin powder (Jeera)

1 heaped tspn turmeric powder (Haldi)

1 level tspn black pepper

1 level tspn fennel seeds

1 level tspn fenugreek seeds

1 level tspn salt

1 medium cup extra virgin olive oil (you can use sunflower or vegetable but these contain less monounsaturated fats which are better for you)

1 tin chopped tomatoes

5 medium onions

4 cloves garlic

1 ginger root

2 tspn garam masala powder

Handful fresh coriander, chopped

Fresh, chopped green chillies (1 for mild, 3 for medium, 5 for hot)
Heat the olive oil in a large metal pan on a moderate heat. Finely chop the onions and add to the hot oil with the salt.
Stir occasionally until the onion becomes translucent. Meanwile, peel and finely chop the ginger and garlic, and add along with the tomatoes once the onions are ready. Bring to the boil and cook for 15 minutes.

Now prepare and add your meat/vegetables. If using mince, lightly fry first and drain the fat before adding to the curry base you've just made. If using chicken or vegetables, add to the base 30 minutes after adding the powders/seeds as these require a shorter cooking time and allow the seeds to cook.

If you're using meat/mince, stir for 5 minutes. Then add 3 medium cups of water and bring to the boil, before turning the heat down to a simmering level. Stir in the powders and seeds (not the garam masala, chillies or coriander), cover and continue to simmer for up to an hour (chicken/vegetables will need no more than 30 minutes) until the meat pieces/vegetables become tender – keep checking for this.

Finally add the garam masala, most of the chopped coriander and the chillies (to taste) and cook for 10 more minutes. Garnish with chopped coriander and serve with warmed wholemeal pittas, boiled basmati rice or chapattis.

You can make your own chapattis by mixing chapatti flour with water, until a workable dough is achieved. Divide into small balls, then roll flat into discs and place on a hotplate/dry frying pan for 20 seconds either side, and finish off on an open flame for a few seconds until the discs begin to char. Wrap in a towel to retain moisture while you cook the others, until you have enough.