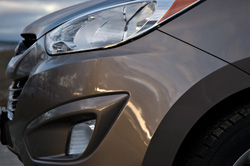 You can publish this article on your website as long as you provide a link back to this page.
This article was last updated on April 16, 2022

2.4L I4 DOHC & Dual CVVT, 6 spd auto, AWD, ABS, EBD, BA, ESC, TCS, Leather, GPS w/ VC, pano roof, fog lights, 18-inch alloys for $34,249.
The most surprising part? That's a brand new vehicle, with all the above listed features and more, including a 5-year comprehensive warranty. So how does Hyundai's small SUV –or Crossover as they are now called– really stack up? Let's a take a close look.

Styling and Toys
Conservative, the Tucson is not. With a love it or hate it design, the exterior of the Tucson is definitely distinctive. Not such a bad thing when most vehicles today tend to resemble one another. I had an admirer of my test car tell me that the front facia resembled "an upturned frog's face; this probably wasn't what the designers had in mind when they penned the Tucson, but I think I can kind of see it too.

Every bodyline on the Tucson appears to be stretching and bulging, seems Hyundai really wanted to evoke thoughts of athleticism through the appearance of the vehicle. Don't confuse it with actual athleticism; but we'll get to that a little later on. The roofline tapers down as it reaches the back of the Tucson, creating an overall profile that is distinctly different from some of the other crossovers with box like rear ends. Aiding in this look of a tapering rear end are windows that gradually get narrower as it reaches the back. All this combines to make the Tucson look aerodynamic, further enhancing the idea of athleticism and speed.
My test vehicle was also equipped with 18-inch alloy wheels, mirror integrated turn signals, and fog lights. Take a look at the pictures and decide for yourself, but I'd say the combination makes for one pretty good looking vehicle.
But exterior styling isn't everything, after all when you buy a new vehicle you're doing so to drive it. That means the looks on the inside are just as important as those on the outside.
Sitting in the cabin of the Tucson –especially when it's the Limited edition with Navigation as my tester– is a pleasant experience; and there's a plethora of features to keep driver and passengers happy. Everything from Navigation to a dual climate control is covered here. I did especially appreciate the well rendered and smoothly functioning Navigation system, it's not always that in-car systems are done well, but Hyundai's got a good one keeping you on route in the Tucson. Easy to reach, and well labelled controls make it easy to just get in and feel comfortable changing a station or entering in a route without breaking open the manual.
I also enjoyed the 8-way power adjustable driver seat, and although I would've liked a little more pronounced lumbar support, the fact that it existed at all was pretty satisfactory. The leather seating surfaces were not Lexus-like, but then this vehicle only costs $34k.
It's always a matter of getting what you paid for, and in the Tucson's case, the quantity of features are definitely there.

Driving Experience
The Tucson handles decently for a crossover, but fails miserably when trying to deliver a good serving of power. It's like no matter how hard I try to enjoy making a meal out of steamed vegetables; it never turns out as good as when I have a grilled chicken on the side. I know the vegetables are good and all, but without the chicken I just can't enjoy it.
Discussing my dinner aside, the ride itself was relatively quiet; wind, road, and engine noise not being too intrusive in the cabin. Even when subjected to some rough roads there wasn't a rattle or creak to be heard, and not a squeak to be found.
The suspension was fairly compliant, but there were some ruts and bumps on the road that found their way directly in to my spine. A slightly harder suspension does usually mean a better handling vehicle, and that is not an exception here. The Tucson corners smoothly, and keeps body roll to a minimum. That mildly hard suspension means you'll feel confident trying to squeeze every drop of that 176 horsepower out of this crossover.
With all that confidence and -err- power sooner or later you're going to have to stop. Stepping hard on the brakes will bring the Tucson to a stop in a hurry. After all, you've got 11-inch discs up front and 10.3s on the back. Coupled with ABS, BA (Brake Assist) and more-importantly EBD (Electronic Brake Force Distribution) the Tucson will come to a stop in the most un-dramatic fashion no matter how hard you slam on the brakes on a variety of road surfaces. Performance brakes though, these are not; but keeping you safe is something they'll do with ease.

The Value Sell
Hyundai calls itself the value brand for this reason: they give you more for your money than any other car manufacturer today. This brand motto does seem to hold true with the 2011 Tucson.
With so much being offered in way of features, functionality, and style, the question of quality and reliability inevitably rise. You begin to question what was cut back in order to give you heated leather seats and a panoramic sun roof in this car for $34k. But maybe we're asking the wrong question. Maybe the question should be why the other manufacturers aren't giving us similar kit for this kind of money. There haven't been any real quality or reliability complaints from new Tucson owners; and until we do, Hyundai's asking for open minds and some faith. I don't see why not.

Final Thoughts
You buy a crossover –compact sport utility vehicle– for three reasons: you want something small-ish to save on operating costs (i.e. fuel), you want some driving fun and style, plus you want the utility of space and four-wheel drive. The Tucson delivers on all fronts. It does so better in some areas more than others, but serves its purpose well as a compact sport utility vehicle.
You don't however buy the Tucson if you want power and performance.
Overall the Tucson does a lot of things well, but had I to live with one, I'd let someone else drive it and listen to music in the back while enjoying the view out the large panoramic sunroof.
Somewhere between the myriad of features, functionality, utility, style and value for money, the Tucson is a comfortable place to be.

To follow me on twitter click
HERE
Contact Kanishka Sonnadara at kanishka@oyetimes.com

Article viewed at: Oye! Times at www.oyetimes.com