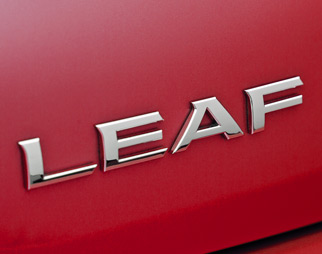 This article was last updated on April 16, 2022
Canada:

Oye! Times readers Get FREE $30 to spend on Amazon, Walmart…
USA:

Oye! Times readers Get FREE $30 to spend on Amazon, Walmart…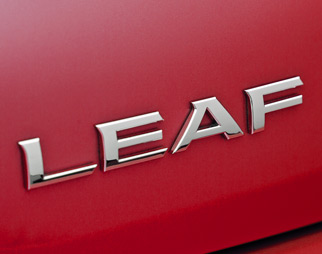 A look at the Nissan LEAF and its arrival in Canada

In theory an electric vehicle is a beautiful thing. In a world plagued with ever increasing carbon pollution, fast depleting natural resources and scrutiny to save a liveable planet for the next generation, promises of no emissions, nominal fuelling requirements and end to end recyclability sounds as ideal as a waterbomber for a wildfire.

The first LEAF in Canada
Nissan has become the first major auto manufacturer to bring a massmarket electric vehicle to market with the 2011 model Nissan LEAF. I say "major" and "massmarket" because there have been others with electric cars before this. The most notable is Tesla Motors of California who launched their all-electric sports car back in 2008, at $120k per car and just one kind of car however, Tesla it isn't exactly a major auto manufacturer, yet. There was also a Canadian manufacturer, ZENN Motor Company that built a low-speed electric vehicle that never properly became legal for use in Canada but managed some sales in the US where it was road-legal. Unable to gain ground on regulatory issues and unable to reach a massmarket, the company ceased its car production in 2010.
Nissan however, is a full-line auto manufacturer with a well established global customer base, and years of sales success. In a carefully planned launch effort, Nissan is bringing the LEAF to Canada in two stages. First deliveries will go to fleet partners; a lot of them are governments, while the others are players in the utilities field. The goal here is to associate the electric car with the people who have the power to make it last by influencing regulation and infrastructure. In a perfect marriage of both, Nissan's first client is a government owned power generation company.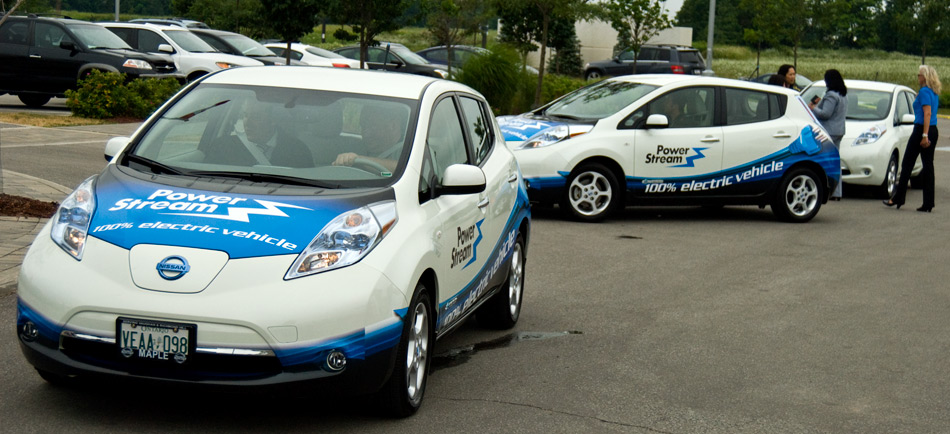 On July 28
th
, green power generation company Power Stream took delivery of the first two Nissan LEAFs to be sold in Canada. The keys were handed over at Power Stream's Vaughan head offices in grand fashion with a number of dignitaries including MPP (York-West) Monte Kwinter, Markham Mayor Frank Scarpitti and Nissan Canada President Allen Childs in attendance. As Power Stream becomes the first Canadian customer to take delivery of the LEAF, Nissan is preparing for deliveries to a number of other fleet partners all over the country.
The second wave of LEAF deliveries will go to retail customers and will take place in late October; customers will be able to place a reservation for their new LEAF through local Nissan dealers in late August.

The Car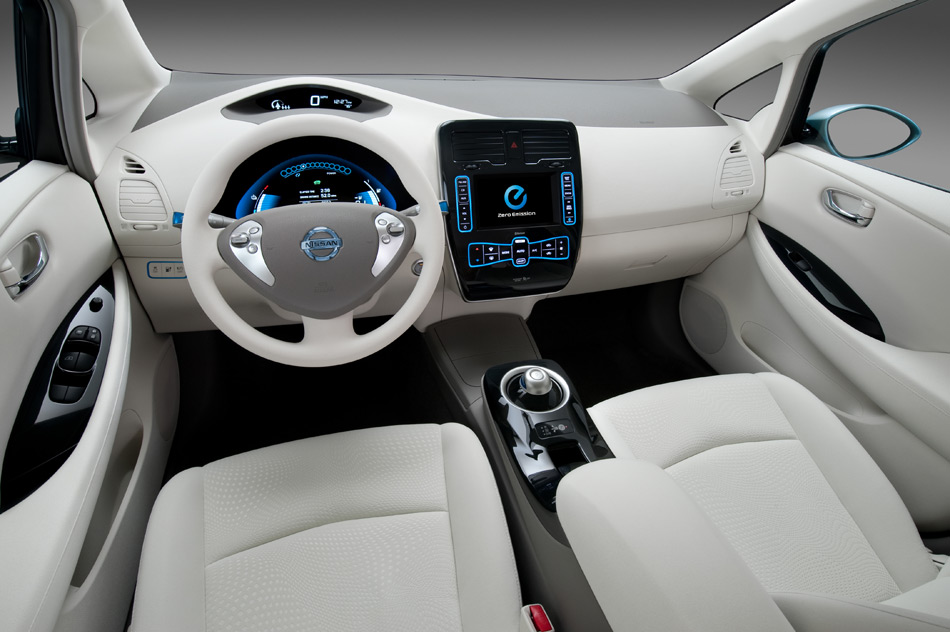 The LEAF retails for $38,395. Although this entry level LEAF called the SV seems quite expensive, it is surprisingly well equipped and well engineered. The whole vehicle is said to be fully recyclable in sustainable manner with the exception of the paint on the rear bumper and features like front and rear heated seats made of recycled plastic fibres, heated mirrors and steering wheel, navigation and telematics monitoring system, an ultra quiet interior are all standard on the LEAF SV. For those wanting a little more like a rear view camera and rear spoiler can upgrade to the SL model which sells for $39,995. Retail customers in Ontario and Quebec are in for a treat when it comes to the LEAF because it qualifies for a massive government rebate program in the two provinces. Ontario customers will be eligible for a $8,500 rebate while Quebec customers can receive up to $8,000 in government rebate.
Buying yourself a LEAF requires the installation of a charging station in your home. I use the term "requires" not so lightly because without a charging station, a full charge from near empty on your LEAF can take up to 18 hours. This is referred to as a Level 1 system; basically power from your wall outlet.

Fuelling up an EV
Nissan has partnered with EV charging products and services company Aerovironment for all North American Level 2 charging station requirements. This means that both fleet buyers and retail buyers of LEAF vehicles will work with Aerovironment to install their Level 2 charging stations. A Level 2 charging station requires that your home is wired for 240v with a 40amp circuit – usually standard if you have a dishwasher, washing machines, dryer, etc. – and can fully charge a near empty LEAF in 7 hours.
Professional installation of a Level 2 charging station by Aerovironment will cost anywhere between $2,200-$2,400. The biggest foreseeable downside to LEAF buyer's besides the price? Folks who live in condominiums, townhouses, and apartments will not be able to install a charging station, thus reducing the likeliness of them buying a LEAF (or any EV for that matter).
There is one other charging option that is not currently being used by anyone. A Level 3 charging system, can recharge an EV like the LEAF from near empty to 80% in less than 30 minutes. The sheer cost of a Level 3 system has kept it from reaching the market, and is something Nissan engineers have considered as future infrastructure and offers the charging port for it as an option for the current LEAF. Imagine being able to fully charge up your EV while is sits in the grocery store parking lot for half hour; with that kind of ability, EVs like the LEAF would become much more user friendly.
On the topic of charging the LEAF, Nissan has included a sophisticated, but easy to use usage monitor and charging station locator within the LEAFs telematics based navigation system. Telematics uses the cell phone network to transmit data from your LEAF use to a central database that you and other LEAF owners can access to gauge real time driving statistics, and will allow you to maximize your EV range by adapting your driving style should you so choose. The navigation system will also be preloaded with EV charging stations from all over North America so drivers can find their nearest charging station if an emergency charging requirement arises.

What the LEAF means to Nissan
"The LEAF is a green icon for Nissan. A brand statement. It is not a fluke, not a one model wonder" says Neetika Sathe, Senior Manager of Chief Marketing Management for the Nissan LEAF. She may be on to something, after all the LEAF was named the 2011 World Car of the Year by World Car Awards – an independent collective of automotive journalists from Asia, Europe, and North America.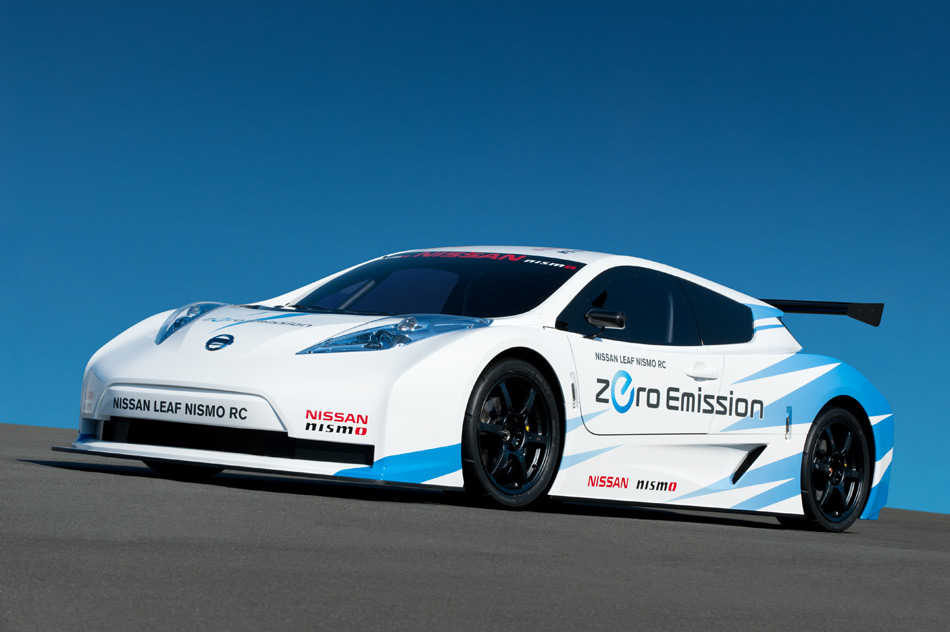 Nissan has long been a name synonymous with performance oriented vehicles, and it seems the company has stayed true to that brand value by creating a race version of the LEAF. The Nissan LEAF NISMO RC was developed by Nissan's in-house tuning division NISMO, with RC meaning race car if you were confused into thinking it meant remote control. The NISMO RC has been lightened by almost 40%, lowered, and has a full racing body kit. Otherwise the car is stock, including the zero emission all-electric powertrain and lithium battery pack.
The stock LEAF itself embodies a lot of Nissan's performance oriented vehicle philosophies including a low center of gravity, and properly tuned suspension. Combined with an electric motor's ability to deliver 100% torque right from the start, the LEAF has some performance credentials. Although racing isn't the LEAF's goal, it manages to stay true to Nissan's driving philosophies while introducing and solidifying a new one: being green.
In bringing the first electric vehicle to the Canadian market Nissan hasn't just become the first one out of the gate, they've also set a strong standard as to what a truly green vehicle ought to be. When it comes to nominal fuelling requirements, zero emissions, and end to end recyclability the Nissan LEAF seems to have checked off all the boxes.
Follow me on Twitter by clicking
here
You can publish this article on your website as long as you provide a link back to this page.