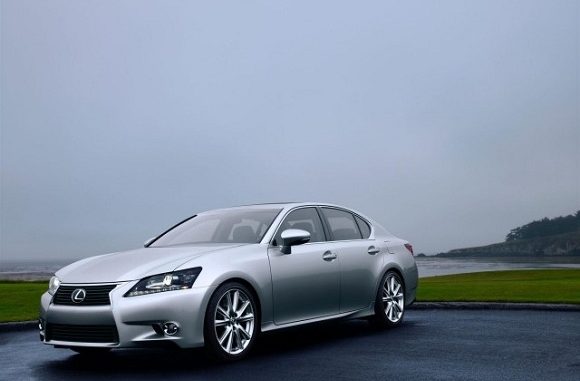 Earlier this month, the all new 2013 Lexus GS350 was introduced at Pebble Beach, California – a location and a vehicle equally memorable and impressive. The new GS 350 is more than just a good looking car. It is a reflection of Lexus' new design philosophy that will lead the new lineup of vehicles into an entirely different and better direction. Boasting loads of industry-first and class-leading technologies, the 2013 Lexus GS350 is a better performing automobile in every sense of the word. Powered by one of the most powerful engines in the segment – a 3.5 litre, 306HP V6 – the car can accelerate from 0-100km/h in 5.7 seconds taking you through all six gears of its sequential shift automatic transmission, in an instant.
Inspired by the Lexus LFA supercar, the body of the 2013 Lexus GS 350 is engineered for maximum aerodynamic efficiency, significantly improving fuel economy, and of course, communicating the car's dynamic character. Peaking through the window, safety, comfort and interior styling have also been taken care of. The smarter 2013 Lexus GS350 comes standard with first-in-class features, like the pre-collision system, that will amaze you and keep you and your family safe on the road. Comfort and practicality are also maximized with increased room for driver, passengers and baggage. Now, envision yourself driving the new GS350; a vehicle that is more than just a luxury car; a vehicle where everything comes together in a seamless mix of functionality and logic.
It's Monday morning and you already can't wait to get off work. You parked your new GS350 far from the rest of the cars, all the way in that dark corner of the underground parking lot, worrying that somebody careless will open there car door and ruin that new paint coat from Lexus, paint that has glass flakes in it just to add that extra shine. It will be a shame to damage the all new Riviera Red – one of the three new coats added to the line up.
You reminisce all through your lunch break on how you spent your weekend showing off your new car to your friends and family. They were impressed by how good that 835-watt, 17 speaker, Mark Levinson sound system played lively tunes from satellite radio. And of course, the massive, industry-first 12.3" multi-media display that you opted out for – bigger than some of your friends' laptop screens, as they claimed – got covered in greasy fingerprints in a matter of minutes. The driver's seat proved to be quite popular and had to be fought for by numerous candidates who wanted to occupy it all at once. Better visibility, increased comfort, accessible media controls, and a sophisticated climate control system left everybody in awe.
It's finally five o'clock and you are out of the office, walking towards your beloved GS350 that seemed to have survived another day at the parking lot, all alone. Circling the car you are still left amazed by how every vent, every curve and every feature on the body is there for a reason; everything just makes sense. It's muscular, wider stance, encourages you to drive the car, boosting your confidence in its performance. After getting in you run your hand across that lovely real wood trim, still thinking that you should have gotten the other one that was offered. As you get on the highway you switch up from the ECO mode to the Sport-plus mode and quickly go through the gears with your paddle-shifters, while enjoying the unique exhaust and engine sound; it seems like the satellite radio will have competition now. You look away to catch a glimpse of a landing plane for a few seconds and all of sudden you hear a warning from the pre-collision system. Luckily you react quick enough to slow down for another busy drive on the highway. The rest of drive home you remember the pleasant conversation with a Lexus representative who told you all about safety in your 2013 Lexus GS350: 10 air bags, seat belt pre-tensioners, whiplash injury lessening (WIL), blind spot monitor, heads up display, and that incredible system that can monitor the driver's eyes and engage the brakes at least 2 seconds before, in the case that a collision with an upcoming object is imminent. What a car!