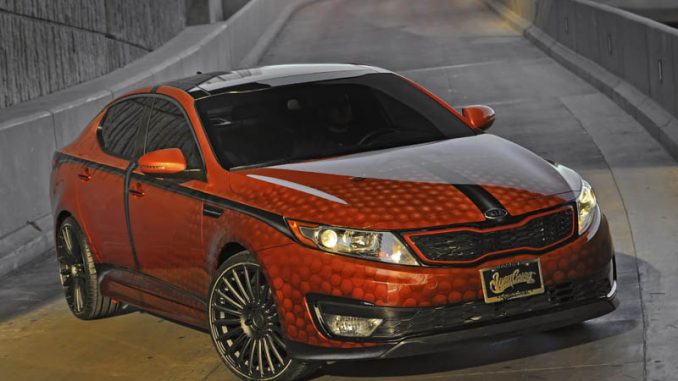 This article was last updated on April 16, 2022
Canada:

Oye! Times readers Get FREE $30 to spend on Amazon, Walmart…
USA:

Oye! Times readers Get FREE $30 to spend on Amazon, Walmart…
Earlier this year, Kia decided to flex some custom car muscle as they showcased some wild rides at SEMA 2011. Turns out that having really well designed new production cars wasn't enough for Kia, in an ante-upping effort Kia's created some real head turners for the annual Las Vegas industry show (read about SEMA 2011 here.)
At last year's SEMA show Kia had hip-hopping hamsters, but this year they were told to bounce as Kia brought out an all new sports theme for SEMA 2011.
"Slam Dunk" Blake Griffin Optima Hybrid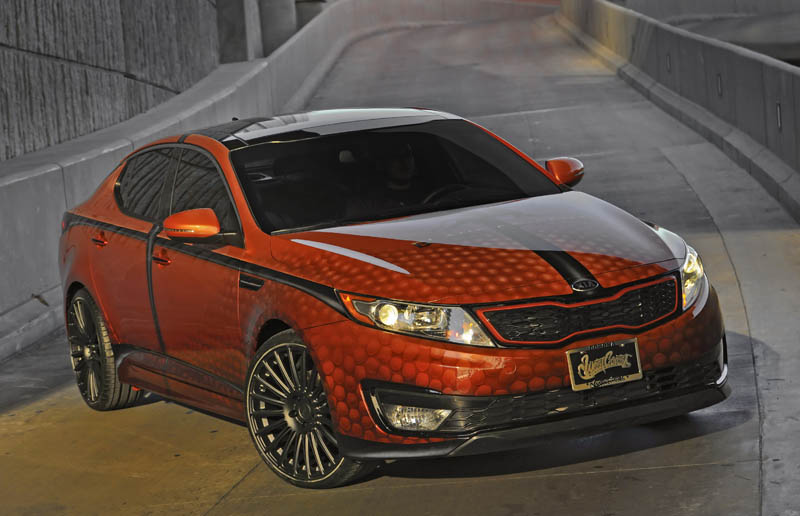 Earlier this year LA Clippers Power Forward Blake Griffin jumped over a Kia Optima for a dunk during the 2011 NBA Slam Dunk Contest. It was talked about in social media circles for days, and the news for weeks, Kia wasn't ready to let the attention die out so easily, and gave birth to this custom car.
The "Slam Dunk" Blake Griffin Optima Hybrid was created by the folks at West Coast Customs (yes, the ones from TV, turns out you can't have too many high profile people in one car.)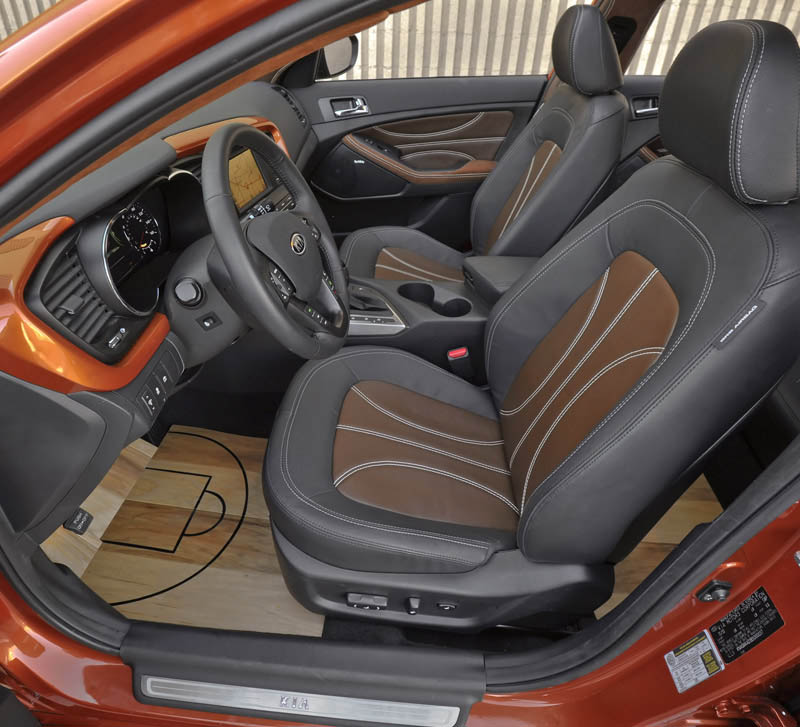 The car carries an obvious basketball motif, and WCC seems to have done a fairly respectable job with it. Starting off with the unmistakably basketball-like orange paint job, to the hardwood floors on the inside (proper gym shows only please), to a trunk outfitted with a mini hoop for hours of "Pop-A-Shot" excitement. To make the basketball themed Optima Hybrid a Blake Griffin endorsement WCC has adorned it with Griffin's "personal logo" on the hood, and embroidered his autograph throughout the interior.
"Hole-In-One" Michelle Wie Soul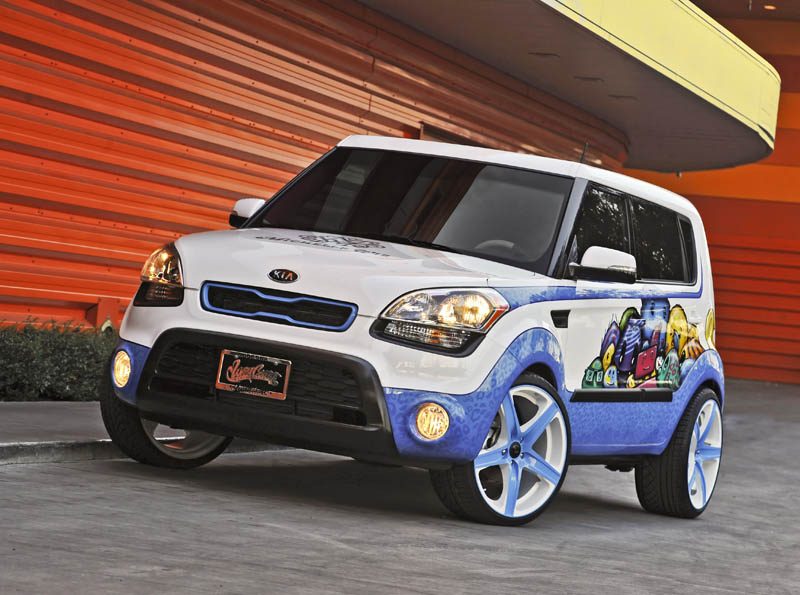 Kia's been courting the princess of golf Michelle Wie for some time now. Besides doing a jaw-dropping, laughter-inducing commercial for the Soul, Kia hits up Wie once again for a custom car.
The "Hole-In-One" Michelle Wie Soul was built by West Coast Customs with her original artwork adoning the exterior of the car. On the inside, the floor of the Soul is covered in artificial turf as you'd expect from a properly golf themed car with a virtual driving range installed in the back.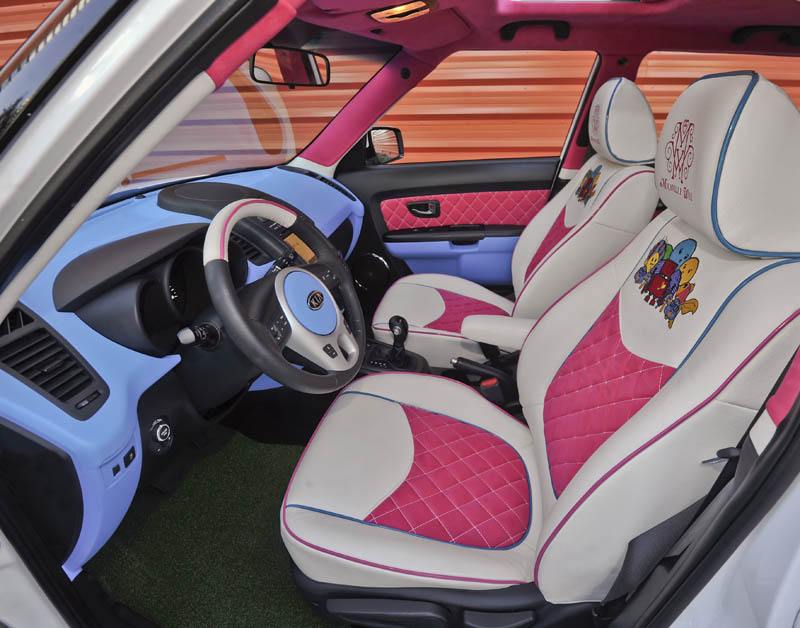 The interior also features Wie's "personal logo" and more of her own artwork integrated into "Snow White" leather headrests, baby blue dash, and pink headliner. If pre-teen girls can drive, they'd all have this car.
According to Kia, Michelle Wie also drives a customized Soul around town in northern Cali while attending school at Stanford University. Millions of dollars, 22 years old, and the princess of golf drives a "suped-up" Kia; what!
"Retro Surf" Rio 5-Door and "Hat Trick" Forte 5-Door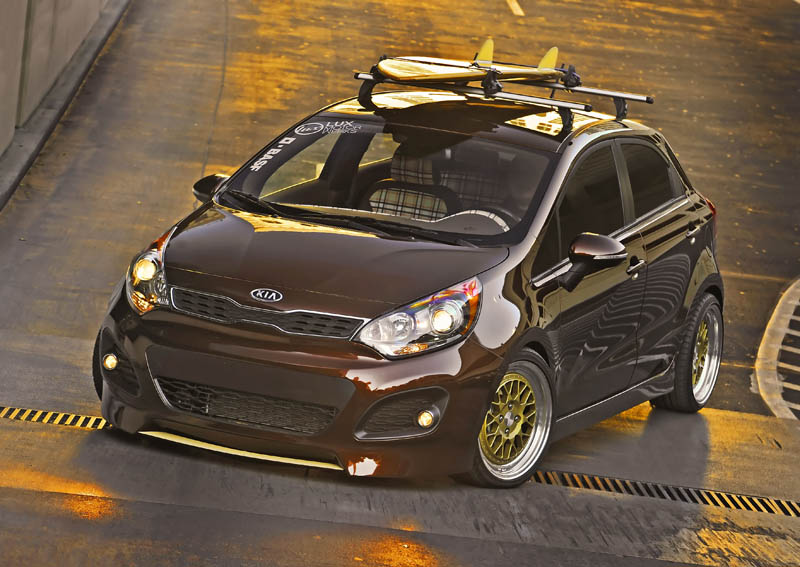 Surfing and Hockey are the sport influences for these. Kia collaborated with lifestyle magazine Antenna for the two cars, and brings their edgy urban vibe alive in these customizations.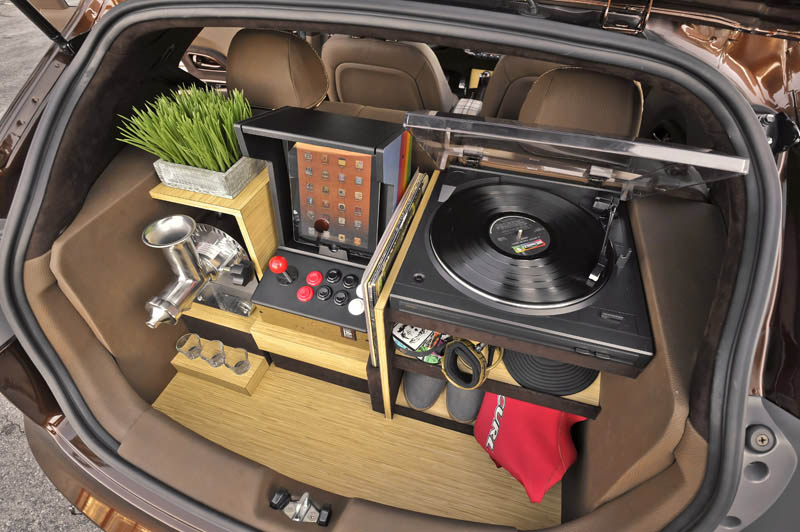 The "Retro Surf" Rio 5-door features the newly designed for 2012 Rio5 with a plethora of exterior upgrades including custom front and rear bumpers, lowering springs, 17-inch gold coloured wheels, and even a wood front splitter. On the inside the Rio5's got a roof mounted towel rack, a rear centre console which has been transformed to hold lotion, sunblock, and other beach necessities, a hatch equipped with a juicing station and retro turntable, amongst a host other very cliché 'surfer lifestyle' accessories. Seems the only thing missing on this "Retro Surf" Rio5 is sand on the floor inside.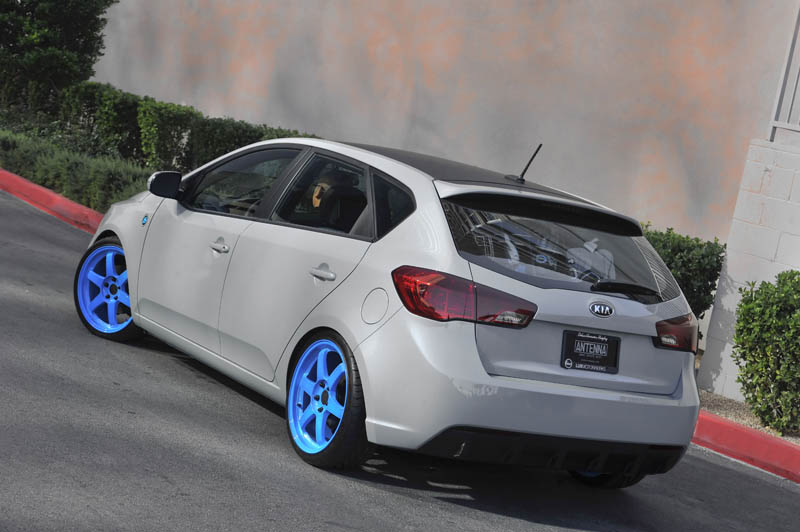 The Hockey inspired "Hat Trick" Forte 5-door takes an already good looking Forte5 and transforms it in to a Hockey lover's dream-mobile. Although the exterior changes are subtle – ice-metallic grey paint, 18-inch blue wheels, carbon fibre accents, hockey stick shaped fog lights – it sets the tone for a car that means business. The interior of the car features a custom hockey stick holder, locker-style rear hatch compartments, and a hatch mounted mini air hockey table. This Forte5's floors are covered in a rubberized flooring material that simulates the surface around an ice rink and a headliner that features a hockey coach's play board.
Despite my jokes about the "Retro Surf" Rio5, it is quite possibly the best looking of Kia's six SEMA 2011 cars.
Rio 5-Door B-Spec Racer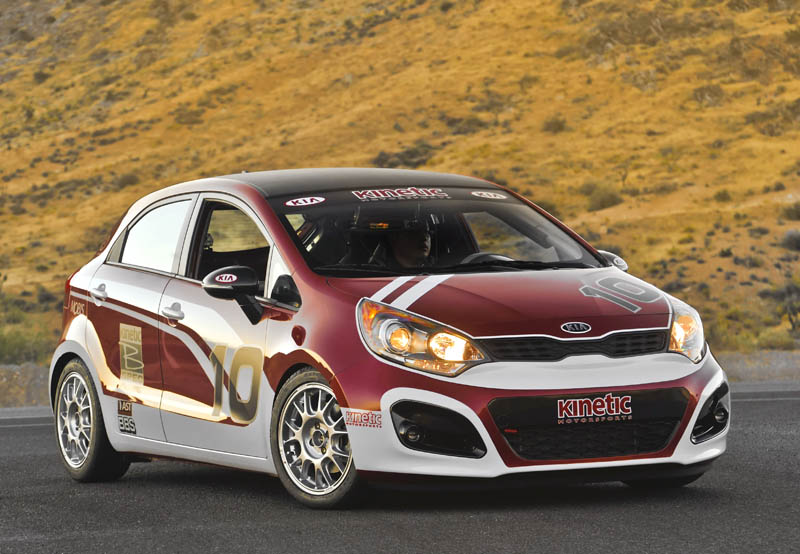 Furthering Kia's North American racing efforts, the B-Spec Rio5 showcases the car's track-worthiness. B-Spec racing is considered a relatively affordable way for the racing enthusiast to take a new stock car racing. Once a potential racer has a Rio5, they can purchase a complete B-Spec kit from Kia's racing partner Kinetic Motorsports and put a car together themselves.
The kit contains a roll cage kit, racing seat, quick-release steering wheel, racing harness, shocks, lightweight wheels, spec-series tires and oil sump pan expansion kit along with instructions on how to put it all together. Kinetic Motorsports sells the B-Spec Rio5 kit for about $14,000.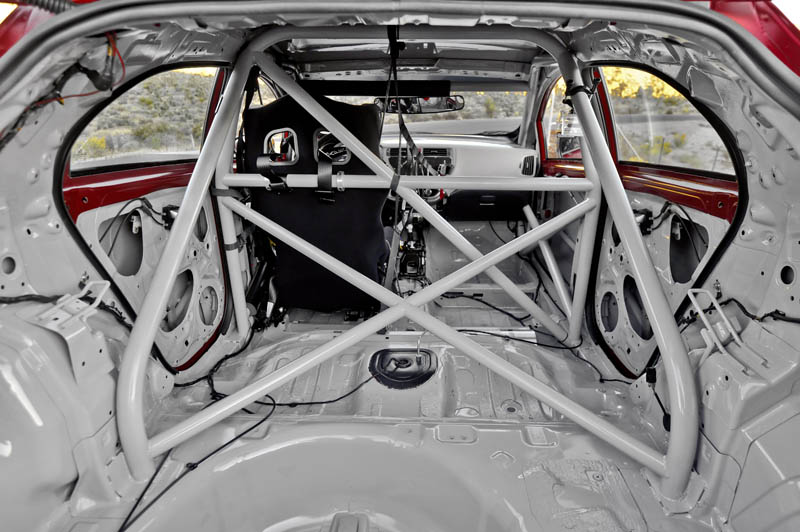 On display at SEMA is this package with some paint and interior trim changes.
USTCC Optima Hybrid Pace Car
The United States Touring Car Championship (USTCC) has been in partnership with Kia for a number of years after Kia provided the current pace car for the series; a Soul. For the 2012 season, USTCC fans will be greeted by an Optima Hybrid as the new pace car.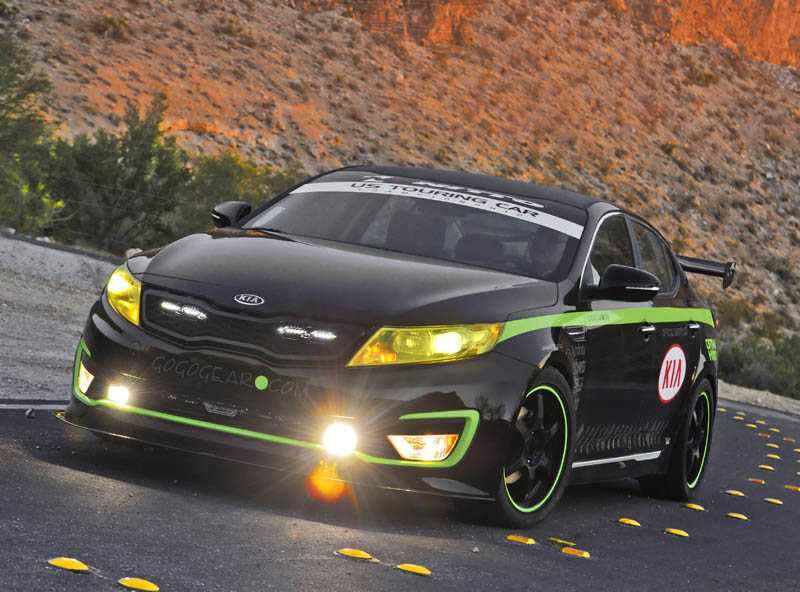 For this build, Kia partnered with GoGoGear.com and the Optima Hybrid received both performance and visual upgrades. Performance upgrades were made to the air intake, exhaust, suspension, wheels, and tires. The exterior and interior of the car received colour, accent, and tech upgrades.
With Kia's push from design to sports, who knows, maybe we'll see Kia title sponsoring major sporting events in the near future. The Kia Stanley Cup anyone?
Kanishka Sonnadara is a member of AUTOMOTIVE.alliedfusion.com and can be found on Twitter @autoKsS.
You can publish this article on your website as long as you provide a link back to this page.