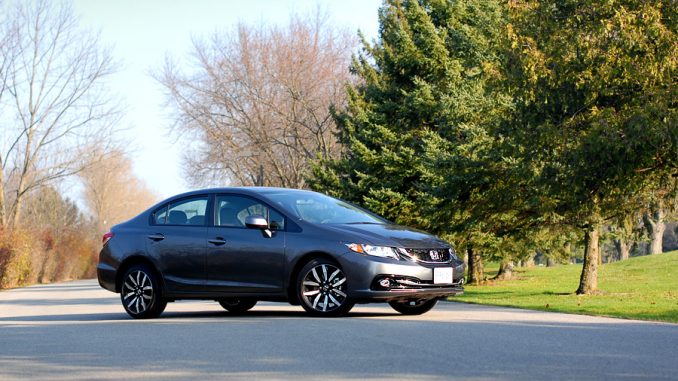 This article was last updated on April 16, 2022
Canada:

Oye! Times readers Get FREE $30 to spend on Amazon, Walmart…
USA:

Oye! Times readers Get FREE $30 to spend on Amazon, Walmart…
We waited, some people prayed, and finally for 2013 Honda's giving us the Civic we should've had last year. Turns out good things do come to those who wait, and with the new Civic things are looking mighty sweet for the latest iteration of Honda's sub-compact best seller.

Much Concern about Nothing
When Honda unveiled a fully redesigned 2012 Civic sometime late in 2011, every Civic enthusiast –along with all kinds of random onlookers– universally groaned simultaneously. There were threats of riots in the streets, the economy took a turn for the worse and… okay, so I'm clearly exaggerating now.
Point is, no one was too happy about the 2012 Civic and yet it still managed to be a segment best seller. Canadian sales figures for the Civic show that the 2012 car is an arm and leg ahead of its competition and has already outdone its 2011 model year sales. So much for a car no one liked eh?
Something Smells Fancy
Not content to rest on the laurels of their ongoing success, Honda listened and responded to the public –and silly loudmouth journalists– with great haste by reworking the 2013 Civic to be one of the finest mid-cycle updates we've seen lately. Normally a full redesign only gets major work at the next redesign 3-4 years later, but this time we've got a properly pleasing-to-look-at Civic in under a year and a half.
Looks aren't the only thing Honda's changed up for the 2013 Civic however. The new car handles better, is safer, has a quieter cabin, niftier tech, and offers up more standard features.

Lookin' Sweet
The biggest complaint we had and everyone else seemed to echo about the outgoing 2012 model year Civic was how mundane the design was. Well say no more.
Honda was clearly listening and their response includes a resounding chorus of dark accents to every part of the new Civic's exterior styling. I even heard this new styling being described as giving the car a black eyeliner treatment –clearly there are some style forward men guised as boring journalists; who knew.
From the dual chrome bars on the split level grille to the really well placed creases in the hood's sheet metal the front face of new Civic looks almost Accord-like. It makes the Civic look refined, more expensive, and who doesn't like paying for one thing and having it look like it cost more.
The story's the same out back. Honda's styling choices here reflect a car that looks more detail oriented; there isn't one thing that you can point to that's better, because everything is. Although I'll admit to thinking that the placement of the chrome strip on the trunk lid is reminiscent of the current generation Corolla.
Get inside the car and the work Honda's accounting boffins put in here is evident. Where the outgoing car was drab, boring, and full of tacky plastics, the new car looks appropriately in line with the rest of the market. All traces of the hard, craft paper textured plastics from 2012 have been thrown out; instead we've got glossy surfaces, brushed aluminum trim bits and leather-like soft touch surfaces that once again make the 2013 car feel a little more premium than its predecessor.

Mechanics, Engineering and Hard Tech
Handling characteristics and ride comfort in the 2013 Civic get noticeably improved thanks to a front suspension that has 24% more bump stiffness, 37% better roll stiffness, a 7% quicker steering ratio and 25% less component friction. The rear suspension sees improvements of 3% bump stiffness, 25% roll stiffness and a 16% drop in friction. Enabling these improvements are bushing inter-rings, bushing Teflon liners and…
What? Didn't you read the sub-heading; this is the section of this article where we start talking numbers and cool engineering babble that I can't make heads or tails of. Why's this even in here you ask? Well, me sa tell you. Honda Canada's Manager of Product Planning, Hayato Mori was excited about this stuff, tells me that the people behind the brand care, should tell you that the seems-simple-Civic has lots more to it than meets the eye.
Does it matter you ask? In a word, yes. The new Civic handles and drives so much better than the outgoing car and even outshines some of the competition by leaps and bounds. Knowing at least a little of what it took to give the new car life, helps us understand what makes it so much better.
Without going in to another soliloquy filled with engineer speak; I'll quickly tell you that the 2013 Honda Civic is slated to not only be the safest Civic ever made, but also one of the highest rated sub-compacts. This would not only include an IIHS Top Safety Pick designation but possibly an industry first 'Plus' rating for small overlap crashes.
Like the hard tech stuff? If you ask nicely I'll consider doing a piece discussing just that.
Quietly Now
To make the cabin a nicer place to spend time in, the front windshield receives acoustic lamination, while the front door glass get's thickened up as well. The car's dash, door panels, floor and rear tray all receive improved sound deadening material which go a long way in insulating the cabin from road noise.
Coupled with other minor tweaks to reduce overall cabin noise, Honda tells us that the 2013 Civic has now pushed in to the mid-size sedan segment for levels of quietness at near highway speeds.
Kind of Tech we Love
Better known as tech toys, the user-can-play-with-it cabin tech in the new Civic isn't ground breaking stuff, but there definitely are some great highlights.
Want your car to read you your text messages in a pseudo female electronic voice? The 2013 Civic does that. We first saw this kind of functionality show up in cars a couple of years ago, but it's been an ongoing process of refinement, and although I didn't personally experiment with Honda's version of this option on the new Civic, I trust it works as well if not better than what's on the market elsewhere today.
Higher trim new Civic models equipped with a rear-view camera get a neat three for one deal. By allowing drivers to alternate between a normal view, a wide angle view, and a top down view, the rear-view camera offers a bit more than your standard backup camera setup. End result mage quality is nothing to scoff at either with the navigation system turned camera screen showing off some respectable picture quality.
Everyone Likes Standard Features
According to Honda, the most requested feature for the Civic by Canadian Civic buyers has been heated seats. So guess what? For 2013, the Civic gets standard heated seats across all the trim levels except for on the base DX model. This is almost applaudable, but, my little brother bought a sub-compact in 2009 that had heated seats as standard kit… big fish often move slowly.
EX, Touring, and Si models get standard automatic A/C, while the afore mentioned text message read out gets added to all the above and LX model Civic's as well.
Fog lights are now standard on the two top trim cars (Touring and Si) along with 17-inch alloy wheels and that lovely 3-for-1 camera navi system combo. Again, I'd prefer to see things like lights and wheels more readily available on lower spec trim levels.
Sunsets and Dawn
At first pass the 2013 Civic beckons you for a second glance. The trimmed in black with subtle chromy goodness gives the new car some much needed pizzazz.
During my brief drive of the new car, I was sure there'd be no way for me to fully appreciate it beyond looks without a direct comparison to the predecessor. The ever clever folks at Honda had anticipated just that and kept a last year Civic on hand during our press launch for just that reason.
Driving the two Civics back-to-back the difference is truly palpable. Honda's sailing their long time people's choice segment topper in to sweet friendly territory and the water's getting warmer as the sun rises on the 2013 Honda Civic.

Photographs by Kanishka Sonnadara of AUTOMOTIVE.alliedfusion.com and can be found on Twitter @autoKsS.
You can publish this article on your website as long as you provide a link back to this page.