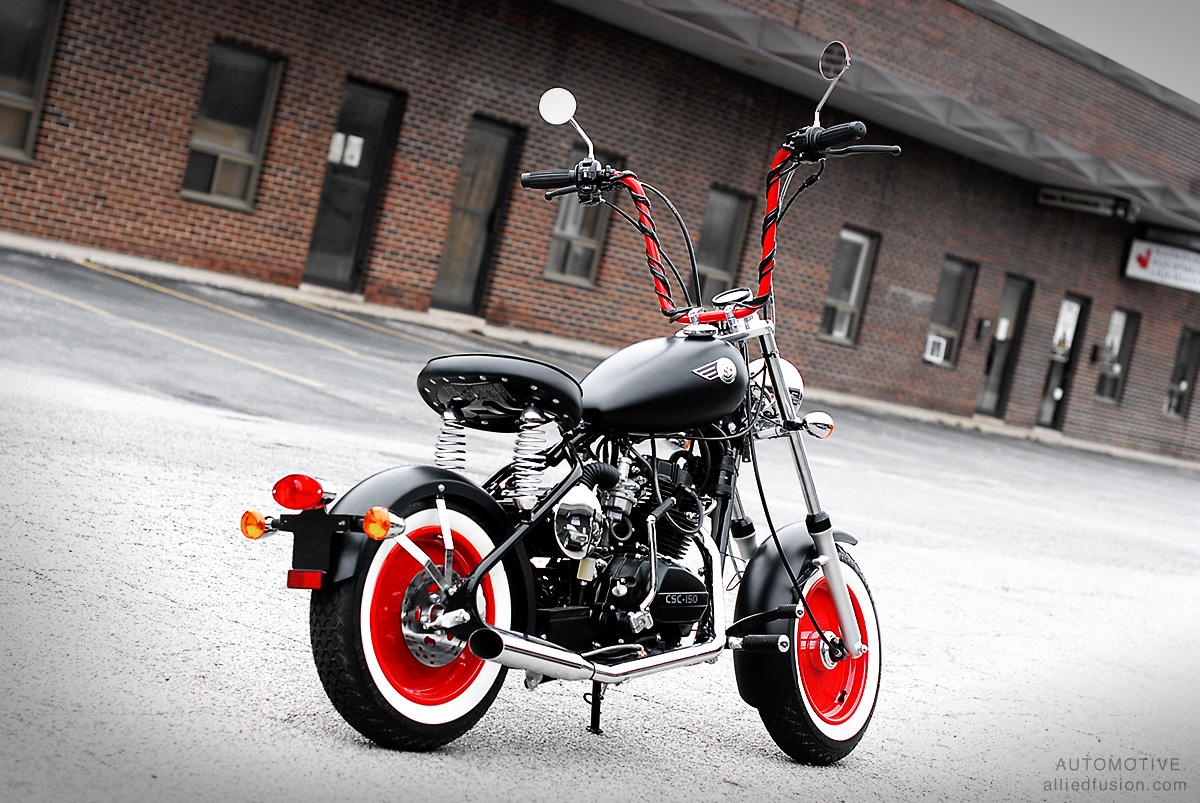 This article was last updated on April 16, 2022
Canada:

Oye! Times readers Get FREE $30 to spend on Amazon, Walmart…
USA:

Oye! Times readers Get FREE $30 to spend on Amazon, Walmart…Inspired by a vintage American scooter, the California Scooter Company established itself with the goal of resurrecting a motorcycling icon with proper modern day hipster credential.
Don't let the use of the term 'scooter' confuse you, these are manually shifting motorcycles that are both small in size and displacement while carrying big American bike styling.
The Bikes
There are four 150cc models at the moment: the Greaser, the Classic, the Babydoll, and the Sargent.
All four bikes share a 4-stroke, 149cc single cylinder powerplant mated to a 5-speed transmission. They also feature 12-inch steel disc wheels, an accessible-to-all 27-inch seat height along with a mighty friendly 240lbs curb weight.
According to CSC, the bikes have phenomenal fuel economy with the 150cc models touting 90mpg (2.61L/100km.) With a 3 gallon (11.3L) fuel tank, that could translate to well over 400km on about $14 in fuel.
There's also a 250cc engine option that will be available for 2013 with all the same specs except for overall weight which will be about 10lbs more, and fuel economy.
The bikes also come with detailed service manuals and CSC encourages new riders to work on the bikes themselves. Seldom do we hear new product manufacturers encourage end users to service and fix things themselves, kudos to CSC for doing just that.
The Company
California Scooter Company, named so after its State of origin, was established to give new life to the iconic Mustang scooters. Originally produced for 20 years beginning in the late 1940's by the Gladden Corporation, the Mustang is a long time cult favourite with approximately 20,000 units being built during its lifespan.
CSC Motorcycles was created when founder of Pro-One Performance and long-time motorcycle gear head Steve Seidner decided to build Mustang inspired modern bikes as if the original company 'never went out of production and was still around today.' Seinder even brought on board the original Mustang's Production Manager from now defunct Gladden, Jimbo Cavanaugh, as Lead Designer for CSC Motorcycles.
Oh Canada
In Canada, CSC is being represented by business consultant/travelling Aussie turned motorcycle lover Clem Ryan. Clem found himself working at Motoretta in Toronto when he missed his flight to Vancouver two years ago.  "In January 2012, I made the decision that I would find a new motorcycle for Canada. My aim was to get everyone that couldn't ride to ride. I found CSC bikes one night on YouTube. I started researching them and flew out to California two days later."
The rest as they say is history as Clem now finds himself promoting CSC and signing new dealers all across Canada.
The Reactions
During the Toronto Motorcycle Show, CSC signed on a new dealer to the brand within two hours on Sunday evening when the owner of Motorcycle Enhancements rolled a demo unit right off the show floor and on to a trailer bound for the Oakville, Ontario shop. "A [female show goer] offered me $5000 to take one off the floor at the show" says Clem talking about the overwhelmingly positive reaction these retro themed bikes have had so far.
Turns out Canucks want more than just the existing bike options from CSC. Talking about just such an example, Clem tells me "Kevin and Megan from Toronto have requested a custom Canadian version of the 250cc Greaser. They want a two-tone, matte black and red colour scheme, plus red ape hanger bars and a maple leaf coming off the CSC logo on the tank." If two more requests for a Canadian themed CSC Motorcycle come through, the California company promises to build it.
All of the CSC Motorcycles' machines received approval from Transport Canada in July 2012 and are fully road legal anywhere in the country. With prices ranging from $4,000 – $5,000 we can only hope that we'll see a wave of new riders hitting city streets with these beautiful but simple retro themed modern bikes.
Photographs by Kanishka Sonnadara
Kanishka Sonnadara can be reached by email: kanishka[at]oyetimes.com or on Twitter @autoKsS
You can publish this article on your website as long as you provide a link back to this page.