You can publish this article on your website as long as you provide a link back to this page.
This article was last updated on April 16, 2022
New mom Kathryn Shubin takes a well equipped 2014 Honda Accord and puts it through its paces over the course of a week. This is her tale of the take.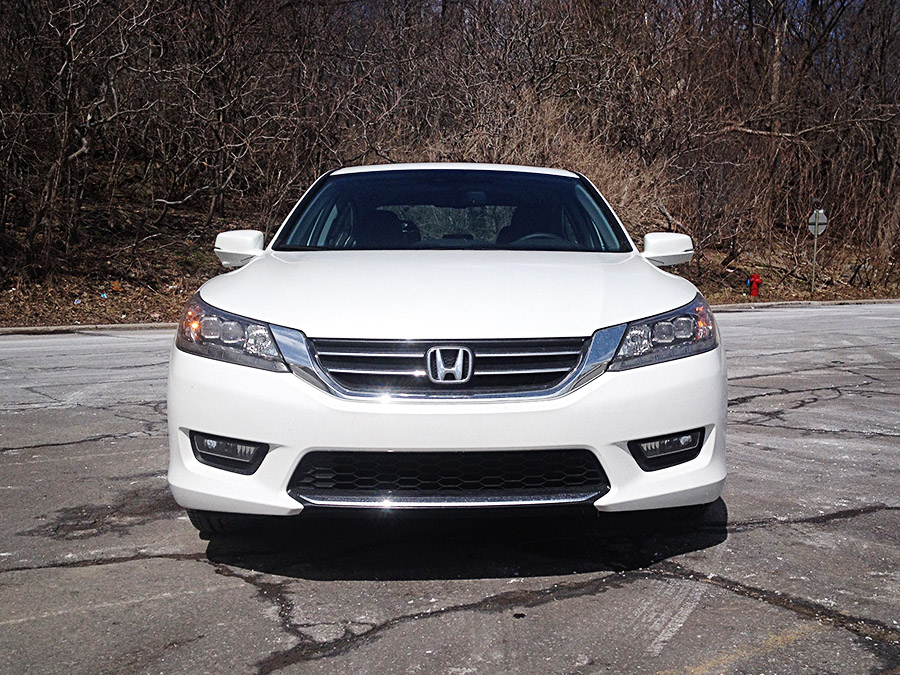 Amongst family circles, the brand Honda is recognized for safety and reliability. The Accord sedan is the perfect ambassador of that belief. It is a great option for the 2+2 family who wants more space than you get from a Civic; but isn't ready to make the jump to a mini-van like the Odyssey.
History
When Honda first developed the Accord, the name was chosen out of their desire for 'accord and harmony between people, society and the automobile'. Since inception the Accord has been a sales success for Honda. And as the company continues that dedication to creating a perfectly balanced vehicle, it is obvious why so many families choose an Accord to be a part of their lives.
After 38 years, the 2014 Honda Accord is in its second year as the ninth generation of the model. While it is fundamentally the same car that we've come to know and love over the years, generation nine and 2014 sees a number of changes to the new vehicle. Dimensionally, the car is a bit shorter in length and overall height while being slightly wider than the previous generation; however these new dimensions have not compromised passenger comfort. Rear legroom, and trunk space –or space to put child accessories, as I know it– have actually grown.
Present
Honda is proud to say that the 2014 Accord sedan "continues the vehicle's long-standing tradition of inventive features ". Some of the tech features available in the new car include a multimedia connectivity enabled audio system with eight-inch touch screen, Lane Watch, Lane Departure Warning and Forward Collision Warning systems. The car also features LED headlights and powertrain technology that Honda calls Earth Dreams which improves performance while decreasing fuel consumption.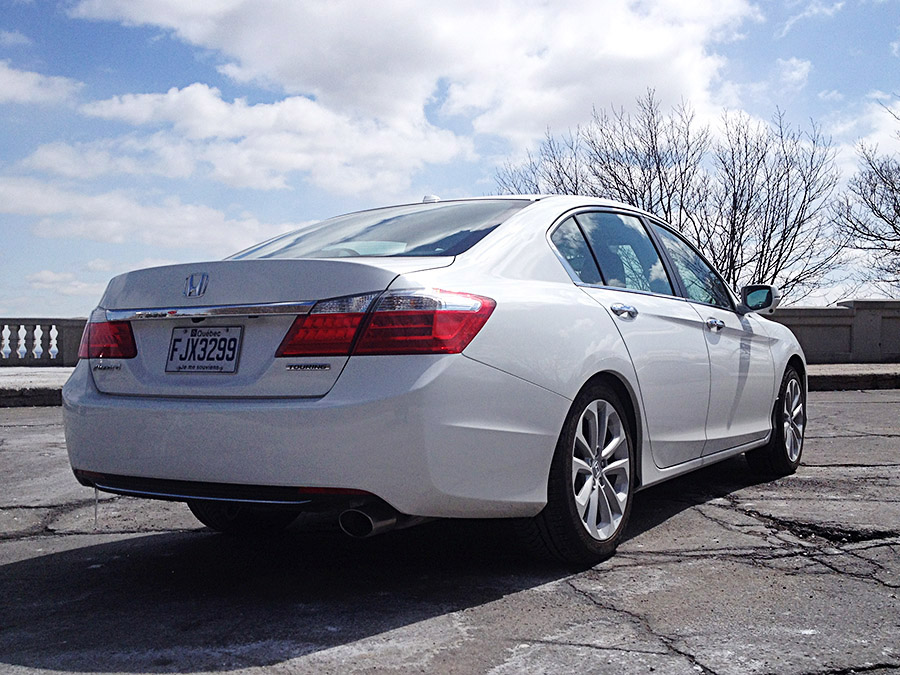 Driving it
My Honda Accord test vehicle was a 2.4L 4-cylinder, CVT equipped sedan in top-of-the-line Touring trim.
When I first saw it, this new car seemed shorter than the 2009 Accord that sits in my driveway. As a parent I was concerned that there wouldn't be enough space for car seats and adults; I was in for a pleasant surprise. Even with both front seats all the way back and at a reasonable recline, there was ample room for my Graco Snugride 30 and my Chicco Nextfit on either side.
The proximity key equipped Accord allowed me to keep the key fob in my mommy bag along with all the baby essentials, and even with child in one arm, unlocking the doors was as easy as touching the inside of the front door handle. Opening the trunk or locking the doors was just as simple, and there was still no need to take out keys and risk dropping it down a sewer while juggling kids and groceries.
Sitting at the wheel, the Accord's green ECON mode button stands out. If you want to save gas, money and the environment, keep it on all the time. A bit of performance is the trade off for using the ECON button. I definitely felt an increase in pep when I turned it off; however, unless I was driving up Montreal's hilly bits I chose economy over performance every time.
In Touring trim, the Accord with all the gadgets, sunroof and leather interior, doesn't feel like a typical "mom car". It had a sporty feel to it, despite having an automatic — CVT to be precise– transmission. It was a smooth driving experience and left me feeling energized after a day of running around around town; it's rare to find a vehicle that does that.
I was in love with those seat warmers which were an especially nice touch on the unexpected cold days of the week while the sun roof allowed for air flow and sky gazing, when parked of course, on the nicer days.

In this trim, the car has an eight-inch touch screen audio system in addition to the standard i-MID or intelligent Multi Information Display in the center console. The touch screen can be criticized for having overlapping functionality with the i-MID which makes bits of it redundant. For example, inputting addresses into the navigation system can be done with the touch screen keyboard or the turn dial which is linked to the larger eight-inch screen. There is overlap, but it was helpful to use the full keyboard at times. Voice recognition for phone dialing and inputting destination information was another handy feature to have.
In addition to navigation and cell phone information, the i-MID also displays images from the rear camera when the car is shifted into reverse. The screen also works with the Lane Watch system to show you what's in your blind spot when the right turn indicator is used. These are great driving aids as long as they don't distract you from everything else on the road around you.
Having experienced the 2014 Honda Accord through a typical week full of running errands and going on play dates with my little one, I can see how it would be a good choice for the day to day of an average sized family. The back seat can safely take two car seats while still having enough room for a couple adults in the front and even though the overall dimensions have decreased, there is now more space where it counts most.
If you're a more adventurous family that enjoys long road trips and needs to pack just about everything, or if you need to fit more than two car seats, I would recommend looking for a van. Surprisingly enough, the Accord has more rear leg and hip room than even Honda's Crosstour and CR-V crossover vehicles.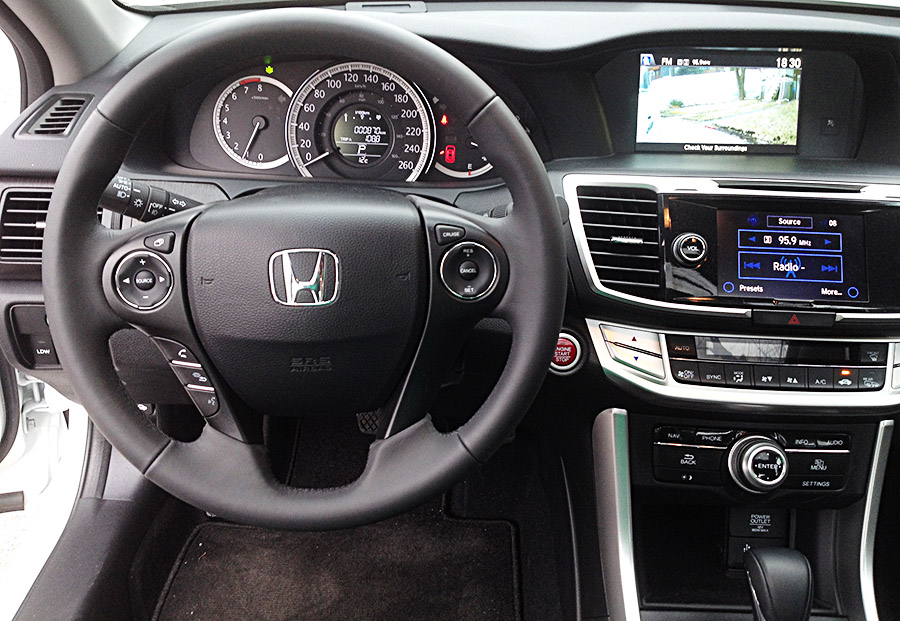 The 2014 Accord in Touring trim comes with some nifty gadgets that are not critical for just bussing the kids around, so if you're looking for a less stacked choice that still has a lot of great features, take a peek at the other trim levels. Even the base Accord trim still has the ECON mode button and eight inch i-MID.
Thoughts of a new mom
I love all the gadgets that are available in the new Accord. I would however, warn drivers about becoming distracted by all the knobs and lights; make sure your focus stays primarily on the road. It'd be great to see auto makers more mindful that all the bells and whistles in new cars don't become too overwhelming for the driver. After all, the kids in our cars are more important to us than all the tech gadgets in the world.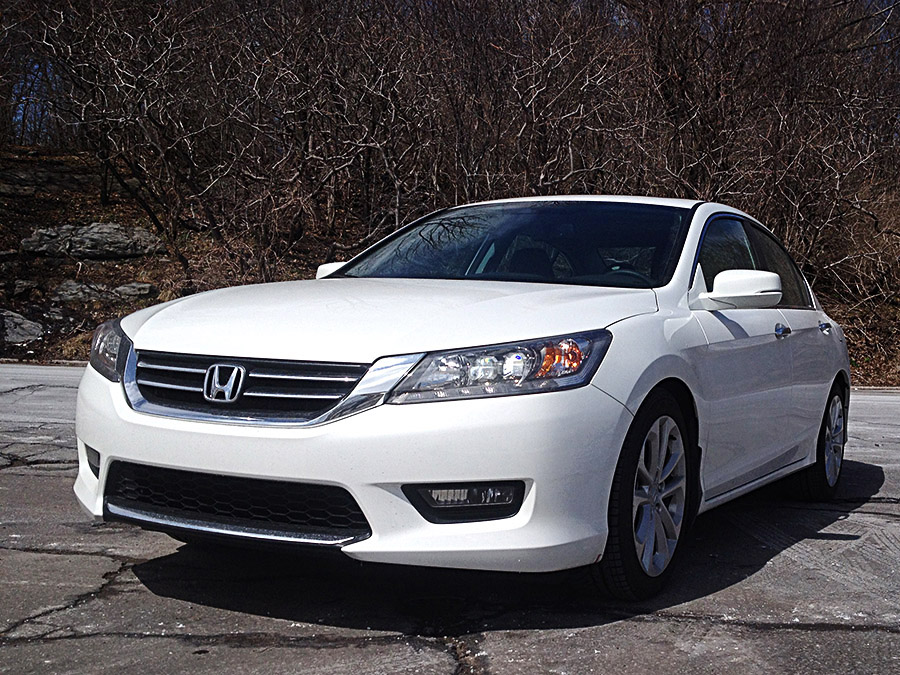 Conclusion
For those who want more space than your compact class Civic, but still want all the drivability and style of a sedan, the Accord is hard to beat in the mid-size category. With Honda's continued ability to deliver on safety and reliability while injecting their vehicles with the right mix of functionality and technology, the 2014 Accord is one mighty family friendly sedan.
Photographs by Kathryn Shubin, photo edits by Kanishka Sonnadara