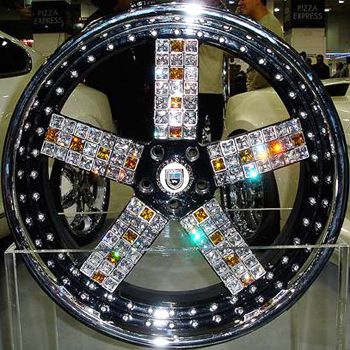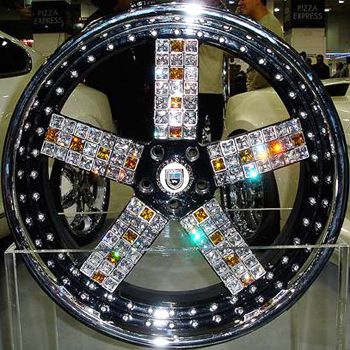 If cars are
considered commodities
in your world, then read no more. We are talking about cars as characters; absolutely brash ones that come with all the bling and shimmer in this world. What's brow-raising is that often the
'extra'
bling and shimmer can cost more than an average car itself. Carmudi, the international carclassifieds, did a little survey into some of the
flashiest car add-ons
that the ultra-rich are buying to
pimp up
their rides.
Diamond Encrusted Rims
Obviously, these beauties come with expensive parking tickets. But the renowned car specialist takes care of this by offering a 24-hour security guard to watch your rims for a whole year. The spokesperson of Asanticommented, "With the response we gathered from the public on these rims, we could confidently affirm that our target market is everyone that appreciates art and the art of dreaming."

Watch-cum-Car Keys
A pure collaboration of prestige and elegance! Aston Martin and Jaeger-LeCoultre teamed up to create the first mechanical watch, the Jaeger LeCoultre AMVOX2 chronograph, developed with the ability to access the car through the use of a built in micro transmitter system.

Audio System
For a show stopping road experience, add the Rouge Acoustics Audio System to your car. It features an incredible number of 6 unbeatable amplifiers, each reaching 1,000 watts at 8 ohms (bridged) or 500 watts at 4 ohms per channel. The audio maker ensures that a built in mobile phone is placed to allow technicians to examine the system from any location around the world if a technical error was to arise.

Number 1 License Plate
Anyone who loves their motor, dreams of a customized number plate. It is an investment that quadruples the price of your car the moment it adorns a number plate with a single digit. The lower the number, the higher the status, it seems.

Diamond Encrusted Shift Knob
This royal masterpiece is handcrafted with
30 karat genuine diamonds
. Shifting gears has never been so pricey. Be careful with the onlookers as you could
easily trade
several new cars for the price of this single knob. But if this isn't enough bling for you, there is an even pricey model for the Bentley
Continental GT
finished in white gold and 30 carats of diamonds.
Click HERE to read more from Fashion Central.