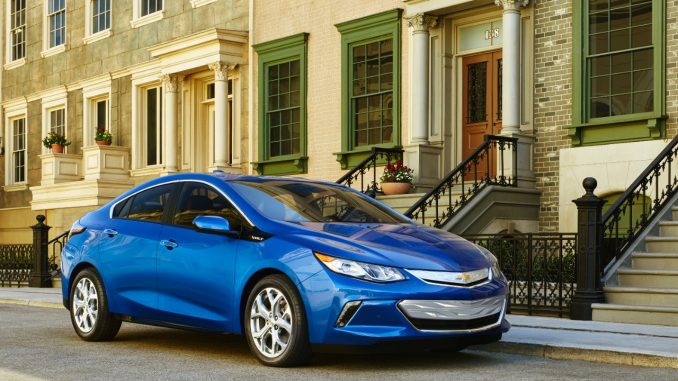 While the changes made to the second generation Chevrolet Volt are more than skin deep, it's the stylish new body that makes the first impression.
The 2016 Volt, unveiled earlier this year in Detroit, ditches its predecessor's bulky proportions for a contemporary look that compliments the new technology underneath.
First sold in the U.S. in 2010, the Volt split the difference between hybrid vehicles and all-electric cars, boosting its range with an on-board generator that drove its electric motor after the battery ran dry.
The new model, which will go on sale later this year, offers a host of improvements based on feedback gathered from existing Volt owners.
Thanks to a more powerful battery pack that's 9.5 kg lighter than before, the 2016 Volt promises around 80 km of electric range, after which a new 1.5-litre 4-cylinder generator kicks in to provide a total range of over 600 km.
The generator, which runs on regular gasoline, makes more horsepower and delivers better mileage than the previous 1.4-litre unit.
The Volt's battery pack isn't the only component that has lost weight – the electric drive unit is 45 kg lighter than before, helping to extend the vehicle's range.
Sluggish low-speed performance – a complaint of the first generation – has apparently been addressed, with GM claiming a 19 percent improvement in 0-30 mph (48 km/h) acceleration times. With the extra low-end grunt, the new Volt should make the run to 100 km/h in 8.4 seconds.
It'll make that run with an extra person aboard, too. In response to owner feedback, a middle spot has been added to the backseat, making the Volt a 5-passenger vehicle.
Improved brake pedal feel and a simplified charging cord set are also among the changes for 2016.
Plug-in EVs are a tough market, and gas prices might have dropped recently, but there's no sign of automakers giving up the goal of reducing their fleet's emissions via electrification. By making it more competitive, GM clearly wants the Volt to go the distance.
The 2016 Chevrolet Volt will be on display at the Canadian International Auto Show in Toronto from February 13 – 22.