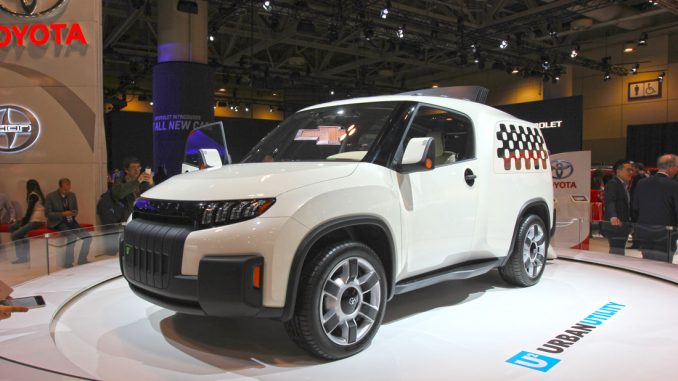 The Toyota U2 Concept vehicle made its global debut at the Canadian International Auto Show in Toronto on February 11, 2016.
The U2 – that's "U-squared," for Urban Utility – is Toyota's example of a new genre of vehicles. The concept fuses together the size of a compact car, the functionality of a compact truck and the spaciousness of a cargo van.

Other than its looks, Toyota wanted to showcase the versatility and functionality a modern urban utility vehicle could have. The U2 Concept offers some unique features such as retractable roof panels, rear glass that can slide into the tailgate and a utility rail system that can configure to accommodate everything from baskets to bike stands. Rear seats in the U2 fold up to allow for more cargo space, and if needed, the front passenger seat can be folded as well, or removed altogether. Loading and unloading has been simplified by having the side windows flip up for access and using the fold down tailgate as a rear ramp.

The U2 Concept Toyora had on display is geared towards active city dwellers and mobile entrepreneurs. The key to this vehicle is maximum space utilization, by transforming its internal shape to fit many different needs.
On display at the CIAS, the public got a peek at what the interior is like with all the seats removed, except the driver's. Inside was an iPad-sized infotainment screen and plenty of cargo space for a bicycle and two skateboards.

Right now the U2 is only a concept vehicle, a 'design study' as Toyota calls it, with no promises of production.

Photographs by Chris Bucik