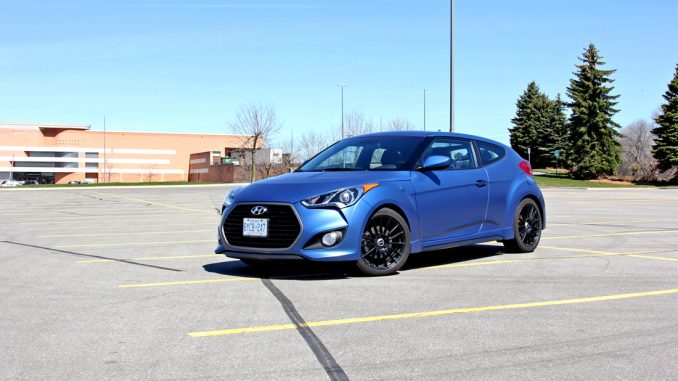 The Veloster was introduced in 2012 as a spunky hatchback from Korean automaker Hyundai. The final year of the first generation is looking to push the boundaries in the hot hatch segment. For 2016 Hyundai has launched the limited production Veloster Rally Edition, with only 1,200 units being made. The exclusive Rally Edition is decked out with matte blue paint, lightweight Rays wheels, sport tuned suspension and faux carbon fibre aero bits.

Engine and Suspension
The Veloster Rally Edition is powered by a 1.6-litre turbocharged direct injection four-cylinder engine producing 201 horsepower and 195 lb-ft of torque. With peak torque available between 1,750 rpm and 4,500 rpm, the Rally Edition very much loves being revved high and the sound coming out of the exhaust kept a smile on my face.
The first corner you take in the Veloster will surprise you. Turn in is precise thanks to upgraded shocks, coil springs and thicker stabilizer bars. Taking the Veloster down your favourite back-country road it feels like an oversized go-kart, point the front end where you want it to go and it keeps gripping. The sport tuned suspension does give a harsher ride on city streets but it is tolerable.
The 18-inch Rays wheels that come with the Rally Edition aren't just for looks. They are approximately 2.2 kg lighter than the standard rims, this added weight reduction in unsprung weight adds to the better overall handling and acceleration.

Interior
Inside, not much has changed for this limited production Rally Edition. The centre console has the same V-shape as the Veloster Turbo and is user friendly. Driving position is spacious and the new B&M Racing short shifter is a pleasure to grab. Rear visibility is a bit limited so it is a clever idea to rely on the rear view camera when backing up.
The driver and passenger seats are stitched with blue accents and the word "turbo" along the sides, in case you forgot what was under the hood. Under spirited driving the seats were very good at keeping you in place and hugged very nicely. Rear passenger room is a bit tight, and extra guests can only enter from the passenger side of the car, making for an awkward shimmy and slide across the back seat.

Styling
The most prominent styling que of the Veloster is its three door hatchback design. The rear passenger door is smartly hidden on the passenger side within the car's body lines.
The Rally Edition only comes in a matte blue paint finish. This eye catching paint is supposed to hide dirt better and gives it that unique look. The matte look is achieved through a special clear coat finish that diffuses light instead of reflecting it like normal paint. Customers who purchase the Veloster Rally Edition receive a special cleaning product to use on the vehicle. That means that regular car washes are a no go for this car. Be prepared to spend some time hand washing this car if you decide to buy one.

After a week's worth of zipping through some of my favourite backroads, going on a small road trip and sitting in traffic, I averaged 8.9L/100km. Hyundai rates the Veloster Rally Edition at a combined 8.3L/100km, which is attainable if you plan on staying out of boost.
Driving this car for a week has made me rethink about Hyundai in the sport hatch segment. It may not come with GPS, 250+ horsepower or a wild exhaust, but for $27,199 you get a sporty car with a lot of goodies in it. If you are in the market for a hot hatch with some uniqueness to it, be sure to check out the Veloster Rally Edition before they are sold out.

Pros
Cool matte paint finish
Sporty suspension and handling
Peppy engine
Cons
No unique engine for the special edition (shared with the Veloster Turbo)
Can't use regular carwashes
Tight rear seats
Photographs by Chris Bucik