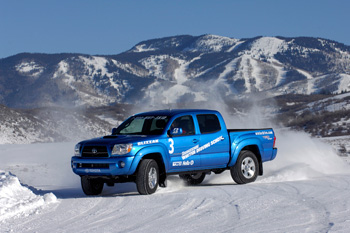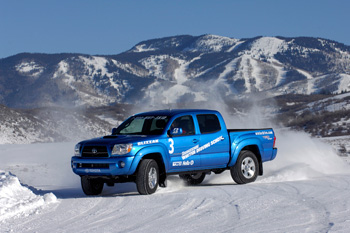 Well, the weather outside may be frightful, but driving in it doesn't have to be. It is almost inevitable that at some point in your driving career you will end up having to manoeuvre through less than perfect weather conditions. It's how you prepare and handle yourself and your vehicle that will make the difference in your experience.
When preparing for winter travelling, it is best to check weather forecasts first. If exceedingly bad weather is predicted, then make arrangements to travel at another time of day or plan a different route. If you find yourself unable to make alternate arrangements or route plans, then be sure to prepare yourself accordingly. Give yourself lots of extra time to arrive at your destination.
Always have a map and fully written directions to your destination with you. This is especially important when it is a location that you have never been to before. Take a contact phone number for the location so that if you get lost or have an issue, you can call for assistance. A GPS is also an ideal item to have. Even with the GPS, bringing a map book may not be a bad idea in the event your electronic device malfunctions.


When travelling any distance or to any location in winter, be sure to always have gas. If the tank is half full or lower, be sure to fill it.
Using a gasline antifreeze when gassing up will help alleviate any problems with moisture. Fuel injection cleaner will work as well. Keeping the tank full will not only ensure that you don't run out of gas, but helps in keeping the moisture levels in the tank to a minimum.
When doing any travelling on the roadways in winter, make sure to have an emergency preparedness kit with you. It should have enough supplies to accommodate all passengers in the vehicle.
A fully stocked emergency preparedness kit should include:

·
Drinks and non-perishable snacks (water bottles or drink boxes, granola bars, cereal, etc.)
·
Blankets and extra mittens and hats
·
Booster cables or battery pack
·
Spare tire and tools to replace it if necessary
·
Cellular phone and car charger
·
Extra windshield washer fluid and essential engine fluids like oil, antifreeze, and transmission fluid
·
Road flares, matches sealed in waterproof packaging(a zippered sandwich bag is perfect), and a "Call Police" sign for the window
·
Shovel , sand or kitty litter for traction if needed
·
Snow brush or ice scraper
·
Lock de icer (hot water poured into a lock or door frame only makes it worse)
Even with all the preparation possible, unforeseen circumstances can still arise, causing problems. This is where the driver's technique and ability come into play.

Tips from an expert
Mark Cox, of the Bridgestone Winter Driving School in Steamboat Springs, Colorado, has been teaching safe and effective winter driving skills for 28 years. His clients have included members of the military, law enforcement and the general public. His instructors teach proper safety techniques for driving in the harshest of winter conditions.
Mr. Cox offers the following tips for driving safely this winter season:

·
Make sure that your vehicle is fully maintained and in good repair. "What may seem like a small issue in summer can be a big problem in winter," says Mark.
·
Always look ahead when driving. Don't focus on the vehicle directly in front of you, but instead on the roadway 40 – 80 feet in front of you. It takes four to ten times longer to stop in snow and ice conditions. Looking ahead will allow you to see a potential problem faster and give you more reaction time to avoid it. "80% of all accidents can be avoided with only one extra second of reaction time", says Mark.
·
Always focus on solutions, not the problem. If you are caught in a situation while driving that looks like trouble, make sure to stay focused on how to avoid becoming a part of it. "The driver should be focused on the shoulder of the road, not the spinning car in front of them," says Mark.
·
Always keep more distance between you and the driver in front of you in bad conditions. This will give extra space for braking or manoeuvring if required.
·
When at all possible, stay on the major roads and match your speed to the weather conditions. Major roads are usually the first to be looked after by municipalities or townships in wintery weather.
Today's modern vehicles are far more equipped with the driver's safety in mind than their predecessors were. Features like Electronic Stability Control, Anti Lock Braking, and Electronic Brake Force Distribution are immensely helpful when skidding or braking in bad weather. Four wheel drive or All Wheel Drive is also a great feature. In a vehicle equipped with Four Wheel Drive, power is driven to all four wheels, instead of just the front or rear two.
Be warned, though. Just because you may drive a vehicle that is equipped with this great feature, it doesn't make you invincible on the roadways. It only makes for better traction in snowy and icy conditions, but does nothing as far as aiding in the ability to stop. The driver should still make sure to remain at a safe speed to avoid potential problems if emergency braking is required. While a larger SUV or pickup truck sits higher to avoid some of the snow build up, it also has a higher centre of gravity, making it more prone to rollover.

Anti-Lock Braking System, or ABS, is an electronic system designed to essentially "pump" the brake pedal to bring the vehicle to a complete stop without locking up the wheels or braking too hard. It is based on the theory that a vehicle that has four turning wheels will be easier to control than a vehicle that that has four locked up wheels. The best safety feature that everyone should use in the winter months is a good set of winter tires. They increase traction, and provide much better grip for in the winter months.
They are designed to cut through snow and slush better and grip the colder asphalt better. Read about Winter Tires here.
There is no safety feature that is more important than the driver themselves. The best defence against blustery winter weather is always an alert, cautious driver. Following these tips will help ensure that you don't become another statistic.
Article viewed at: Oye! Times at www.oyetimes.com