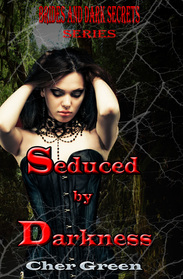 This article was last updated on April 16, 2022
Canada:

Oye! Times readers Get FREE $30 to spend on Amazon, Walmart…
USA:

Oye! Times readers Get FREE $30 to spend on Amazon, Walmart…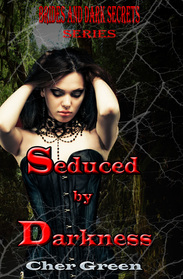 Paul Collins: Today we have Cher Green introducing her novella, Seduced by Darkness. I haven't read this book myself, but Cher was kind enough to agree to do an interview about her book for any readers who might be interested in the subject. Cher, how would you describe your novella to your prospective
readers? In broad terms, what is your novel about?
**
Cher Green: Seduced by Darkness is a paranormal romance about a half-breed vampire who longs for more than her dark life. She discovers light within the paintings of a local artist. That is until she finds her own darkness displayed for everyone to see. Torn between keeping her people out of danger and joining the painter, she struggles between the two worlds.
**
Paul Collins: What themes does your novel explore and what do you hope the reader will take away from the experience? Is there a particular feeling or experience that you hope to evoke in the reader? Essentially, do you hope your novel will mean to a reader?
**
Cher Green: Love can break through any barrier, if you allow it to. Most of us have felt torn in our lives at some point. In this novella, I explore the possibilities and the costs of following one's heart. There's almost always something to lose, but there is also something to gain. I hope the reader is able to experience this turmoil with my characters and perhaps even find the courage to follow her own heart.
**
Paul Collins: What prompted you to write this novel and did you have a specific inspiration in mind? Were you influenced by a certain author or work that inspired you to add your voice to this genre? Besides the boatloads of money and rock-star fame, what motivated you to write this book?
**
Cher: This particular novella was written with the theme of Paranormal Brides in mind. Romance isn't my usual genre, but when opportunity knocks, you better answer the door. So, I sat down to produce this novella with the thought of a vampire finding love, but it became so much more as I poured the words onto the screen.
**
Paul Collins: If you could compare your novel to any other existing works, which ones would it be and why? If the one thing you could say to a prospective reader was, "If you like X, you'll love my book!", which work would be invoked so that a reader could judge whether or not your novel is their cup of tea?
**
Cher Green: I'm really not good with this particular question when it comes to my work. I can tell you what I was thinking during the planning stages though. I wanted something in-between Twilight and Lost Boys. In both of these stories, you have two characters who want to be together, but their worlds keep them apart. If you like romance, vampires, and/or secrets, you'll like my book.
**
Paul Collins: Is this your first or only published work, or have you published other novels? If you have published other novels, how do they compare to this one? Do you have any more novels planned, either as a follow-up to this one, or as a completely different novel or genre?
**
Cher Green: This is my second novella. My first, a historical romance, Escape to Love, is about an aspiring witch who creates a portal, transporting herself back to a of witch hangings. Both novellas are romance, with just enough suspense and paranormal to create questions surrounding the characters. I've also obtained a few dark fiction short story publications with varies magazines. I have many more fiction works planned, but not sure what you'll see next. My voice carries across many genres, but you can always count on a little paranormal activity. Dark, Paranormal, Suspense, Romance: You never know where the words may lead.
**
Paul Collins: Where can readers obtain a copy of your novel for them to enjoy? How can they contact you with any thoughts or questions? And do you have a means by which they can "sign up" to be notified when your next novel comes available?
**
Cher Green: Both novellas are available at
www.eTreasuresPublishing.com
, each for 99 cents.

Look out for her book at your local bookstore. Thank you! All the best!
Paul Collins, author of Mack Dunstan's Inferno/ Mystery of Everyman's Way


You can publish this article on your website as long as you provide a link back to this page.