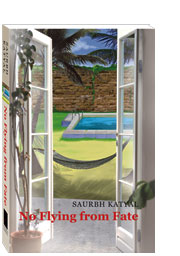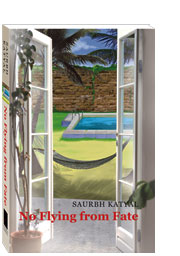 Am sure what you guys are thinking, "Another unknown Indian Author, where does she pick her books from and she reads anything & everything". Right? I guess I believe in breaking through tried & tested formula's & authors. I enjoy discovering new authors & feel happy when the book turns out to be good but in this case it was the other way around, the author had found me but more on that later.
Vishal a victim of global layoffs had decided to try his hands on what his maternal uncle had always predicted to be his real virtue, that to be a detective. His otherwise peaceful life (which meant solving divorce cases) takes a turn when out of the blue he receives a call from his Ex Aditi. She was his dream girl and he knew everything between them was going right when she suddenly decides to dump him for a more suitable & richer suitor.
Now married in a rich builder's family Aditi remembers Vishal when her family faces a crisis. Her brother-in-law has been found murdered in their farm house.
Thus circumstances bring Aditi & Vishal together when he starts investigating the murder. Like all who-dun-it novels there are suspects & there are suspects. Then there is this pot bellied police Inspector Babu. Honest but good for nothing & unknowingly funny this cop knows how to nod and where to side.
The main suspect in this case is the victim's wife who has a motive & every possible proof points a finger towards her. But is the obvious really the truth or is she being framed by someone?
Read the book to know more but I can assure you that you will not be able to guess the real culprit till it is spelled out for you.
And that's the very reason that I loved the book. I thought myself to be an expert in guessing games & can usually predict the suspense. There are times when I have not been able to guess but then the suspense is actually twisted but not in this case. Everything out here has a logical explanation, each twist & turn tied down properly and the book leaves you with a sense of satisfaction.
I can tell you more about the story but then that would kill the fun of this thriller. So go discover yourself 😉
The book uses all possible formulas be it jilted love, unsatisfactory marriage, money, property dispute etc. but it doesn't let you feel you have read it before nor does it become predictable and that's where it wins. For e.g when you read it was her ex who contacted Vishal you will feel that the relationship might be taken forward or something like that but it never happens that wasy. My only issue with the book was I couldn't make out where the story was based however it is quite possible I might have missed it.
Even the characters have been etched out well. Despite the fact that this is a thriller the book has ample amount of humor. Surely a must read for all those who love Page turners & thrillers. This is one of those books which has all the masala at exactly the right place & in exactly the right amount 😉
A rating of 3.5/5 from me.
I also take this opportunity to thank Saurbh for getting in touch with me. Though this is not the first time that I had received a mail from an author but the way he approached me was different. I liked his honesty & modesty. I can not forget his mail which he had sent to me upon knowing that I had started reading his book. The mail said "please stop reading the moment it gets boring. Life is too short to waste time reading books that are inane".
His straightforwardness & humility touched me & am glad I accepted a copy from him. I wish him all the luck for this book as it surely deserves to be in the bestseller list and hoping for a series of books from this detective line :- )
Click HERE to read more book reviews.
Author: Saurbh Katyal
Price: Rs. 295/-
Publisher: Gyaana Books