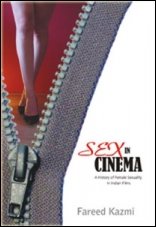 This article was last updated on June 18, 2022
Canada:

Oye! Times readers Get FREE $30 to spend on Amazon, Walmart…
USA:

Oye! Times readers Get FREE $30 to spend on Amazon, Walmart…

'Cultural feminism is thus the ideology of female nature or female essence re-appropriated by feminists themselves in an effort to revalidate undervalued female attributes' If you have been able to grasp what exactly did this statement mean, you may still wish to go through the written word below.
If not, then rest assured, Sex in Cinema is not really the book you would be overtly interested in reading. Now that's an irony because with a title like Sex in Cinema, the least you want is something to be presented in the form and manner that is easily comprehensible to a common man. No, one is not looking at any tantalizing text or a provocative read that would lead to some voyeuristic pleasure. There are number of books available on the shelves for that purpose and frankly, this is not the right forum to discuss that. However, when the cover page of a book reads – Sex in Cinema – A history of female sexuality in Indian Films – your expectations are different.
You want to be taken on a ride which you may actually have taken before but don't mind repeating it all over again to know things from someone else's perspective. However, what you are instead offered is a strong 350 pages write-up which is clearly a work of thesis for a very select and handful of readers than 'aam junta' which could possibly have read the book from entertainment purpose. And again, by entertainment, it is not the carnal pleasure I am referring to but some basic insight and fun that one has from knowing something related to cinema. This way, the book commits a faux pas of sorts at the very beginning because despite the tagline reading '……. in Indian Films', the references are all related to Bollywood. There is not a single movie from any other Indian language which is even touched upon, let aside being detailed, which entirely defeats the purpose of the tagline. The issue with the book is much bigger though. It eats up 101 pages (yes, you read it right) before it even begins to talk about films. Before that, all one gets to read is author Fareed Kazmi's knowledge of cinema and the statements (belonging to the kinds as mentioned at the very top of this review) page after page. Is there anything wrong in that? May not be, if one looks at it from the author's point of view, because he wanted to establish a base before he could start taking a reader through the movies that have been made since the 1950s.
However, before kick starting the decade wise journey, he alienates 99% of that segment of readers for whom a book reading is an entertaining exercise rather than an out and out educative trip. Due to this very reason, Sex in Cinema ironically turns out to be a reference material for someone who may be looking forward to gain a doctorate in cinema. Also, the usage of some heavy duty English and the sentence framing means that an average reader's (I am one of them) interest starts to diminish extremely fast. No wonder, even when Kazmi actually comes to the point and starts describing the 'female sexuality' from the 50s, there is just no patience left to know what exactly is in store. Still, one believes that a learned man like him (who is a Professor of Political Science) would have some valid points to make and hence gathers courage to flip through pages. What one gets to see though is theme by theme, scene by scene, dialogue by dialogue and expression by expression dissection of many a Bollywood flicks from the past. Awara, Shri 420, Satyam Shivam Sundaram, Hare Krishna Hare Raama, Bandini and many more flicks from the era gone by and picked as examples where Kazmi begins his dissection job.
No wonder, the text continues to be totally tiresome to read as the author first explains the background of the film, then the context of the scene, then the mental conflicts that a character may be having and finally the reason behind why a particular dialogue held so much importance so as to warrant such detailing. There are Hindi dialogues followed by English translation and then Kazmi's own take on the situation; something that ends up turning away the majority of readers. This is the reason why even as newer films like Dilwale Dulhaniya Le Jayenge, Kuch Kuch Hota Hai, Hum Aapke Hain Kaun or Salaam Namaste are brought into reference, there isn't much patience left for the viewer to appreciate Kazmi's verdict behind a scene. Also, another notable factor about the book is that it just doesn't stick to it's theme of 'history of female sexuality'.
There are lot of other tangents around texts and subtexts of scenes that are taken. Perhaps they (indeed) had something to do with the core subject but even if that was the case, it can be expected to be grasped only by a student of literature or someone who is writing a paper in cinema. For a book that revels so much on detailing, one wonders how Fareed Kazmi would have reacted when he would have looked at his own introduction on the back cover of the book. After all, for someone who had painstakingly put together this book, the least recognition he could have expected was to be credited as a Professor from 'University of Allahabad' and not 'Allababad', as the cover suggests. Price: Rs. 395/= Rating: 2/5
You can publish this article on your website as long as you provide a link back to this page.