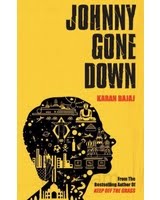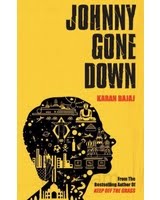 Nikhil aka Nik is attending his graduation ceremony at MIT USA and is looking ahead to a bright future with NASA when his close pal Sameer proposes a trip to war ridden Cambodia. Without much thought and after much persuasion the friends begin their randomly planned vacation only to be embroiled in the tensions of country reeling under revolution.
In a moment of selflessness Nik saves Sameer's life only to be captured by the revolting group. Rest of the book is all about how he survives Genocide, becomes a Buddhist monk & then quits being one, saves a gangster, becomes his accountant, falls in love, gets entangled in mafia war, leaves everything to save his life, comes to the brink of becoming a software mogul only to leave everything to come back to India where a whole new life is waiting for him. And yes in the whole process he has lost his one arm though I don't remember when & how.
The poor fellow has so much on his plate! He is an epitome of the Indian saying, "bhagwan jab deta hai to chappar phaad ke deta hai" in English, "when God gives you he decides to rip off the roof and bless you with everything", which in the case of this book is a hell lot of bad & good times.
In this case our protagonist leads one of the most exciting lives. All that can happen happens to him and all that can not happen also happens to him. The author has used all bollywood tricks he had in his bag & borrowed some from all other bags as well! Our hero is a brave heart, a selfless soul & a winner in all circumstances.
You wanna call him Superhero??? Oh! I have no issues! But beware a movie might be made out the book and Nik might be rechristened as "Nik the Selfless Savior of the World".
The book is a racy read but despite the turmoil's/ escapades of Nik you don't feel an iota of sympathy towards him. Why so? For an emotional connect with the hero/ characters there should be an amount of reality which is totally missing in the book.
Thrillers are meant to be page turners & are usually based in make belief world. Western authors specialize in writing them but they still retain certain things which are believable but when it comes to Indian authors the only inspiration they have is Bollywood and the end result is something which leaves you gawking with disbelief and the question, "who is the bigger fool here, the author or the reader?"
When I was narrating the story of the book with a colleague of mine her reaction after every twist in turn in Nik's life was "what??" she still wonders how I managed to finish the book. I told her it was fun predicting the twist n turns. 😉
Harper Collins has released the book at 99/- bucks and if you buy online it is available at a much lower rate. They have also come up with an exceptional number of prints for the 1st run. I guess this is an attempt to attract readers with a low price.
I had hated "Keep off the Grass" from the same author and I feel I should have kept off this book as well. You might read it if you are craving for a mindless thriller but mind you, you are requested to leave logic & brain aside if you want to enjoy it. Otherwise I have warned you enough
And no questions like "who is Johnny if Nik is the name of the protagonists" would be entertained. Please don't think I am being rude it's just that even I am trying to know who is Johnny and how he went down or did he really go down???
Chuck it!!! There are better books around 😉
Ratings?
Readability ***
Pace ***
Newness of the plot??? Ha ha ha ha!!!!
Overall 2.25 minus .25 😀
Author: Karan Bajaj
Price: Rs. 99/-
Publisher: Harper Collins