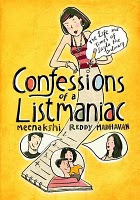 You can publish this article on your website as long as you provide a link back to this page.
This article was last updated on May 19, 2022

Meenashi Reddy Madhavan is one of those breed of Indian Authors who have a history of a successful blog which brought them into the focus of publishing world. This is her second book and I have no qualms in accepting that her first book "You Are Here" lies unread in my shelf. That book was launched with much fanfare and I was quite surprised when I saw her second book in the book store because till now I am yet to see it being marketed or splashed around (the way it is usually done these days). I picked the book solely because of its theme & price.
With Confessions Of A Listmaniac (COAL) Meenakshi has forayed into the not-much-explore-by-contemporary-Indian-Authors territory of "Young Adult Fiction", it is the story of 17 year old Layla. A breezy read the author takes us through the trials & tribulations of a teenager who wants to be popular in her class and is ready to accept any hand offered in that direction. Like any other teenager she has her share of crushes/ heartbreaks/ sibling fights/ breakup with best friend/ finding the real self et. al.
This book is a quick a read and reminds you of your school days when a chipped nail is a national tragedy and when even a glance from your favorite senior could take you to heaven. Well written fast paced this book is worth a read on a rainy day! The innocence of the characters will surely give you a reason to smile.
My only problem with the book is it's Inspired Title!!! Even the Tag line is inspired 🙂
3 on 5 from me 🙂
Author: Meenakshi Reddy Madhavan
Publisher: Scholastic
Price: 150/- INR
Click HERE to read more book reviews.