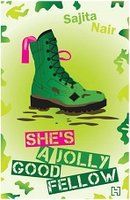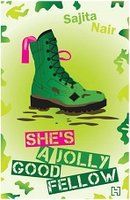 This is the story of two good friends, Second Lieutenants Deepa Shekhar and Anjali Sharma who are posted at a remote army location in an all male territory & have a big task ahead. They have to prove that they are no less than their male counterparts. Is it an easy task? Not when one of them is a femme fatal.
The two friends had joined the army against their parents wish and have a lot riding on them. Lt. Deepa believes that to prove her mettle she has to be one of them however Lt. Anjali loves to use her looks to get an easy way out.
The book is their journey of proving themselves, of their ups & downs and of course of finding their soul mates.
I simply loved this book for its simplicity and the way it project women in army. The author has projected two different personalities very well and manages to drive in the point that "irrespective of gender it is the spirit that matters. What matters is what you feel for your country and the reason that has made you join army."
There is not glamorization in the book and nor is it "I-have-been-to-the-academy" kind of book. The grim & grind that the characters go through is very projected. Every time a read a book based on Army I feel sad that I never thought of it as a career choice.
4 out of 5 from me.
Author: Sajita Nair
Price: Rs. 250/- (Available @ Rs. 188 at Flipkart)
Publisher: Hachette India
Click HERE to read more book reviews.