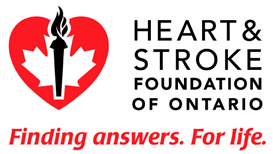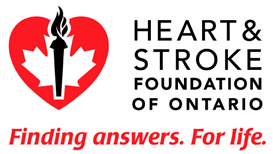 The Heart and Stroke Foundation, in partnership with TD and Trillium Health Centre Foundation, is making it easy for South Asian families in Peel Region to learn cardiopulmonary resuscitation (CPR).
During CPR Month, a free public CPR skills training event for South Asian families will take place on Saturday, November 26, 2011 from 11 a.m. to 2 p.m. at the Mississauga Valley Community Centre, 1275 Mississauga Valley Blvd., Mississauga, ON, L5A 3R8. A light lunch will be served.
To register, please contact Firdaus Ali at 416-489-7111 ext. 437 or by email at fali@hsf.on.ca. The first 100 participants who register will receive a free Heart&Stroke Foundation CPR AnytimeTM Family & FriendsTM kit (valued at $40, one per household).
"The Heart and Stroke Foundation urges all Canadians to learn CPR. The more people trained, the greater the chance of keeping a person who is experiencing cardiac arrest alive until an ambulance arrives," says Firdaus Ali, Community Mission Specialist, Heart and Stroke Foundation. "You don't need to be a doctor to help save a life."
"Recognizing the high prevalence of heart disease in the South Asian community, the upcoming CPR skills training event is a definite must-attend. CPR is a life-saving skill that we all should have," says Baldev Mutta, Executive Director of Punjabi Community Health Services, one of the community partners for the event. "I appeal to all South Asians to register and participate actively as our communities would benefit a great deal from this training. The free CPR Anytime training kit given to the first 100 families attending the event includes an interactive DVD, which allows you to share the skills with your family and friends."
According to the Heart and Stroke Foundation, approximately 45,000 sudden cardiac arrests occur each year, the majority of them at home or in public places. In Ontario alone, about 7,000 out-of-hospital cardiac arrests occur annually.

Research has also shown that South Asians, including those in Canada, have up to 300% higher rates of living with or dying from coronary artery disease; when compared with Europeans, Americans and other Asians. In addition, Canadian South Asians have the highest ischemic heart disease mortality, compared with individuals of Chinese and European descent.
"Evidence shows that South Asians are more at a risk of dying from a heart attack at a young age than other ethnic groups," says Kitty Chadda, Executive Director of India Rainbow Community
Services of Peel. "We feel that it is our responsibility to make the community understand the importance of learning this life-saving skill, which is why we are partnering with the Heart and Stroke Foundation for this education event. CPR can save a life anytime and anywhere."
For every minute that passes without help, a person's chance of surviving a cardiac arrest drops by 7% to 10%. Learning CPR is easy and inexpensive and it could mean saving the life of a friend or family member. When defibrillation is applied with CPR in the first few minutes, it can improve a cardiac arrest victim's chance of survival by up to 75%.
The Heart and Stroke Foundation of Canada sets the Canadian Guidelines for CPR, defibrillation and other aspects of emergency cardiovascular care in Canada. This free CPR Training Course is sponsored by the Heart and Stroke Foundation, TD and Trillium Health Centre Foundation and held in partnership with Punjabi Community Health Services, India Rainbow Community Services of Peel and Al Huda Institute.
For more information, please contact:
Firdaus Ali, Community Mission Specialist
Heart and Stroke Foundation
Tel: 416-489-7111 ext. 437
Cell 416-629-1689 Email: fali@hsf.on.ca
Heartandstroke.ca/restart