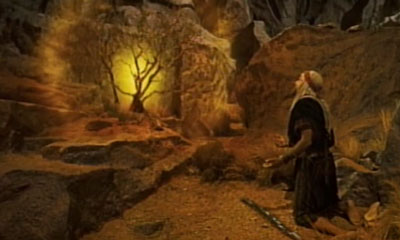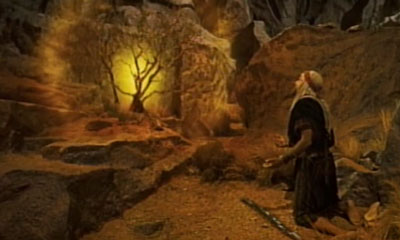 And God said unto Moses, I AM THAT I AM: and he said, Thus shalt thou say unto the children of Israel, I AM hath sent me unto you.





God speaks to Moses from the burning bush The Ten Commandments (left)

To almost 4 billion Christians, Muslims and Jews around the world God is the great I AM.
He is the God of Abraham, of Isaac and of Jacob. He is the God that has influenced the world, especially the Western world I was born into.
Last night we watched a bit of The Ten Commandments on TV. I wanted to hear God speak those words again to Moses from the burning bush.
"And He said, Draw not nigh hither: put off thy shoes from off thy feet, for the place whereon thou standest is holy ground.
Moreover He said, I am the God of thy father, the God of Abraham, the God of Isaac, and the God of Jacob. And Moses hid his face; for he was afraid to look upon God…
And Moses said unto God, Behold, when I come unto the children of Israel, and shall say unto them, The God of your fathers hath sent me unto you; and they shall say to me, What is his name? what shall I say unto them?
And God said unto Moses, I AM THAT I AM: and he said, Thus shalt thou say unto the children of Israel, I AM hath sent me unto you." Exodus chapter 3
For a boy of 8, that was a thrilling movie to watch back in 1956 when it was released.

I was staying with my Acadian grandparents on South Street in Halifax when The Ten Commandments came to the Capital Theater, where the MT&T building is at the foot of Spring Garden Road.
My other grandfather, the one who called me his favorite grandson, had died in London Ontario. My mother traveled to attend the wake and funeral with my grandmother, aunts and uncle.
Grandfather Camp was a carpenter who I still remember.
Grandpa Pottie was a small, quiet man who kept a budgie in his bedroom for company. He had been injured working for Dominion Coal and retired with a disability.
Bored living with grandparents, I begged my father to let me see the matinee of The Ten Commandments. It was impressive, exciting and inspiring with the Bible story of Exodus put on the big screen. The special effects were awesome.
God seemed so powerful in the story. Moses walked like a man of God.
I bugged my dad for money to see it two more times that week before I was shuffled across town to my aunts.
One night my other grandfather had a heart attack and died in the room next to me. To an 8 year old, it was just something that happened. There is a wake and you go to a funeral Mass.
My mother brought me up pretty religious with bible study and meeting attendance at the Kingdom Hall. I believed in God and still do.
"I am that I am," said God.
Don't go to church much anymore. I can't explain that except I became disillusioned with the Jehovah's Witness cult of my mother. I left it several times before cutting the cord at age 30.
Later I became Roman Catholic like most of my family. I attended Mass religiously for twenty years but don't go much anymore.
Can't explain why but I still believe in God and get goose bumps when I hear God speak from the burning bush.
4 Billion people believe in the one god of Abraham, Isaac and Jacob.
They just like to disagree, often violently, about exactly who He is and what He wants. They disagree enough to kill each other in wars and genocide for 3 thousand years since God spoke to Moses.
Shia and Sunni Muslims kill each other over interpretation. Muslims and Christians kill each other. Christians have been killing Jews over belief in the same God.
Organized religion seems like a nasty business.
By Stephen Pate, NJN Network