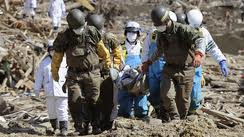 This article was last updated on April 16, 2022
Canada:

Oye! Times readers Get FREE $30 to spend on Amazon, Walmart…
USA:

Oye! Times readers Get FREE $30 to spend on Amazon, Walmart…

Curiously I discovered that there area number a people posting videos on YouTube talking about the lack of looting during the Japanese crisis. (see Google video search: why no looting after japanese tsunami) I've watched a few of these and these individuals seem quite surprised by order during the chaos of the Japanese people. A few make comparisons with what happened in New Orleans after Katrina or in Haiti after the quake. Come to think of it, it is startling to look back on the reporting that came out of Japan after the quake and tsunami and I can't think of any stories about an upsurge in crime. I'm sure there must have been some, but that isn't the first thing that comes to mind when I think back on all I've read or viewed. Are our cultures that different? (see Google web search: why no looting after japanese tsunami)
Various pundits talk about Japan's deep seated sense of honour. No one would dare do anything to bring about shame on themselves or criticism from their neighbours. Despite the gravity of the damage caused by both the quake and the tsunami, the vast majority of people did not take advantage of the chaos to personally profit from a situation which left many homes and shops wide open to being looted. It is a lesson we could all learn.
Renewed search for bodies
Can anyone say the worst is over? The Guardian has reported that 25,000 troops have been deployed to search for bodies. There are estimates of over 12,000 people still missing and after all this time, one can only assume the worst. As well as the troops, this massive search will entail about 90 helicopters and planes, 50 boats and 100 navy divers with the task of combing through the remains of devastated towns as well as areas up to 12 miles out to sea.
As well as people, animals are also a concern. The exclusion zone near the Fukushima plant is to be checked in ordere to gauge the condition of hundreds of thousands of abandoned farm animals. Dead livestock will be sprayed with lime to prevent the spread of disease, and the dying will be put down with the permission of their owners. Farmers who fled their businesses at the start of the nuclear crisis left behind 3,000 cows, 130,000 pigs and 680,000 chickens.
Tokyo Disney Resort under pressure to cut down on power consumption
The Mainichi Daily News has reported that the operator of the resort in under pressure to reduce their power consumption in anticipation of shortages this summer. The paper states that Tokyo Disneyland and Tokyo DisneySea consume 10 times more power than the Tokyo Dome baseball stadium.
Before the park's reopening on April 15, the company had worked out various measures to cut electricity consumption. It decided to close the park at 6 p.m., four hours earlier than usual, stopped escalators and fountains, and disconnected hand driers in its restrooms. Moreover, it has dimmed lighting at its offices and areas restricted to workers. The company also plans on investing in more on site generators before the summer with the goal of producing over 25% of the park's total electrical needs.
One visitor to the park who comes 10 times per year, was quoted as saying, "More than 100,000 people visit the park on some days. When visitors are in the park, they don't use their air conditioners and TV sets at home, offsetting electricity consumption by the park."
Euronews – Apr 21/2011
Japan announces huge disaster fund
The Japanese government has unveiled an emergency budget of 4 trillion Yen to combat the devastation wrought by March's massive earthquake and Tsunami. Much of the money, equivalent to around 34 billion euros, appears set for disaster relief and infrastructure projects, notably temporary housing.
Russia Today – Apr 15/2011
Japan Dead Zone: Video of search for bodies in Fukushima radiation shadow
Japan's government has ordered the operator of the Fukushima nuclear plant to pay some $12,000 to each household forced to evacuate because of radiation leaks. It is estimated the compensation bill could end up topping 25 billion. However, the country's leadership has come in for its own criticism, from those still living in shelters a month on from the quake. They say helps been too little, too late. It comes as emergency response crews are finally carrying out intensive searches for tsunami victims near the nuclear plant, delayed over radiation fears.
Russia Today – Apr 12/2011
Latest close-up shots of Fukushima, video of Japan tsunami hitting plant
Japan has upgraded the severity rating at the paralyzed Fukushima nuclear plant to seven, a level only ever previously assigned to the Chernobyl disaster. Officials say it's been raised, because high radiation has been recorded in the air, ocean and tap water. But Japan's nuclear safety agency is still reluctant to compare the dangers to what happened at Chernobyl, saying the radiation leak is still smaller.
References
Wikipedia: Radiation effects from Fukushima I nuclear accidents
The radiation effects from the Fukushima I nuclear accidents are the results of release of radioactive isotopes from the Fukushima Nuclear Power Plant after the 2011 Tōhoku earthquake and tsunami. Radioactive material was released on several occasions after the tsunami struck. This occurred due to both deliberate pressure-reducing venting, and through accidental and uncontrolled releases. These conditions resulted in minor amounts of radioactive contamination in the air, in drinking water, milk and on certain crops in the vicinity of the prefectures closest to the plant, and in fish caught 50 miles off the coast. Drinking water was above the limit for infants for several days in the second week after the accident. Several workers received more dosages of over 100 millisievert (mSv) while working on the plant site with two of them hospitalized with high exposures around the ankles after standing in radioactive cooling water. Water levels within units 2 and 3 (but outside the containment) were reported to be very high at "over 1000" and 750 mSv/h on 27 March.
Click HERE to read more from William Belle
Article viewed at: Oye! Times at www.oyetimes.com
You can publish this article on your website as long as you provide a link back to this page.