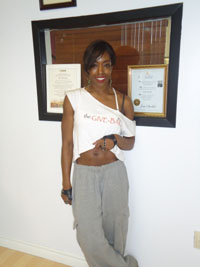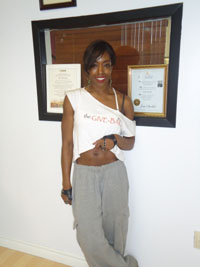 At her spanking new D.A.E.I. (Dance and Entertainment Industry) academy on 12 Rutherford Road South in Brampton,
Tré Armstrong,
the lithe and lissom judge of 'So You Think You Can Dance Canada', is extremely effervescent about her new venture. She is über excited at opening a school in partnership with Tonya Burke, a certified dance instructor from the Canadian Dance Teacher's Association, that will teach all forms of dance including ballet, jazz, hip-hop, free style, salsa and hold your breath-
Bollywood
!
"For the Bollywood classes we have engaged a local South Asian teacher, Ms. Sohni, but to kick off we have invited a world renowned and award winning colossus of choreography, Longinus Fernandes, who choreographed the famous song 'Jai Ho' in the movie 'Slumdog Millionaire'. He will be here next week on Sunday Dec 4 to hold a dance class at 2.30 pm, so be there!", she says with super enthusiasm.
"Besides just teaching dance we will also be holding career seminars where we will teach people many 'how to's'. How to approach dance as a business- to go from $5 an hour to $50 to $500 an hour and more! How to market oneself. How to work abroad. How to audition successfully for TV, film, theatre, the works! How to start from humble beginnings and reach heights much like I have."
"This is will be a very comprehensive school that will not limit itself to just teaching moves and grooves, but to go beyond that and to approach dance and entertainment as a career option, which is very important."
Tré, who is also an accomplished dancer, actress and choreographer, went on to say that she believes the time is ripe for mainstream to embrace Bollywood. She doesn't see it as a passing fad but more as a growing trend that is here to stay. Much like Yoga has rooted itself deep in the North American culture, Bollywood dance will also get itself deeply entrenched. "I also see more and more Bollywood in Hollywood", she adds.
When asked if she sees Canada as the focal point for Hollywood North and Bollywood West Tré goes "Wow, I like that- Bollywood West! I am getting goose bumps all over my arm- just feel that! That's my truth meter. Yes definitely, and it's gonna happen right here, Hollywood North will definitely meet Bollywood West right here!"
"Yes," Tonya, Tré's partner gushes " and we will open more and more D.A.E.I.'s (pronounced DAY) to accommodate that phenomenon and to bridge gaps."
With that they both danced off to check on their classes.