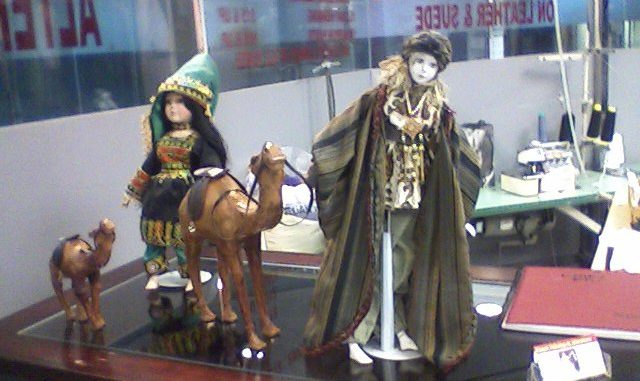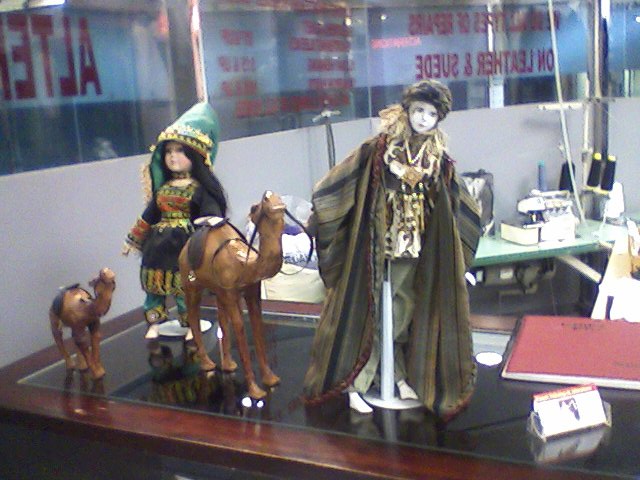 What is happening to the concourse level at North York City Center?!
It once possessed a vibrant, busy food court with shops. The food court has since closed down and is making way for a hotel type restaurant?! I don't know what that means! The bank machine and shops are gone, all replaced by a long, white hallway, resembling an insane asylum. The only life I found in the concourse was a local tailor who originated from Afghanistan. In a glass case he had several cultural artifacts, all specially handmade and rare. These dolls and camels were dressed in traditional, Afghanistan garbs, bringing the old world charm into Northern Toronto.
I can just imagine the story such family heirlooms would tell. When we think of Afghanistan, we see war, unrest, and upheaval. Think of the history and time that has passed. The store owner did not know the age of the treasures. I can imagine it being over one hundred years old. As Canadians we should welcome such people and let them contribute to our cultural heritage.
The sad thing about North York City Center is it lacked vibe and came across as not a place to enjoy one's Christmas shopping. To add to my dismay, I was told the main floor section of the North York Library is even closed for renovation but will be open sometime in the New Year.
But if you do visit such a place, please visit the Tailor and behold the Treasures that he has on display in his glass case. It has a story to tell.
Paul Collins, author of Mack Dunstan's Inferno / Mystery of Everyman's Way