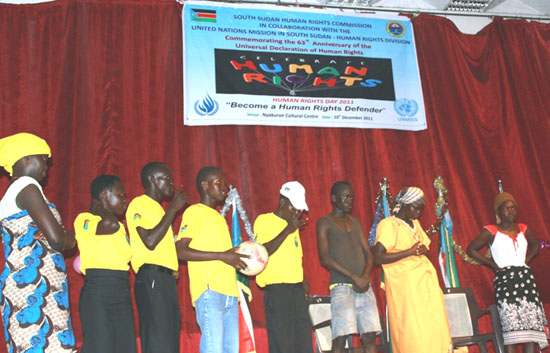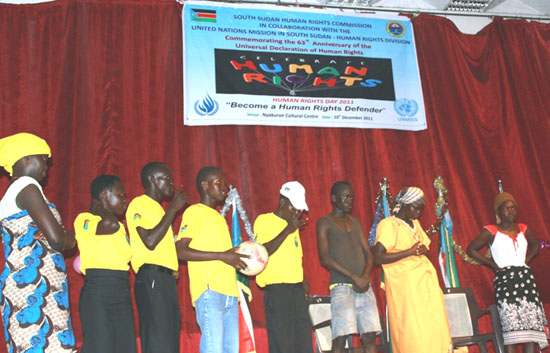 Ignorance of many South Sudanese in understanding their human rights is a great challenge hindering effective civic education in the country. The Chairperson of the South Sudan Human Rights Commission (SSHRC), Mr. Lawrence Korbandi has said.
Mr. Korbandi who is also an advocate spoke last Saturday (10th December 2011) when South Sudan marked the commemoration of the Universal Declaration of Human Rights Day in Juba under the theme, "Become a Human Rights Defender."
The event was organized by the SSHRC in collaboration with the United Nations, (UN) in South Sudan.
Korbandi said that both government officials and the citizens are ignorant and need mass awareness on their human rights. Korbandi added that, the legal atmosphere that supports observance and administration of human rights activities in the infant nation is not fair -he was referring to the South Sudan Transitional Constitution.
"One of the challenges that we are facing is lack of appropriate laws for upholding human rights in our country," Korbandi said. "While the constitution of the Republic of South Sudan, (RSS) has comprehensively provided for the bill of rights, some rights are not absolute as we may consider," Korbandi revealed.
The Chairperson noted arbitrary arrests, long undue detentions, delayed justice, torture, unlawful killings within residential areas and disappearance of individuals as some of the human rights abuses going on in the country.
He urged human rights defenders to actively cross check these issues, stressing that they are cross cutting and therefore need intervention.
Meanwhile, the South Sudanese Presidential Advisor on Legal Affairs, Pelar Deng who was the Chief Guest of the function reiterated the government commitment to ensure total administration of justice in the infant nation.
"I would like to call our citizens, government officials and security agencies that, it is a serious offense to violate someones' rights. We shall take measures to ensure that human rights are respected and promoted in our country," Deng said.
He also addressed the need to train the South Sudanese police and all security agencies to instil in them the value of respecting human rights. Deng assured the public that new laws will soon be enacted to strengthen the rule of law in the country.
"We also need to ratify as soon as possible any key International Human Rights Instrument to enhance national laws for protection of human rights," the Presidential Advisor recommended.