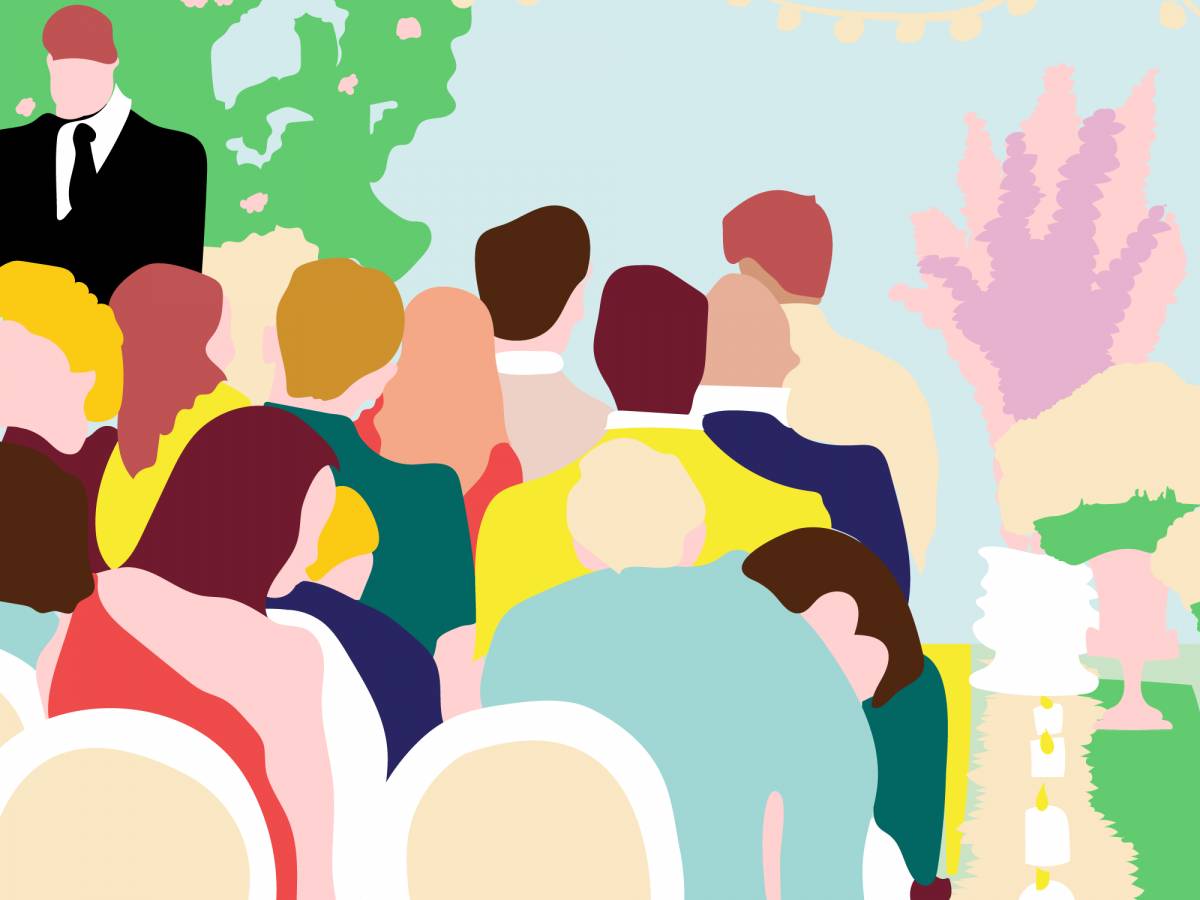 It's officially summer, which means most of us probably have a wedding or two coming up before Labor Day.
You can go the gift registry route, the honeymoon registry route, or the good ole cash in an envelope route. The latter is increasingly popular, but is there an agreed upon right amount to give? (Generous enough so that you're not cheaping out, but reasonable enough so you can still pay off your credit card at the end of the month, ideally?)
Though it certainly varies person to person, according to this NerdWallet study, millennials in 2018 set aside an average budget of $151 for a good friend's wedding gift. And of those polled, most said they'd shell out more than their budget for a very close friend. When we asked our readers, most of them shared this credo.
But what if you're in the wedding party? Or what if the bride gave you less for your wedding last year? Ahead, read what 15 millennial women had to say when we asked: What's the appropriate amount of cash to give for a wedding gift?
Name: Laura
Age: 26
"$50-$75. After recently getting married and combining apartments, I know how expensive a wedding and moving can be, and how much cash is appreciated. $50-$75 gives the newlyweds flexibility to determine how best to spend the cash and the amount feels like it will make a small impact within their budget. It was great to set aside some cash for completing our registry, saving for our honeymoon, and taking a few date nights right after the wedding to relax.
"For good friends or immediate family I may increase the amount or buy them a personalized gift I know they would enjoy. For couples I haven't seen in a while or have attended a lot of pre-wedding events for, I would dip below $50."
Name: Kristyn
Age: 28
"$50. This is roughly the amount I would spend on a traditional gift from a registry.
"If it was a sibling I might give more. I have two brothers and a sister, and all three make significantly less money than I do, so I feel like I would want to step it up to the $100-$200 range. Another exception would be for a destination wedding. In that case I would give less or none."
Name: Hannah
Age: 30
"$100 per guest (i.e. my husband and I would make a gift of $200). I try to give what I think it costs per head to have us attend the wedding. I think giving money is a totally reasonable and acceptable thing to do. My husband and I asked for (and received!) cash as gifts for our wedding and it was SO helpful.
"If we had to travel to attend the wedding (i.e if it's overseas or far away from our home) then I would probably reconsider giving a cash gift, as we have already paid a significant amount just to be there. Or if it's the wedding of someone I am very close to (brother, best friend, etc.), I would want to give them a more meaningful gift that they could keep forever."
Name: Caitlin
Age: 30
"$150 for a traditional evening wedding that includes a meal. That should cover my plate plus some for the happy couple. For close family members or friends, I can go a bit overboard — up to $200, but I do tend to give less if it's a less expensive (day time, barn-style) or destination wedding where I have to pay for a hotel and/or airfare."
Name: Courtney
Age: 28
"$50-$100, depending on how close I am to the bride/groom. With a few exceptions: 1. If I'm in the wedding party, I give $0. *My presence is a present.* 2. If I have to travel for the wedding, you may get less. 3. I also design/print paper goods. If I choose to give that as gift, you'll also get $0."
Name: Jess
Age: 27
"$200-$250. But in certain cases, depending how long I've know the person and how many other weddings or big events I have that season, I will give more. I usually give on the higher end if it's at a really swanky place, but in most cases the parents are helping out, so I don't feel as bad about not covering plates for me and my fiancé."
Name: Amy
Age: 29
"$100 per person, so usually $200. For our wedding we got $75 from one couple, so I gave them $75 back for their wedding. I've also gotten $400 from one close friend and will definitely give at least $400 when it's her time."
Name: Jenn
Age: 45
"$200-$300. Usually $200 for just me, but $300 if it's me and a guest. I have no explanation for why I don't go up to $400 when I have a guest. I think it's because $400 should just go up to $500, and usually I'm unwilling to go that high.
"I'll make an exception for very close family. I've given $1,000 to cousins who are more like siblings, but for my own sister's wedding, I didn't gift her $$! I gave her frequent flier miles so she and her husband could fly first class on their honeymoon. (I contributed to her wedding through blood, sweat, tears… and money!)"
Name: May-Ling
Age: 39
"$50, in a crisp bill, if possible. I'm part Taiwanese and Japanese, so this would be given in a red envelope. I much prefer giving cash over gifts, especially since the couple could use it to buy less desirable things they need. We didn't accept any physical gifts for our wedding. With so many households already combined, registering feels like an old school approach. For extended family, I might give $100-$200, and even more for immediate family."
Name: Miki
Age: 34
"Having planned a wedding and helped a lot of friends with their weddings, I know the costs associated with getting married. I think you should give at least $100 per person attending. If you bring a guest or significant other, you should give at least $200. But I've given up to $500 for really close friends."
Name: Cristina
Age: 28
"$50-$100, depending on how well I know the couple. I ALWAYS think it's okay to give money as a gift. I'm 28 and my partner is 35. When we get married, the LAST thing we need is more stuff, as we have both been living independently for at least 10 years.
"A lot of our friends are in the same boat. Most of the time, the money is used for a honeymoon or the like. It feels good to know I'm helping pay for an experience and not a thing that may eventually break or get replaced. Paying for a wedding is also very expensive, and more and more people are self-funding their weddings. I've also given gift cards for restaurants that I know the couple likes."
Name: CK
Age: 32
"$250 per person. I pay enough to at least cover my meal. Having organized my own wedding, I now have a good idea about how much it costs. But if it's a Chinese wedding or a good friend's wedding, I will generally pay more, around the $888 range as a couple. 8s and 9s are generally lucky numbers, so the more the better. 4s are bad."
Name: Rachel
Age: 29
"$20-$40. It should be what I think a wedding costs per plate (more if I have a plus one with me). I'll give more only if I know them really well — like from childhood. I went from a broke college student to a broke adult, and I don't have a lot of extra $$."
Name: Lauren
Age: 29
"$100. I use the 'how much would a nice dinner and drinks cost me?' rule of the thumb, so I gave less ($50) when I was younger and single. I also gave more to my best friend who doesn't have a ton of money ($250)."
Name: Tori
Age: 29
"$200-$250 usually. (I would give $250, but my wife says $200, so it depends who goes to the bank!) This is our standard wedding gift. I would give more if it were a very close family member (mainly a sibling). I would never give less!"
Name: Kate
Age: 33
"$250-$500. The amount should be at least enough to cover the cost of our attendance at the wedding. Amount goes up from $250 depending on how close we are with the couple. Money is the best gift ;)."
Name: Meg
Age: 31
"$50-$75 per person, depending on how fancy the place is. I've kept cards from my own wedding and wrote how much we were given from each guest. Normally whatever we were given by that couple, we match."
Name: Rose
Age: 29
"$50. I always get a new crisp $50 bill from the bank and put it in a NICE card (those $8 Papyrus cards always get me). Classy, direct, can be used on anything, and no one will ever think: "Oh man, I wish they had given us more." I think anything less than $50 looks skimpy, and more than $100 looks too generous most of the time for a "friend to friend" gift. If the bride or groom is a family member, I will still give $50 but offer help with planning or day-of tasks. I hate buying weird household items off the registry, but don't care if my gift of cash is put towards something the couple wants.
"Once I bought something from a local artist that was perfect for the bride and groom and gave that as a gift instead of cash. I hope to one day be the generous older relative who can drop $$$ on a wedding gift. For now, I'm just happy I'm in a place where I can afford to attend weddings (showers, bachelorette parties, travel, accommodations, clothing, whew!) and give a gift without ruining my budget."
Click HERE to read more from Refinery29



Loading ...