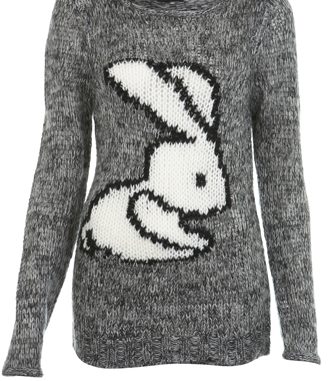 Who knew that one day you'd again be looking for sweaters with fuzzy images of cats, dogs, and othersquee-inducing critters? But fear not, the offerings for adults are a little less kitties-and-rainbows and a bit more tongue-in-cheek.
Givenchy started the craze with its panthers and Dobermans, but hipsters were already wiping thrift stores clean of sweaters emblazoned with wolf portraits cast in a "vintage" Thomas Kinkade haze. Today, the sweaters on the market are a little less cheesy, a little less try-hard, but just as fun. Whether you're into foxes, peacocks, or even raccoons, there's an animal sweater out there for you — come find it!

Miss Selfridge Rabbit Sweater, $60.14, available at Miss Selfridge.

Maiami Bird Sweater, $249.99, available at Urban Outfitters.

Zara Wolf Sweater, $19.99, available at Zara.

Warehouse Stag Print Sweater, $62, available at Warehouse.

Stella McCartney Tiger Sweater, $885, available at Forward.

ASOS Dolly Cat Sweater, $72.72, available at ASOS.

Markus Lupfer Parrot Sweater, $500, available at Net-a-Porter.

Cooperative Intarsia Sweater, $29.99, available at Urban Outfitters.

Topshop Knitted Painted Fox Sweater, $76, available at Topshop.

Warehouse Bird Sweater, $69.39, available at Debenhams.
Click HERE to read more from Refinery29.