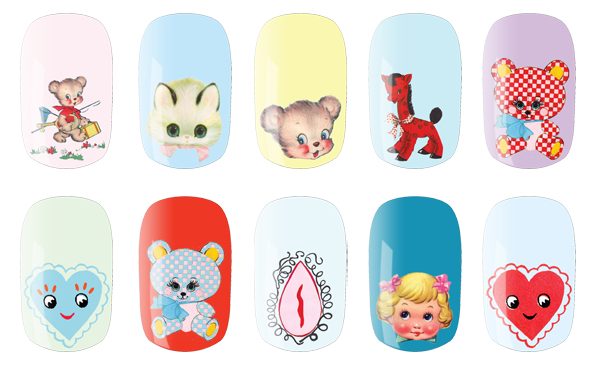 You can publish this article on your website as long as you provide a link back to this page.
This article was last updated on April 16, 2022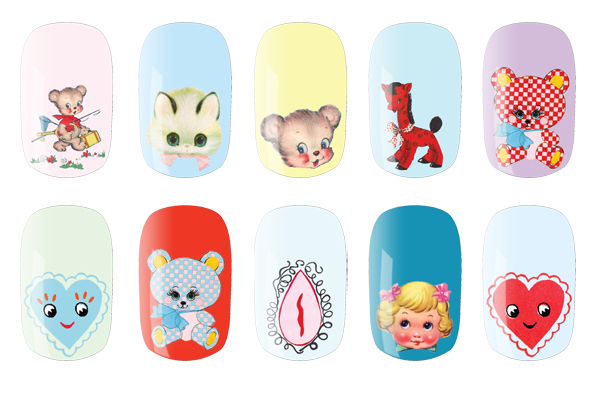 Audible squeals were heard around the office when we first unwrapped these impossibly twee stick-on nail wraps from Nail Rock. The designs were created exclusively for the Meadham Kirchhoff spring '12 "A Wolf In Lamb's Clothing" runway show, but people went so crazy for them that Nail Rock founder Zoe Pocock decided to release them to the masses. The designs, which are now sold at CVS as well, are made of vinyl, but they function the same way as nail polish strips in that you just press them onto your nail and file off the excess. The difference with these nail wraps is that you simply peel them off, no polish remover required.
The saucer-eyed kittens, fuzzy bears, and gleeful hearts have a retro feel that made us nostalgic for those delightfully cheesy cartoons of our youth, but when we lined all the designs up, we found ourselves playing a game of One Of These Things Is Not Like The Other. The cheeky addition is definitely a surprise surrounded by all the cuddliness — can you spot what got us snickering like teenage boys looking at their first Playboy? We're not sure if this risqué little print was put there on purpose or if it's just a case of us taking something innocent and warping it with our dirty minds, but either way, we're amused.
Nail Rock Meadham Kirchhoff SS 12 Designer Nail Wraps, $8, available in February at Nordstrom.
Photos: Courtesy of Nail Rock
Click HERE to read more from Refinery29.