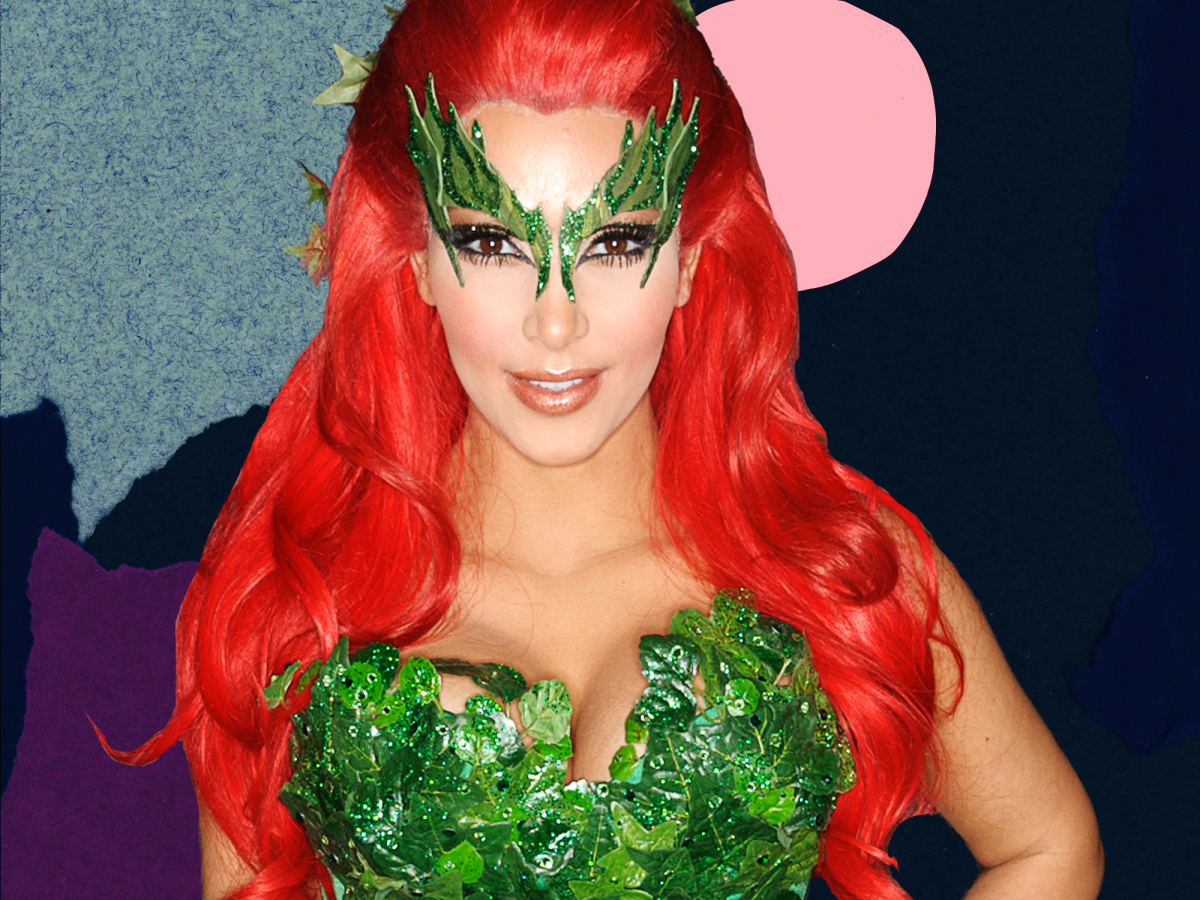 For those of us who spend months — or possibly even the full calendar year — planning for Halloween, costume details are imperative. Seriously, a transformation just shy of turning into the subject of your costume is the only acceptable form for the diehard Halloween fans out there.
That said, one dead giveaway that you are, indeed, in costume is your wig. Unless you go all out with extensions or a real-human-hair wig (which can run you up to the quadruple digits), a synthetic hairpiece will have to do. But just because it's affordable doesn't mean it needs to look that way — just follow these tips to make even the cheapest wig look amazing.
For guidance, we talked to Priscilla Valles — the pro behind some of the best A-list extensions in Hollywood — about how to keep our Halloween hair looking 100%, even if it was a budget buy.
Tip #1: Skip The Party Warehouse (If You Can)
Attention, anyone who is spending their lunch break wig-shopping: If you're looking for a realistic or top-quality synthetic wig, don't bother searching in a Halloween costume store. Head to a specialized wig-and-hair shop or a beauty-supply shop that sells wigs and hairpieces instead.
Its selection will have a much greater range. And while you're at it, Valles suggests picking up a Styrofoam head form so your wig can have a proper place to sit. "They're really cheap, like $5, and it'll keep your wig nice and neat for when you want to wear it."
Which wig should you buy? Obviously, synthetic wigs that have bangs generally appear less fake. You can't see the hairline, so there's no telltale break. But not all costumes require bangs, of course, so if you're going for a realistic portrayal, a lace-front wig is the way to go. Lace from the front of the wig is attached to the skin around your hairline with adhesive. Valles explains that lace-fronts have the most natural-looking hairlines: "No one can tell with lace-front wigs because they blend in so seamlessly to your hairline. You can blend the lace-front to your skin with foundation, but since it's glued on it's undetectable." She adds, "You can even have a wig custom-made to your hairline with baby hairs put in and everything!"
Already purchased yours from a party warehouse? Fret not, just keep reading…
Use a blowdryer on a low setting and a round brush to style your wig.
Tip #2: Add A Little Heat
Using hot tools on synthetic hair is a no-no unless you want to make it into plastic Lego-person hair. However, Valles says that it's totally possible to heat-style — albeit gently. Use a blowdryer on a low setting and a round brush to style your wig. "Another method if you want to add waves or body to your wig is to set it with Velcro rollers and pop it in the microwave for 30 seconds — no more! — to get the hair to set." Just make sure there aren't any metal clips attached to your wig before trying that one.
Also, always style your wig before putting it on your head. It'll be way easier, and that way you can get the back!
Tip #3: Customize It
Just like your haircut should flatter your individual face, so should your wig. Valles says it's always a good idea to cut into a wig to flatter your face. Obviously, you don't have to do this part yourself, but the idea is to get the proportions right.
"Sometimes, [costume] wigs can be cut a bit bluntly, so if you snip into the hair, you can give it some more movement and shape — which is much more realistic-looking," Valles says.
Tip #4: Matte It Out
Another giveaway with synthetic wigs or hairpieces is how the fibers have a too shiny finish that makes them look fake. The easiest fix to take down that sheen a notch is either dry shampoo, or even better, root touch-up spray. "You only need to spray a little and brush it through to take that fake sheen down," Valles advises. Anyone who has used too much dry shampoo only to have dusty-white roots will be able to attest to this.
You only need to spray a little and brush it through to take that fake sheen down.
Tip #5: Protect Your Own Hair
The best way to protect your own hair underneath is by braiding it. Valles suggests cornrows because they'll keep your own hair the closest to your head, so there isn't a suspicious-looking pouf under your wig. They're also partly utilitarian, because you can bobby-pin the wig to the braids for extra security — which is the more important part here. You don't want that wig to get pulled off on the dance floor.
Tip #6: Combine Forces
You don't necessarily need to buy a full-on wig to change your hair look. If you're not going for a change of color, but want to add way more length or body, Valles suggests clip-ins or hairpieces as a much more comfortable route — especially if you're going to be out all night (wigs can be super-itchy and hot). You can find different-length wefts of hair at a hair shop that clip into and under your own hair, and customize the length and thickness. "Easilocks makes really natural-looking clip-ins," Valles suggests. "They even have ponytail pieces, braids, and buns!"
Click HERE to read more from Refinery29


Loading ...