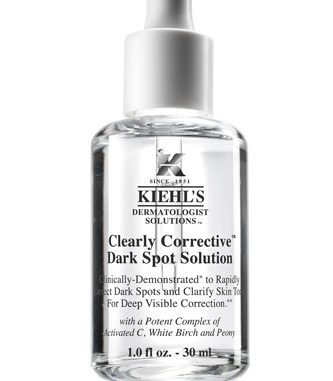 Looking in the mirror these past few weeks, we've been feeling a bit "meh" about our faces. Maybe it's our skin's version of SAD, but the dull, washed-out complexions we're sporting aren't doing us any favors. According to L'Oréal Paris consulting dermatologist Dr. Gervaise Gerstner, the main reason for our skin's lack of joie de vivre is a loss of brightness, which can be attributed to a build-up of dead skin cells and changes in texture. Fine lines, crepiness, and enlarged pores all have a hand in making your skin look blah as well.
So what's the solution to this dull-skin depression? Exfoliating your way to brighter skin. "I recommend enzymatically exfoliating your skin with glycolic acids to help skin glow," says Dr. Gerstner. Meaning that instead of scrubbing your face into submission with a grainy scrub, which can irritate skin and do more harm than good, you should use a product that has acids or brightening agents in it to dissolve the dead skin instead. According to the good doctor, there are lots of new brightening ingredients out there to help you get glowing — vitamin B3, procysteine, recoverine, vitamin Bg — plus old standbys like alpha-hydroxy acids, horse chestnut, vitamin C, and retinol. Here, find five of our fave new glow-boosters that promise to help improve clarity, dissolve brown spots, and give your skin an overall zhushing.
But tell us this: How are you getting your skin spiffed up for spring?

Kiehl's Clearly Corrective Dark Spot Solution
This targeted serum pinpoints dark spots and obliterates them thanks to activated vitamin C — which slows down the production of melanin, breaking apart any clusters of pigmentation before they can fully form. Use it as a spot treatment to help blast away burgeoning dark marks.
$49.50, available at Kiehl's.

GlamGlow Mud Mask
We'll admit, we were definitely interested in this one based on the name alone. Then we found out Nina Dobrev was a devotee and that pretty much sealed the deal — girlfriend has some crazy-good skin. This "facial in a jar" owes its powers of rapid exfoliation to a combination of mud sourced from the South of France, plus whole tea leaves, squalene, and antioxidants. It will draw out impurities, minimize oils, shrink your pores, and correct any discolorations. Word of warning: It does have a very prominent tingling sensation and if your skin is sensitive when you put it on, it will hurt like a mother.
$69, available at Neiman Marcus.

Masqueology Brightening Mask
It looks like something out of The Silence Of The Lambs, but this freaky looking mask is actually amazing at perking up your skin. The sheet mask is infused with arbutin, witch hazel, and mulberry root extract to whiten and brighten skin with minimal irritation. Our one complaint is that it was huge on our face, so we ended up having to scrunch it up to make it fit. The results were worth the aggravation though: Our complexions looked crystal clear without feeling itchy or irritated afterward.
$24, available at Masqueology.

L'Oréal Youth Code Dark Spot SPF 30 Day Cream
According to Dr. Gerstner, one of the most important things to remember when using a brightening product is to wear sunscreen. Those dark spots are caused by melanin production, which is triggered by the sun, not to mention the fact that your complexion is already more sensitive due to the exfoliating treatments you are using. This goes double if you're using any form of retinol, as it causes your skin to be extremely sensitive to the sun. This new cream from L'Oréal makes it easy by offering brightening benefits plus SPF, all in one convenient daily moisturizer.
$22.49, available at Drugstore.com.

Dr. Andrew Weil for Origins Mega-Bright Skin Tone Correcting Serum
We've had a major beauty crush on Dr. Andrew Weil for quite some time now — his feel-good approach to beauty is inspiring and, most importantly, really effective. His latest collaboration with Origins includes this correcting serum, which is aimed at those suffering from post-acne marks, age spots, and sun damage. It uses rosa roxburghii, a natural anti-irritant, plus licorice and white peony, to help fight and prevent the cause of uneven skin tone and discoloration.
$55, available at Origins.
Click HERE to read more from Refinery29.