The hallmark of a good gift is a personal touch — it should elicit an enthusiastic reaction, contain an inside joke, or even recall the best memories. Basically, stop wrapping up whiskey stones, you guys — let's think outside of the box!
We know everyone's got a few super-specific people on their lists, so to help you refine your gifting strategy, we've come up with a comprehensive A-Z gift guide to make sure everyone is covered this year. From your assistant to your best (blogger!) friend, here's the perfect present for each of them.

Assistant — Google Docs are nice, but sometimes, a little analog note-taking device is much appreciated.
Smythson Notebook, $80, available at Barneys.

Blogger Bestie — Your blogger BFF is your other half (at least when it comes to Internet-land), so send the message with this gorgeous necklace, made by fellow blogger Brook & Lyn.
Brook & Lyn Medallian Necklace, $216, available at Brooklyn&Lyn.

Camping Partner — Your favorite part about camping with your buddy is getting blitzed under the canopy. Make your next excursion a little more chic with this painted flask.
Liquid Courage Whiskey Flask, $20, available at Etsy.

Doorman — He's the first person to hear about a date gone bad and the last person you see before you go home. Treat him with a pair of gloves that's as handsome as they are warm.
Norse Projects Iver gloves, $84, available at Norsestore.

Epicurean — Who doesn't love pie? The best part is that you'll get to partake in road-testing these babies out — yum!
Enamelware Pie Set, $128, available at Terrain.

Furry Friend — If your pooch's leash is a little worse from wear, give him a beautiful leash to turn those sidewalks into runways.
See Scout Sleep Leash, $20, available at See Scout Sleep.

Graduate — If your graduate is going to be doing a whole lot of interviewing, this beautiful binder holds clips, project examples, her résumé, and a whole lot of personality. It comes in bigger sizes, as well!
Russell + Hazel Mini Binder, $18, available at Russell + Hazel.

Homebody — A quality throw is one of the most useful things in a home, whether tossed on the arm of a chair, laid out across a bed, or draped across a couch. This chevron-print throw is festive but could work for anytime of the year.
High Street Market Chevron Throw, $195, available at High Street Market.

Idiot Younger Brother — Your younger bro has always been getting in trouble (and blaming you for it). Make sure his antics are a little more sophisticated by getting him this awesome pocket knife based off of the Japanese Higonokami knife.
Miyamoto Manufacturing Higo Pocket Knife, $60, available at Best Made.

Jokester — LOL, right?!
Think Geek World's Largest Coffee Cup, $39.99, available at Think Geek.

Kid at Heart — This one is way nicer than your own version you made for your friend eons ago during camp.
Kenzo Woven Key Ring, $135, available at Opening Ceremony.

Lipstick Fiend — Your friend never seems to be wearing the same lipstick twice, and this gift set has a ton of alluring shades in cute, miniature packaging.
Bite Size Discover Set, $25, available at Sephora.

Mom — Make sure her morning cup of Joe comes in a chic, pretty package. (Bonus gift — pair it with her favorite beans for an all-in-one gift!).
Japanese Ceramics Kahara Mug, $16, available at Still House.

Neat Freak — You might not understand the appeal of a designer bottle of laundry detergent, but — trust us — your neat-freak friend will.
Common Good Lavender Laundry Soap, $29.95, available at Old Faithful Shop.

Office Husband — You've got each other's backs (even if the mutual affection doesn't extend outside of the workplace). Your office husband will love dressing up his desk with this hilarious terrarium, and gossiping with you by the watercooler later about Steve who thought it was a jar of dirt.
Twig Terrariums Flasher In The Forest, $65, available at R29 Shops.

Pops — You might not be around 24/7 to toss the ol' pigskin with your pops, but this handmade football should serve as an appropriate rain check.
Leather Head Handmade Football, $140, available at Kaufmann Mercantile.

Quirky Aunt — Her collection of scarves range from her travels through Peru to Thailand, but we bet she still doesn't have one from the exotic land of rag & bone.
rag & bone Lisbeth Scarf, $178, available at Ssense.

Roommate — Your roommate's constantly complaining about how "college" your bathroom looks. Finally do something about it with a grown-up shower curtain you can both enjoy.
Ferm Living Shower Curtain, $115, available at Leif.

Soulcycle Classmate — She might kick your ass on push-up portion of the session, but play nice; this metallic duffle bag will be her version of a gold star.
Zara Terez Metallic Duffle Bag, $59, available at Urban Outfitters.

Tech Nerd — Of course your friend already has the iPhone 5. Dress it up finely in a very special case (designed by us!).
Uncommon Taffy iPhone Case, $42, available at R29 Shops.

Up-and-Comer — Somebody's been doing a lot of networking these days. Keep his/her business cards wrapped up all pretty in this faux croc cardholder.
Miu Miu Cardholder, $160, available at Net-a-Porter.

Vinyl Obsessive — Help you pal graduate from those plastic milk crates and store part of his vinyl collection in this sleek record box.
Sefour VC030 Record Box, $69, available at Turntable Lab.

Wingwoman — She's your right-hand woman when it comes to going out, so let her know that no matter how many strangers you meet while you're out with her, she's still have the twinkle in your eye.
Sarah Chloe Solid Star Pendant, $79, available at Sarah Chloe.

XXX-"Friend" — Discreet and elegant, this little bedtime buddy is something both of you will enjoy spending time with.
JimmyJane Little Chroma Vibrator, $125, available at JimmyJane.

YouTube Celebrity — A gift for her and her gazillion subscribers, this beauty set is a must-have for any beauty blogger (plus, your channel will get a shout-out, as well!).
Nars Edie Set, $75, available at Barneys.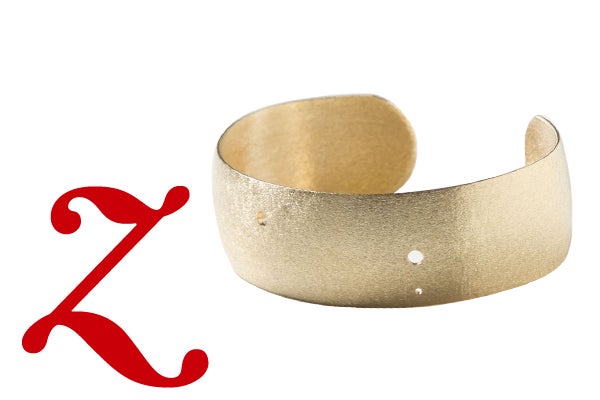 Zodiac Devotee — More subtle than a zodiac pendant but no less meaningful, this cuff maps out her star sign in the form of a little shine that she won't ever want to take off.
Julie Nolan Cuff, $52, available at Anthropologie.
Click HERE to read more from Refinery29.