This article was last updated on April 16, 2022
Canada:

Oye! Times readers Get FREE $30 to spend on Amazon, Walmart…
USA:

Oye! Times readers Get FREE $30 to spend on Amazon, Walmart…

Shonda Rhimes' Netflix adaptation of Julia Quinn's historical romance novels, titled Bridgerton, is en route to becoming one of this year's most memorable TV fashion moments. The series, which premieres on December 25, is essentially a 19th-century version of Rhimes' long-running show Grey's Anatomy. Only, instead of scrubs, McSteamy — in this case, Simon Basset, played by Regé-Jean Page — wears a period waistcoat, and Meredith — here, Daphne Bridgerton, played by Phoebe Dynevor — a beaded, empire waist dress with an equally intricate corset underneath. In other words, everyone's wildly attractive — and incredibly well-dressed.
For the series, Bridgerton costume designer Ellen Mirojnick — who designed looks for Fatal Attraction, Showgirls, The Greatest Showman, and Maleficent: Mistress of Evil — sought out experts in fabric cutting, jewelry-making, and corset design. "I had to really build a costume house and create everything because there wasn't anything in the world that would satisfy what we set out to do," Mirojnick tells Refinery29. And while you're sure to be wowed by the pastel-colored gowns and layers and layers of extravagant jewelry featured throughout the season's eight-episode arc, it's what's underneath the dresses that really matters most.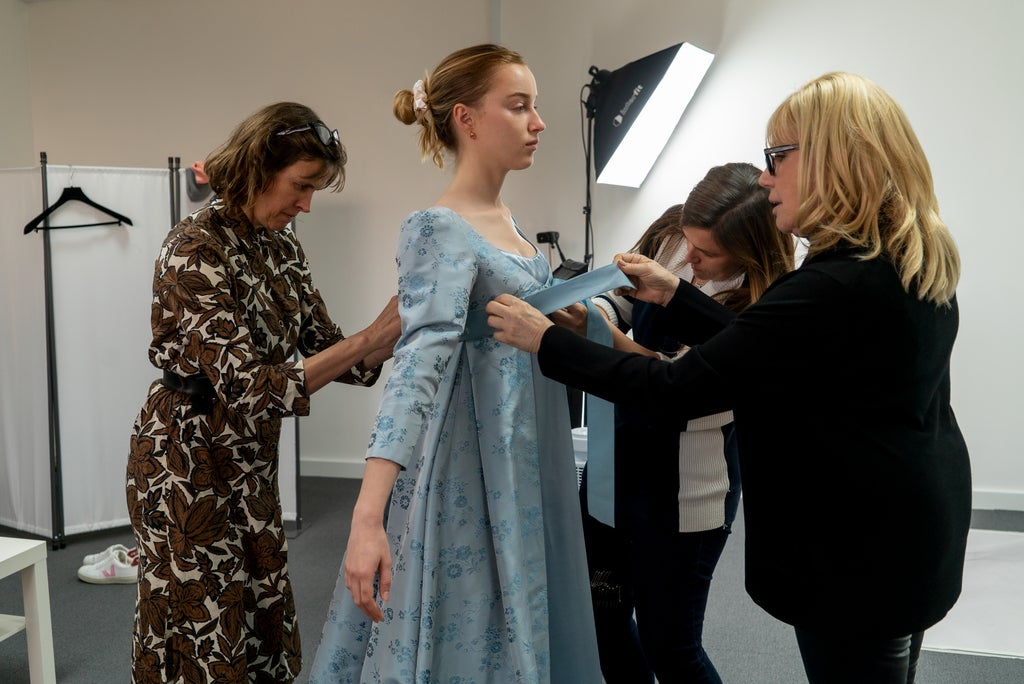 BRIDGERTON PHOEBE DYNEVOR as DAPHNE BRIDGERTON in Costume Department of BRIDGERTON Cr. LIAM DANIEL/NETFLIX © 2020
Like Rhimes' other shows, including Private Practice, How To Get Away With Murder, and Scandal, sex plays a big role in Bridgerton. It is, after all, based on a pulpy romance novel. Because of that, an equal amount of focus was placed on the characters' undergarments as the glitzy pieces worn on top of them. One member of Mirojnick's team was renowned corset maker Mr. Pearl, who was the designer behind Kim Kardashian's Mugler look from the 2019 Met Gala. "He is magnificent," says Mirojnick. To remain accurate, Mr. Pearl designed corsets in line with those worn in the early 1800s. (The show is set in the year 1813.)
"Women at that time were corseted women, even though their corsets were far less [intense] than they were in Victorian times," says Mirojnick. In the early 1800s, women wore half-corsets, similar in length to a longline bra. During the Victorian era, in the mid- to late-1800s, women wore full-length corsets that created an hourglass figure, not unlike the one worn by Kardashian. "Their bosoms were to appear as though they were blossoming. It's almost like the blossoms of your cheeks — rouged and desirable," she says of the early 1800s. "The dresses are adorned so that women look beautiful [and catch the eye of a potential husband], but the focus is always on the bosom," she says.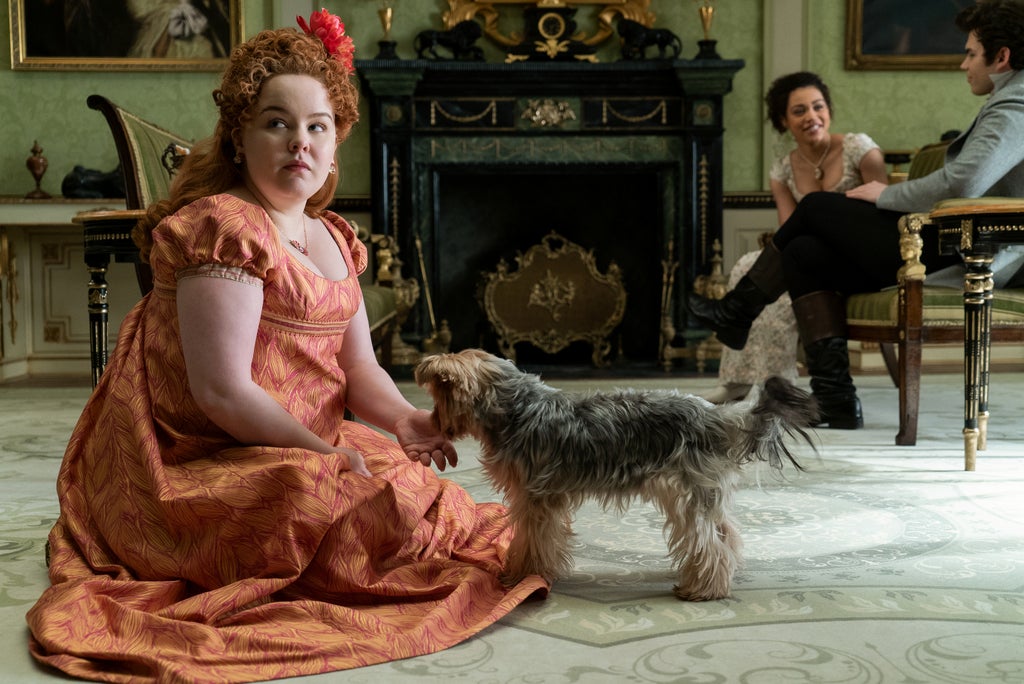 BRIDGERTON (L to R) NICOLA COUGHLAN as PENELOPE FEATHERINGTON, RUBY BARKER as MARINA THOMPSON and LUKE NEWTON as COLIN BRIDGERTON in episode 101 of BRIDGERTON Cr. LIAM DANIEL/NETFLIX © 2020
To remain true to the time period and give actors a costume that they could move and bend in, Mr. Pearl designed half-corsets for the series. "Of course, a corset will never be truly comfortable," says Mirojnick. This is something that Nicola Coughlan, who plays Penelope Featherington on the show, confirms: "Taking off a corset at the end of the day just feels incredible. It's a bra times 10,000. Your ribs are just like, Ah."
In keeping with the times, Mirojnick also designed bloomers for the women to wear underneath their gowns — which were crotchless back in the day. Yes, crotchless. She goes on to say that, with the exception of corsets, the underwear worn in the time (which also included slips and petticoats) was quite simple compared to the lingerie worn today. "Sexiness came in real-life," she says.
Though women were supposed to keep hold of their virtue until their wedding night, the fashion at the time was actually designed in a way that made it much easier for women to disrobe quickly — in the throws of passion, for instance — than men. "Men's pants closed at the sides and had braces to keep them up. Women, however, just had to lift their skirts if they wanted to," Mirojnick says.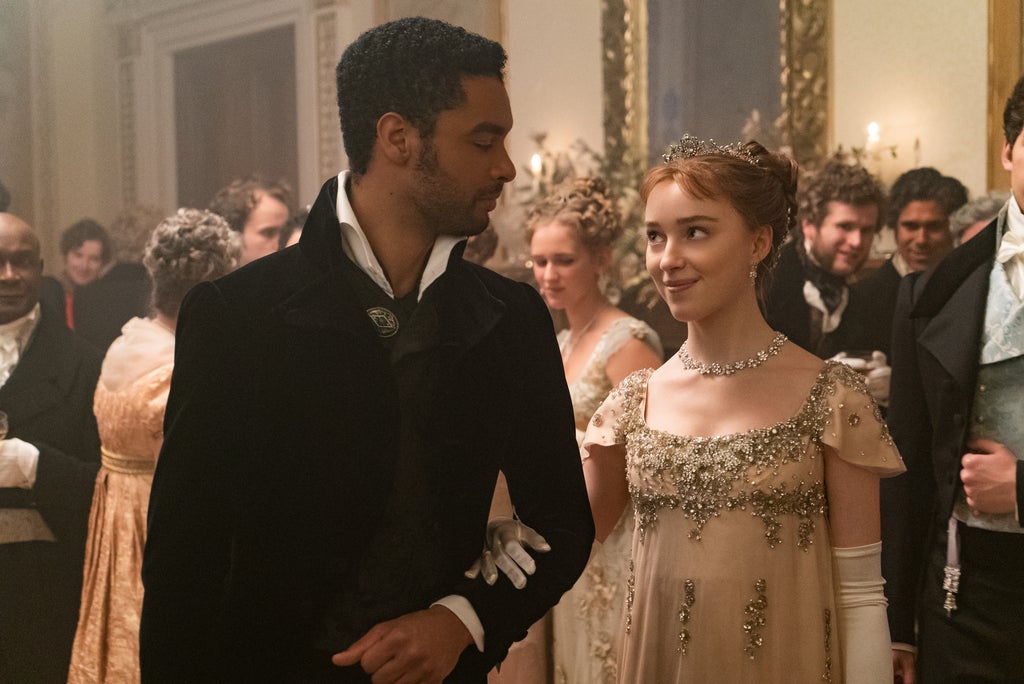 BRIDGERTON (L to R) REGƒ-JEAN PAGE as SIMON BASSET and PHOEBE DYNEVOR as DAPHNE BRIDGERTON in episode 102 of BRIDGERTON Cr. LIAM DANIEL/NETFLIX © 2020
According to Mirojnick, one of her primary goals for the costumes was to transport viewers to another world, one full of lavish parties, extravagant gowns, and, yes, luxury undergarments. "For all of us who love that romance novel type of sexy, Bridgerton allows our imagination to flourish — it transports you into a place that's really very fun to watch, especially given the bleak times we're living in," she says. The designer, who's worked with Rhimes on a number of different shows, was adamant about keeping with the "sauciness and sexiness" that the famed TV producer is known for. And after watching all eight episodes, one right after another, I can tell you with certainty that there's no shortage of sauce in Bridgerton. With a wardrobe full of designer corsets and crotchless bloomers, how could there be?
Watch Bridgerton in full on Netflix, starting December 25.
Click HERE to get the BEST Discounts.

You can publish this article on your website as long as you provide a link back to this page.
You can publish this article on your website as long as you provide a link back to this page.