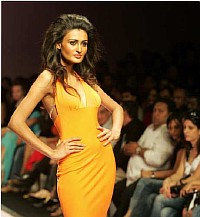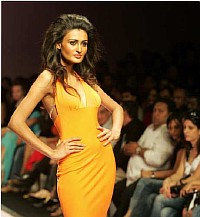 Colourama. That's the way to describe this festive season's hottest trend. The brighter the better, till your eyes pop out. It's celebration time and the season to don bright colours you've been hiding in your wardrobe.
This season the style to go is simple and blunt – traffic-stopping colours that make you turn around. And, it's fast catching up on clothes, shoes, bags, accessories and what-have-you!
Ace designer Nachiket Barve feels that pinks and purples are full-on this season. "I think it's good to keep it sombre, such as blacks and browns during winters. But, in the Indian market, there is always an in-between season where there is scope for bright colours. Besides, accessories are something where you can go from being experimental to crazy. So, add a dash of colour."
Jaya Ahuja, the other designer, tells us, "Yellow is all over this season. And you can choose from a variety of shades like mustard, lemon, sunflower, ochre. Play with shades of orange. Also, magenta which is a bright colour is really hot this season. The idea is to not match but contrast colours so that they come out bright and grab all the attention! This season we will find many fashion conscious flaunting the bright shades."
Sushmeet Ahuja, banker and an avid fashionista, is kicked with the new splash of colour in her wardrobe. She says, "Bright colours are definitely the style to follow this season. I love pink and I'm so glad it has come back in the brightest shade possible. Vivid colours, especially in accessories like bags and scarves, can add life to even the most mundane clothes."
And, what are the hottest colours on campus this season? Says Naina Surana, a second year student of a fashion and design academy, "Hot pink definitely. Yellow is back in a big way. Purple too, bright and electric. A lot of people are not comfortable wearing bright colours, so it's advisable to incorporate bright colours in their wardrobe in the form of bags or shoes. For example, a pair of purple peep-toe stilettos can look very hot and can be worn with anything! One has to look for lots of mix n match this season."
So ladies, it is official now: if you are going to be seen around a lot this season, be it working, partying or just soaking up some winter sun, grab that bright thing peeping out of your wardrobe and get set to dazzle the eyes!