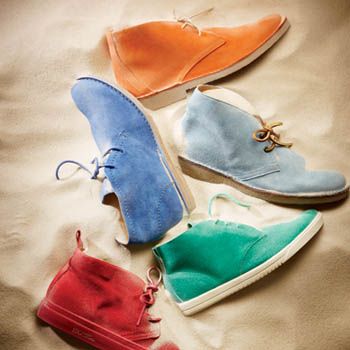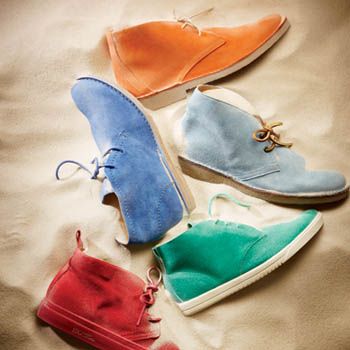 That time has long passed when fashion was considered merely a girly affair. Men have also developed a strong urge and impressed others with attractive looks and dressing. Although men can not match women for everything but there are few accessories where man can have as many options as women have.
With the change of season one thing comes into mind and that is to look out for new clothing. This article will discuss the best ways for men to buy a pair of shoe which look good on them. To make matters easy for all fashion conscious shoe admirers who wants to buy a right leather we have constituted a spring shoe guide for you.
Disappearing of thick dark clouds and sights of sunny and bright day brings itself a pleasant news of arrival of season of festivals, the spring. 2013 have seen a mixture of an old long forgotten and new trends for shoe fashion. Designers are very keen in reviving the old trends with the slightly new changes.
Lace Up Boots:
Many of us must have seen lace up shoes at least decade ago and guess what, 2013 is seeing them again on all major designer's shelves. These lace ups can leave a great impact on any woman with their hiking boots look. The beauty about these lace up shoes gives your impression as of having a adventurous personality and trust me most women falls for adventurous people. There is every likely chance that these lace up shoe will remain in for coming years, so it wont be a bad investment.
Spring Shoe Color trends:
Unlike past, when only few colors were associated with men. This spring brings variety of different colors and these shoe look good on eyes too. Wearing unconventional color shoes can give an impression of you being a charming person. Brands like
Gucci
have shelved shoes in different colors and you can find both formal and casual pair of these shoe.
Slim Contour:
Square toe, rubber soles lace ups were the shoe rather famous but that time has long gone. Now is a time to embrace yourself with slim contour and rounded pair of shoe. This is not only in but also look irresistible.
Black lace ups:
The one pair of shoe which will work on every dress and every occasion. The classical black lace ups can be worn on whatever you dress, be it jeans or suit. This is one pair of shoes which every man should have.
Ever lasting and Chunky:
Few of us always go for durability and often compromise for a style but lets get happy you can have both in one par of shoe. No doubt shoe gets lot of pounding and it need to be durable to last long.
Louis Vuitton's Anchor:
The famous Louis Vuitton has designed a must have shoe for the people who are obsessed with high class brand and formal pair of shoes. This pair of shoe is rather expensive being sold at price of US$ 830 but every bit to allure any fashion conscious soul. This pair comes in two colors and not a bad choice for people who can afford
Nike Lunar Eclipse +
People who are into running and walking , now have a chance to have their hands on one of these best available pair of trainers from Nike.This pair of shoe comes with a soft crash pad, stiff heel counter, and an internal wedge of foam all help slow the inward roll of an overpronating foot.
The best thing about a shoes is that it is largely free of overlays, instead using thick threads that connect the laces directly into the midsole. This shoe brings comfort ability with compromising on style and new trends.
Click HERE to read more from Fashion Central.