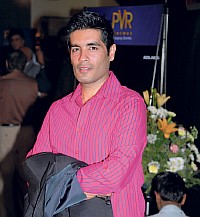 This article was last updated on April 16, 2022
Canada:

Oye! Times readers Get FREE $30 to spend on Amazon, Walmart…
USA:

Oye! Times readers Get FREE $30 to spend on Amazon, Walmart…

Bollywood ace designer Manish Malhotra has been shuttling between Mumbai and Chennai this week.
Wondering why? Well, he's been meeting director Shankar to discuss the costumes for Enthiran (Robot). Manish, who has a hectic schedule, says, "My association with Shankar began quite sometime back. In fact, I had also designed outfits for Sivaji."
The designer is full of praise for the director, who, he claims, is a down-to-earth person. "Shankar is a very easy person to get along with. However, at the same time, he is a thorough professional and demanding when it comes to work. I am also thrilled about the whole cast of Enthiran. Rajinikanth is very punctual. After a very long time, I am working with Aishwarya Rai. A few weeks ago, we were at Machu Picchu for shooting a sequence. We all had an amazing time there."
Ask him what's special about Enthiran and he replies diplomatically, "You will have to find that out for yourself when the movie releases or wait for Shankar to make an announcement."
His association with Chennai is also not new. "My brother has settled here and my designs are showcased at Evoluzione-Diffusion in the city. In fact, my career as a designer first flourished in Chennai. On several occasions, I have come here to discuss costumes with directors for various movies such as Hindustani (Indian), Nayak, and Yuva," says Manish.
He goes on to add, "I remember the time when I had to bring a set of costumes to Chennai for Sridevi and Chiranjeevi for the movie Jagadeka Veerudu Athiloka Sundari. Sridevi specifically wanted two black dresses for a song they were shooting."
Tell him the fashion scenario in Chennai has changed, and he adds, "For the better. There is no culture of extravaganza. People here don't want to show off their wealth. There is glitz and glamour, but then, it perfectly blends with tradition."
There have been continuous fashion weeks in the country. The release of Fashion has also pepped up people's interest in the glamour industry.
A concerned Manish says, "I think we are going overboard with fashion. I have participated in various fashion weeks across the globe, but I haven't heard of anyone hosting back-to-back fashion weeks. We just had two in Delhi and two in Mumbai. I am not saying that the other countries don't have so many; it's just that there needs to be a break after one show. Or else, it becomes an overdose of fashion."
And on Fashion, the movie, he says, "Kangana, Priyanka and Mugdha have done a fabulous job. I wouldn't say they have exactly portrayed the way this glamour industry works. There is an element of sensationalism to it."
Ask him how he handles rivalry in the industry and he's amused. "I get irritated at times and yell at people who don't take their work seriously. I love cinema and love to see the characters wearing what I design. But life is not smooth. I have to strive to last in the industry and I am not rolling in money —I have to pay my assistants even if my designs aren't a sell out. I don't know how an artiste gets along with another one and I am not bothered as well. As long as they get along well with me, I am fine working with them. I have no complaints whatsoever."
Finally, we ask him why Indian brands haven't been able to make a mark for themselves in the international market and he says, "Fashion is global. Various market leaders back brands like YSL and Gucci. My own label, Manish Malhotra, isn't backed by anyone. I do everything from designing to marketing for my brand. I think our brands need to have support to be catapulted into the international market."
You can publish this article on your website as long as you provide a link back to this page.