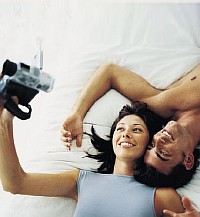 This article was last updated on June 18, 2022
Canada:

Oye! Times readers Get FREE $30 to spend on Amazon, Walmart…
USA:

Oye! Times readers Get FREE $30 to spend on Amazon, Walmart…

As soon as our mind has returned to work, responsibility, marriage and the pressures of life – the sizzle seems to be getting lost from a couple's between-the-sheets life.
If you have already tried the scented candles and sexy lingerie, then maybe it's time to think bold and dare to get sexually adventurous. It's time to rekindle the lost fire and bring back passion and excitement into your bedroom with a little bit of kinky thrills.
Mirror mirror on the wall, who's the best of all?
If you are considering kinky bedroom ideas, make use of some flashy mirrors in your nocturnal haven. Try fixing a large slab of mirrors onto your ceiling; as it can instantly transform your regular sex den into a pleasure playground. "I have wall to wall mirrors in my bed room. I got them installed so that my small bedroom gets some depth, but it gave me additional benefits as well. Seeing my partner's naked body and sexy moves reflected all around me adds to the sexual high. It not only made me get wilder with my girl, but also added to her confidence regarding her own body. It's the greatest sexual stimulant. Being a voyeur to your sexual session is gratifying," says Anuraag, 28, an IT professional from Bangalore.
Dr Rajan Bhonsle, HOD, Department of sexual medicine, KEM Hospital and GS Medical College, Mumbai explains, "Mirrors definitely add spice to the bedroom as you get to see yourself perform which is a big turn on by itself. One gets stimulated by this because of the voyeuristic attitude known as the "Peeping Tom syndrome."
Innocence Lost: Dr Rajan further suggests, "Breaking traditional sexual behavior is very arousing." "There's something extremely sexy about making out with a prim and proper schoolgirl. It just adds to the sexual role play when my girl dresses in a tiny skirt, with school shoes, carries a satchel and plaits her hair. Undressing her satisfies her inner urge of being raunchy with an older man, whereas as a man it makes me feel a sense of control and power. It's just raw sexual ecstasy," claims 32-year-old graphic designer Manjunath Kiran. "
I often don my micro mini school skirt and cook dinner and it surely surprises my lover when he comes home from work! It's the tastiest meal and we often end up making love in the kitchen. The thrill of having sex in a new destination such as the kitchen table along with the erotic costume is a heady combination. I just love teasing my man and screaming out in pleasure, 'Spank me Sir' as he pats me in all the right erogenous places with a wooden cane," declares 27-year-old media person Prabha Sinha.
 
Turn sex into a game: "I decided to formulate a sex game when our sex life was becoming very monotonous and needless to say my girlfriend really liked it as it was a big turn on for her," says Reuben 30, a copywriter. Grab a dice and write down a sexual act you fantasise for each number. Roll the die, and whatever number it lands on, make sure you perform that act. For example, get chocolate syrup or whipped cream and pretend that each number represents a body part you love licking the topping off. Such a naughty game can act as the perfect foreplay that will help you get the old engine running. "Playing sexual games with your partner helps you build up to achieve a great orgasm. These games help you relax and enjoy the act further," explains Dr Rajan.
Sex it up on the run : Turn the night into an erotic adventure. Give your mattress a rest, try having sex somewhere unexpected or where you're not 'supposed to'. "My boyfriend and I went for a house party on New Years Eve and at the strike of twelve we started making out. Shunning all our inner inhibitions, we ended up doing it inside our car in the parking bay of my friend's house. The fear of being caught in the act was a big turn on. The quickie was just what we needed to perk up our sexual appetite," shares Carol (name changed), 26, a dentist.
"Any kind of excitement leads to the body experiencing an adrenaline rush that makes the brain release hormones, which increase desire and passion. Though it is always better to experiment, but try not to cross limits and go out in public," suggests sex counsellor, Dr. Shivi Jaggi.
Oily affair: Have you tried laying a shower curtain over the bed or floor and covering your body in baby oil for some slippery, slidy sex? It might sound messy, but it's none the less extremely sensual. In many countries, couples have tried this and they have even coined a term for this – "Crisco parties". "Well I did try a little oil while taking a shower together with my wife and it was definitely very sensuous. Though we felt really dirty, it was animalistic, and we loved it. The oil was indeed a catalyst for achieving a great climax," admits Nicholas Gomez (name changed), 29, a BPO manager.
Van Gogh's master piece: Dr Rajan suggests, "Changing the setting helps in the same manner as taking a break from the regular chores helps one relax." Try the starry-starry night communion. Take rugs, lay them on your terrace, strip and enjoy the ecstatic feel of the entire universe standing testimony to your union. Just beware that there are no buildings on the same height, otherwise you maybe inflicted to dozens of peeping toms. Moreover, if you have children, ensure they are sleeping in a locked room so that they can't stumble upon you and your partner in the act. You can also try this on a beach, but make sure the country you are in is tolerant to such displays of love.
"We hadn't had sex for two months. One night, I just pulled my boyfriend out of bed and took him to the garden. There we made love on the dew laden, moist grass under the stars. We ensured that the foliage had covered us, so that no one could make out what we were up to. I remember my man covering my bare body with flowers and leaves and then removing them with his hands and teeth. It was mind-blowing," admits 24-year-old advertising executive Pia Nambiar.
Dr. Jaggi supports, "Taking of sex variations, a place can influence a couples' pleasure quotient. Any place outside the stereotypical bedroom will help couples keep alive their sexual fire. The reason why couples find hotel rooms more appealing than their bedrooms is because it's a new pleasure playground that takes their mind away from mundane domesticity and adds a zing of excitement. So, if they pay a little attention and experiment with the decor of certain places within their own homes, they can perform wonders in their sex life."
Shoot for your Oscar: Want to get kinky to the core? Tape your act, replay it and watch it with your partner. Just like watching yourself perform in the mirror gives you a kick, this would be no less a turn on. But make sure you don't go the Paris Hilton way, so make sure your faces are avoided. "I really wanted to see my husband performing with me on tape; it's such a big turn on seeing him doing it. His expressions make me go crazy," says Mona 28, a flight attendant.
"If the act offends either of the partners, the other must respect if he/she is not comfortable participating in the recording session. To record without permission is not acceptable," says sexologist Dr. Madhukar Banerjee.
You can publish this article on your website as long as you provide a link back to this page.