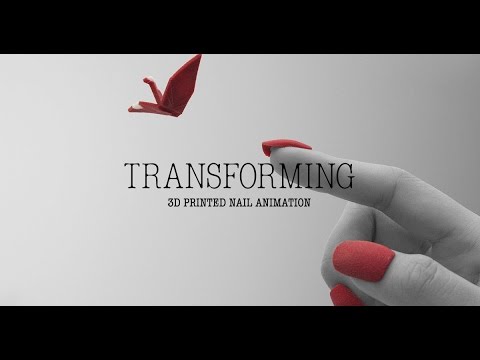 Ellen Freeman is a freelance writer whose work has been published on The Fashion Spot, the Matador Network, and the Philadelphia Live Arts Festival blog. Ellen's a Portland, Oregon native but is never in one place for long — she's currently exploring Japan, where she writes, teaches, and hoards vintage kimonos.
Japanese production company
Taiyo Kikaku
has seen the future of nail art — and if you want to stay on-trend, you're going to need a 3-D printer. In its mesmerizing video "Transforming," director Mizuki Kawano and producer Yuna Takayama go way beyond sponge gradation, water-marbling, or nail stamps to imagine futuristic manicures that come alive and metamorphose before your very eyes. The idea might seem far-fetched, but for nail art-obsessed Kawano, it was right at her fingertips.
"One night, I was looking at my nail art and started to have a dreamy thought of, 'What if this pattern on the nail moved freely, changing forms depending on the person's feeling and emotion?'" she explains.
Her mood-ring-for-nails concept was a perfect match for Tokyo-based nail artist Hatsuki Furutani, whom she and Takayama looped in to create the designs. Kawano was inspired by Furutani's nail designs, which she says are unique for their concepts, stories, and emotions. "I think our film needed that kind of impact and beauty, like scratching peoples' hearts in a way." The manicurist's work has been featured in Japanese commercials, TV shows, and fashion magazines, and she has lent her otherworldly creations to a nail-wrap collab with Tattify. Furutani studied oil painting in art school but eventually chose nail art because she loves the "unpredictable improvisation" involved, which she compares to a jazz session. She's no stranger to working in 3-D or incorporating futuristic elements, and her edgy and decadent style has included nails gushing with jelly-like blobs and tricked out with computer chips.
Kawano and Takayama wanted to experiment with this "prototype of future nail art," but rather than relying on CGI to easily generate the mutating manicure, they combined cutting-edge technology with lo-fi techniques to manifest Kawano's vision.
The team created a total of 521 artificial nails using a ProJet 660 Pro 3-D printer, and then attached the delicate-plaster nail tips one by one. Kawano agreed to pose as the hand model because the job required so much patience that she would have felt bad making anyone else sit for it. Finally, they filmed the video frame by frame using old-school stop-motion animation — a process that took six months.
Flying nails that change color at the snap of a finger may be the stuff of dreams. But in all three creators' minds, a future in which a 3-D printer is as common a manicurist's tool as an emery board or cuticle scissors isn't so far off.
"Maybe in 10 years, or in 20 years, every nail salon might use a 3-D printer to create their nail art," fantasizes Kawano. This doesn't mean that Furutani should fear for her art form. Transformative as the printed nails in "Transforming" are, the technology is still too expensive, she says, and hand-painting is still much more accurate and vivid than 3-D-printed nail art. But she does deeply connect with the idea of ephemerality that Kawano and Takayama explore in the video.
"I like nail art because it does not last for a long time, like other arts such as architecture or paintings," Kawano says. Her sensibility reflects the way that classic Japanese aesthetics permeate even the most innovative fashions. Like the fleeting beauty of cherry blossoms, the Zen Buddhist concept of impermanence is called mujo, and Kawano and Takayama reference this idea by grounding the project in a quote from the Japanese medieval text Essays in Idleness by Yoshida Kenkō:
"The world is beautiful because we are constantly transforming."
In order to express that message, the morphing nail art in "Transforming" features traditional Japanese designs that playfully flow and change from one to the next in a hypnotizing display of mutability. The motifs themselves, all traditional good-luck charms, even subtly reinforce the idea of transient beauty, like the origami crane (made of delicate paper that you can fold and re-fold into something new) and the koi fish (which symbolizes life changes, and also represents summer and the Japanese passion for all things seasonal).
And the Daruma doll, that fierce-looking little round guy who pops out of the nails and rolls around? He's said to help one achieve one's goals — in this case, nail goals.
Click HERE to read more from Refinery29