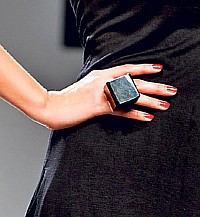 You can publish this article on your website as long as you provide a link back to this page.
This article was last updated on April 16, 2022

It came, we saw, we concurred: Kolkata is now officially a fashionable city. But rarely have we seen fashion weeks this 'grounded'. And that's not just because shortage of seats got guests sitting cross-legged on the floor when Bips walked the ramp in a Monapali stunner.
If the Mumbai or Delhi fashion weeks are a celebration of the well-heeled, this one was all about having enough heels jostling for space before each show. Because, we are like this only. Book Fair or Durga Puja, give us an occasion, and we rise to it. So, the queues outside the couple of food stalls at the venue waxed and waned from hour to hour, as those in line chirped away about showstoppers from B-Town – a concept that came to town only this summer.
The ramp, was of course, what the week was all about, with drapes, designs and their makers giving the city a visual treat it now has to get used to. Designers, who have showcased their fare at KFW, are eager to return with a bang. Manoviraj Khosla, however, has a suggestion, "I would love to take part. But I would like the venue changed to a more upmarket location, like a five-star hotel." But there were some designers who could not share their creative treats with the Kolkata audience. They too are keen to be a part of the fashion brigade in the second edition of KFW. "If the KFW makes good sense to my business plan, why wouldn't I be part of it?" asked Kiran Uttam Ghosh. That KFW has made an impact is evident from what designer Anamika Khanna has to say, "Unfortunately, I've not been able to follow much of the event as I was just back from my Mumbai show. But I would like to promote my city and KFW has been a strong event, no doubt." Ask her if she would like to part of the next KFW edition and she opines, "Honestly, I am not yet sure. It's too early to talk on the issue."
A few of the city's best might have not been part of this affair, but that wasn't a dampener when it came to visual treats. There was enough eye candy to last us through the next edition of KFW, with John Abraham and Mugdha Godse leading the pack. The front rows, however, didn't have enough star power to match, and most of Tollywood stayed away.
But the city stayed awake, alright. Because after the shows, came the afterparties. Strutting on stilettos and perfecting postures all day, it was time for the models to let their hair down. Designers exchanged notes and matched steps (we spotted Manoviraj Khosla and Rohit Bal do exactly that), while Page 3 regulars just did their thing and mingled with the crowd.
Teething problems aside, Kolkata's Fashion Week debut has taken the city one stylish step ahead on the fashion map.