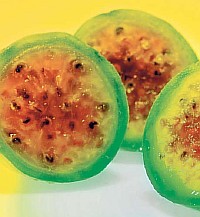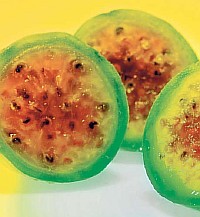 Native to the Mediterranean, fresh, beautifully ripe figs are best when eaten as they are. Many are not crazy about their squishy texture but some love it! They are great in simple dishes, sometimes raw and sometimes gently cooked.
1. Ripe figs are fragile and don't last long , so buy them when you need to use them! Whether used in sweet or savoury dishes, figs are great in many different ways…
2. Coarsely chop fresh figs, toss them with balsamic vinegar, salt and pepper.
3. Brush slices of French bread with olive oil, toast under a grill, and top with thin slices of cheese allowing it to melt a bit. Top each crostini with some of the chopped figs. Serve warm.
4. Toss salad greens with a honey vinaigrette dressing. Arrange the salad on plates, top with a few fig quarters, cubes of sautéed bacon, and some crumbled toasted walnuts, finished with shavings of Parmesan.
5. For an easy dessert, pass a platter of perfectly ripe fig halves, whole toasted salted almonds, olives and a variety of different cheeses.
6. Make a simple appetiser by wrapping halved figs in bacon slices secured with a toothpick. Grill till the bacon is a bit crisp, and the fig hot and serve.
7. Cut the figs about halfway up from the bottom. Place a piece of cheese and gently press them together. Brush the figs lightly with olive oil and grill just until they're hot.
8. Top some crisp toast with a little crumbled goat cheese and cover with sliced figs. Sprinkle with brown sugar, add a scattering of fennel seeds, and drizzle with olive oil. Bake until brown.