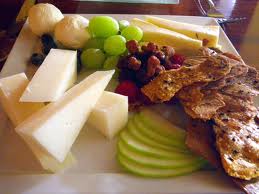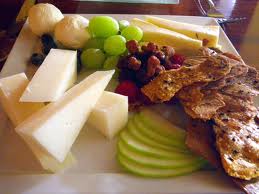 When I first visited Europe en français, I ran into a custom as foreign as anything I had grown up with. Who served cheese at the end of the meal? Cheese was part of the pre-meal snacks – the amuse-bouche as those French say – the stuff you lay out on trays at the cocktail party for people to fiddle with as they're drinking and talking. Nevertheless, while the majority of us North Americans may look askance at this odd custom from the continent, there does seem to be a group of in-the-know who have brightened up their culinary extravaganzas by introducing this European tradition before or after dessert or possibly in place of dessert.
Cheesemonger
Okay, now there's a word I don't run into every day: somebody who sells cheese. However the various articles advising on how to put together a "cheese course", recommend starting off with a good cheesemonger to assist you in putting together a plan. In Toronto, I have visited Kensington Market numerous times and there are a couple of good cheese shops where you can taste before you buy. This is a good idea as opposed to the buying the supermarket pre-wrapped cheeses so you get a better idea – a taste – of just what you're getting into. After all, you are going to have to pair the cheese up with something so you better know just what it tastes like.
I see that the advisors talk about putting together a "theme", choosing all cow or all goat or all sheep cheeses or as one suggests, go with a theme of variety: choosing a cheese from each category. Taste is obviously important but you have to keep an eye on presentation thinking of textural, flavour, and visual variety. When you lay out your plate of cheeses, you want everybody to notice it.
Presentation
Setting up your plate can be done in a variety of ways but mildest to strongest seems to be the norm. What you choose to accompany the cheeses can intensify and change the flavours. Think of things like toasted nuts, quince paste (membrillo), slices of pear or apple, dried fruits, wine jelly, Italian mostarda, fig cake, or date cake. Some suggest thinly-sliced onions are an excellent complement to blues or pungent double/triple cream cheeses like Taleggio or St. Andre. All of these extras can be served on the plate or on the side. While I prefer crackers, it is thought that bread is far more interesting for cheese. Plain, something with nuts and fruits, like a pecan-raisin loaf or cranberry-walnut bread, there are a wide variety of choices.
A drink to go with it
I follow the experts here: water is nice, but wine is finer. Your cheesemonger may be able to offer some advice here, but I see the main suggestion is to steer clear of syrupy dessert wines unless you have stronger cheeses.
Final Word
It's a European custom but it's a tradition which didn't seem to make its way to North America. Nevertheless, it's a tradition not without merit and something we can consider as an alternative to dessert or an addition before or after dessert. After all, if you've got good company and you're having a good conversation, a meal is something to extend and savour along with the food. Why rush a good thing? Let's just keep the good times rollin'!
References
About.Com: Pairing Dessert Wine With Cheese By Jennifer Meier
Dessert wines with varying levels sweetness pair really well with cheese. Serve these pairings at the end of the meal or with an evening of appetizers.
Google image search: cheese as a dessert course
[Look at some of these pictures to get some ideas on what you can do.]
Google search: cheese as a dessert course
[There is plenty of expert advice and how to instructions to be found on the Net.]
Click HERE to read more from William Belle
Article viewed at: Oye! Times at www.oyetimes.com