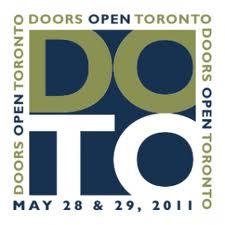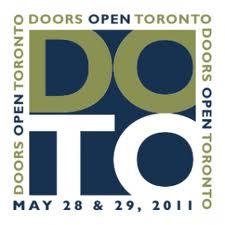 Man, do I love four day weeks. Now that Stevie is in power with a majority, do you think we could get him to make this law? Unfortunately, it looks like this weekend might not be the best for outdoor activities as
Environment Canada
is calling for a wet couple of days in Toronto. And why is that bad this weekend of all weekends? Read on.
Doors Open Toronto: May 28 & 29
This is it! Our opportunity to see Toronto's great and interesting architecture up close and personal. Check out Toronto's web site for details about this annual event. I've been out a few times and it's a great way to get in to see some buildings that normally may be off-limits to the public. Our city has a number of interesting places so why not check out what's in our own backyard?
The web site has a short video highlighting some of the buildings you may or may not be familiar with. Plus, there's a comprehensive list and a map of where they are. Be there or be square!
June: Gay Pride Month
Next month is Gay Pride Month which ends with Gay Pride week. The last Sunday in June is Gay Pride Day. There is a festival with numerous events running from Friday, June 24 to Sunday, July 3 culminating with the Annual Gay Pride Parade on July 3rd at 2pm.
Woofstock: June 11 & 12: St. Lawrence Market
North America's largest outdoor festival for dogs? Really? More info here. Bring your beloved canine to Woofstock, North America's largest outdoor festival for dogs and their two-legged companions. More than 250,000 dogs and their owners will gather for an exciting FREE weekend block party entirely dedicated to man's best friend, June 11 and 12 in the St. Lawrence Market neighbourhood.
Lottery Stuff
As I previously reported, Mr. David Rennie of Campbell River, British Columbia was the sole winning ticket for last Friday's Lotto Max clocking in at an unbelievable thirty-five million, seven hundred and thirty-eight thousand, seven hundred and ninety-eight dollars. One ticket. No sharing. All for him. I can't wait to experience such a feeling first hand.
Click here to see a video report from CHEK-TV a local station on the island telling the story with an interview with Dave Rennie and his family. As Dave says, "It's surreal."
For Ontario, the WCLC is saying that Wednesday's winning 6/49 ticket was purchased in Ontario. Hey, that's a cool $3,144,631.80. Where does the eighty cents come from?
Lotto Max update: $10 million split 2 ways in Ontario
Yes, friends this could be my lucky day. Maybe your lucky day but please, me first. According to the Western Canada Lottery Corporation, the ten million dollar grand prize of Friday's Lotto Max was split between two winning tickets both purchased in Ontario. I have stars in my eyes. And imagine, we still have tonight's Lotto 6/49 with $3.5 million.
Check out
Cinema Clock
for all the latest films. If you're not going downtown for Open Doors, you can always make a night of it at the movies.
Kung Fu Panda 2
rated 78% at Rotten Tomatoes.
Hangover Part II
came in with 35% so don't waste your money. Personally, I'm inclined to go for
Potiche
, a French film with subtitles; 83% is a pretty good rating. Seems like an artsy thing to do.
6/49: Sat, May 28, 2011: $3,500,000
Lotto 6/49: One chance in 13,983,816
Lotto Max: Fri Jun 3: $10 million (No MaxMillions)
Lotto Max: One chance in 28,633,528
All the latest winning numbers
You can visit the Lotto web site and check out all the latest winning numbers including Poker, 49, Lottario, Keno, Pick 4, Pick 3 and Payday. Of course, all the Encore numbers can be found there as well.
See you all around on the pages of Oye! Times.
References
Wikipedia: Gay and Lesbian Pride Month
Gay and Lesbian Pride Month is celebrated each year for the month of June. The last Sunday in June is celebrated as Gay Pride Day.
Wikipedia: Pride Week (Toronto)
Pride Week is a ten-day event held in Toronto, Canada, during the end of June each year. It is a celebration of the diversity of the LGBT community in the Greater Toronto Area. It is one of the largest organized gay pride festivals in the world, featuring several stages with live performers and DJs, several licensed venues, a large Dyke March, and the Pride Parade. The centre of Pride Week is the city's Church and Wellesley village, and both the Dyke March and the main Pride Parade are primarily routed along the nearby Yonge Street, Gerrard Street and Bloor Street.
Pride Toronto's 2011 festival will showcase a month of events, both official Pride events as well as Affiliate Events run by our partners in Pride. Our festival week begins on Friday, June 24th and continues through to Sunday July 3rd 2011.
Click HERE to read more from William Belle
Article viewed at: Oye! Times at www.oyetimes.com