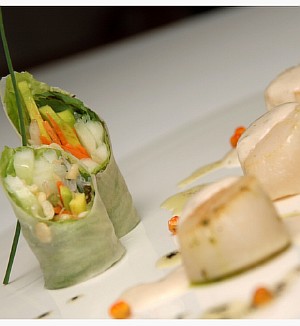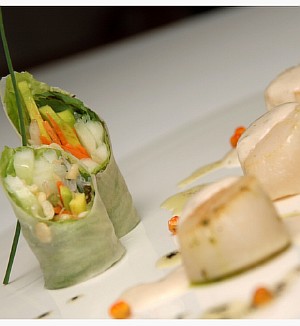 Here's how to make the sumptuous Pan Seared Harbour Bay Scallops. Begin by making Avocado rice paper rolls, vanilla scent and caramel jus and then setting them together to complete your preparation:
(Serves 5 appetiser portions)
Ingredients:
Scallops – 15 nos
Butter- 1 tsp
Clarified butter – 1 tblsp
Refined flour – 1 tsp
Salt and Pepper to taste
Vanilla pod – 01 nos
Method: Dab the scallops dry with an absorbant paper, season and lightly coat with refined flour.
Combine the butters and heat in a non stick pan along with the vanilla pod.
Pan fry the scallops in butter on both sides until they are golden brown and cooked. Keep aside for service. Retain the vanilla bean.
Avocado Rice Paper Roll:
Rice paper – 5 nos
Wild rocket -10 sprigs
Avocado batons – 250gms
Crushed peanuts -1tsp
Bean shoots – 40gms
Blanched glass noodles – 30gms
Shredded carrots- 40gms
Shredded cucumber – 40gms
Method
Moisten the rice paper in luke warm salted water.
Dab dry with a paper towel and roll in the avocado with wild rocket, peanuts, bean shoots, glass noodles, carrots and cucumber.
Keep covered in a damp cloth.
To retain the avocado from discolouring, during the process of cutting, brush with olive oil.
Caramel jus:
Chopped shallots – 60 gms
Black pepper corn – 5 nos
White wine – 100 ml
Fresh cream – 200 ml
Sugar -15 gms
Hard butter – 60 gms
Chopped parsley – ½ tsp
Salmon roe -1 tsp
Method:
Combine the shallots, the black pepper corn and the white wine and leave it to simmer until the wine is reduced.
Slit open the vanilla beans and press with the blade of the knife to get the pods out.
Pour in the fresh cream along with the vanilla pods and reduce to nearly half the volume. Strain, keep warm and set aside.
In another pan, add the sugar mixed with a little water and heat to make caramel. Once the caramel is ready, pour in the cream and simmer for a few seconds. Remove from heat and whisk in the hard butter gradually. Check for seasoning, add the chopped parsley and keep warm for service.
Balsamic oil:
Balsamic vinegar- 10 ml
Olive oil -15 ml
Method
Beat the oil and the vinegar to get with a spoon to get an uneven emulsion and retain for later use
For assembly, cut the avocado roll into two and place in the center of the plate, arrange three scallops per portion around the avocado roll and alternately drizzle the caramel jus and the balsamic oil. Garnish with vanilla bean and sprinkle the salmon roe.