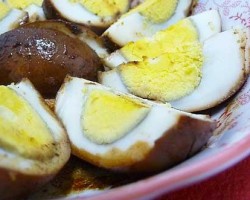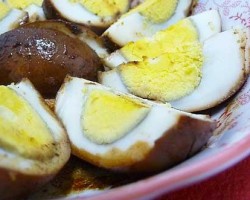 Tea Eggs
Serve 4
Ingredients:
4 hard-boiled eggs
1 tbsp tea or 2 tea bags.
1tbsp. soy sauce
1 whole star anise
1 tsp. salt
Directions:
1. Craze the shells of the hard-boiled eggs by tapping them gently with a spoon.
2. Put 2 cups of water in a saucepan with the other ingredients and bring to the boil.
3. Put in the eggs and simmer gently for 30 minutes.
4. Remove the shells, cut into quarters and serve hot as a main dish.