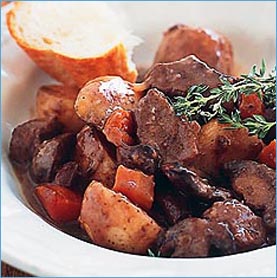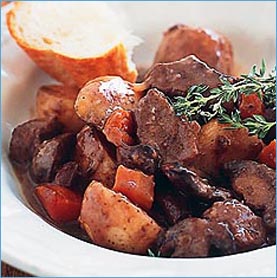 Beef and Pork Meatballs
Serves 4
Ingredients:
3/4 lb. ground beef
1/4 lb. ground pork
1/4 tsp. ground ginger
1/4 tsp. salt
1 tbsp. sugar
1 tbsp. Worcestershire sauce
2 tbsp. Soy Sauce
2 tbsp. corn oil
4 sticks celery, chopped
1 1/2 c. bouillon
1 med. onion, chopped
2 1/2 tbsp. cornstarch
1/4 c. water
2 tomatoes; cut in wedges
Directions:
Mix beef, pork, ginger, salt, sugar, Worcestershire and soy sauce. Shape into flat patties using 1 tbsp. of mixture for each.
Brown patties in hot oil in wok; push to one side.
Add celery and onion, cook slowly for 5 minutes.
Add bouillon. Cover; cook 5 minutes.
Mix cornstarch, water and 1 tbsp. of soy sauce. Stir into wok. Cook, stirring constantly until sauce is thickened. Add tomatoes, cook until heated. Serve over Chow Mein Noodles or rice.