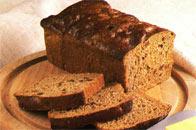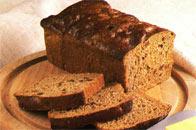 Black Treacle Loaf
Ingredients:
1/4 cup black treacle
1/4 cup firmly packed brown sugar
1 egg
4 tablespoons butter
1/4 cup milk
1 1/4 cup flour
1/2 cup raisins, chopped
1 teaspoon baking soda
1/2 teaspoon ground cinnamon
1/2 teaspoon ground nutmeg
1/2 teaspoon ground cloves
1/2 teaspoon ground ginger
Directions:
1• Preheat oven to 350 degress. In a medium bowl, cream black treacle, brown sugar, and egg.
2• In a small sauce pan melt together butter and milk. Cool and stir into treacle mixture.
3• In a small bowl, combine flour, raisins, baking soda, and spices. Stir, all at once, into the treacle mixture, until just smooth.
4•Butter a small loaf pan (approximately 2 1/2 x 4-inch). Pour bread batter into loaf pan and bake in pre-heated oven for 30-35 minutes, until top is dry.