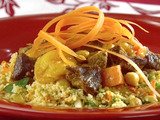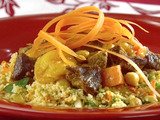 Braised Lamb Stew on Rice
Ingredients:
2 lbs. cubed lamb stew meat
¼ cup olive oil
2 cloves garlic, minced
2 tsp. dried rosemary or 1 Tblsp. fresh
1 tsp. salt
½ tsp. freshly ground black pepper
1 Tblsp. flour
1/3 cup red wine vinegar
1 cup chicken stock
4 anchovy filets, rinsed, dried and finely minced
Directions:
1• Preheat oven to 500 degrees and prepare the lamb stew meat. Using a 12" skillet add the olive oil and brown the stew meat well in batches that avoid crowding.
2• With slotted spoon place the browned meat in a 2 qt. casserole, with lid for later. Set the sauté pan aside.
3• Add ingredients – garlic, rosemary, salt, pepper and flour – to meat, and toss well.
4• First cook. Place the uncovered casserole in pre-heated 500 degree oven for 10 minutes until beginning to get crusty. Remove from oven and lower oven heat to 350 degrees.
5• Deglaze sauté pan. Pour any extra oil out of sauté pan and put on stove at medium high and deglaze with vinegar, scraping up any brown bits. Add 1 cup of the chicken stock and anchovies. Bring to a simmer and stir until anchovies melt. This should take about 2 to 3 minutes.
6• Finish casserole. Pour the contents of the de-glazed sauté pan into the casserole. The meat should be partially submerged but not covered with the liquid. Add more chicken stock if necessary. Cover the casserole tightly and braise in the 350 degree pre-heated oven for 1Serve this dish over plain white rice which will capture the juices nicely. If you prefer, you can serve over angel hair or linguine pasta, though rice is our choice. For you anchovy haters, please do not eliminate the anchovy secret from this recipe. You have to trust us on this one! This recipe can be doubled easily. hour 15 minutes or until fork tender.