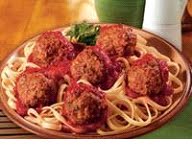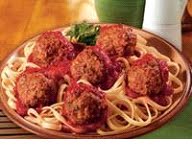 Old Fashioned Meatballs
Ingredients:
• 1lb. ground beef / veal / pork blend
• 2 eggs
• 1/4 cup milk
• 1/2 cup plain bread crumbs
• 1/2 cup grated Parmigiano or Romano Cheese
Directions:
1• Preheat oven to 350 degrees F.
2• Mix all ingredients in a large bowl.
3• Form meat into meatballs.
4• Place on a baking sheet and bake for 20 minutes.
5• Use with your favorite tomato sauce or in sandwiches.
You can also add the raw meatballs to your tomato sauce as it's cooking.
If you like your meatballs soft add an egg.