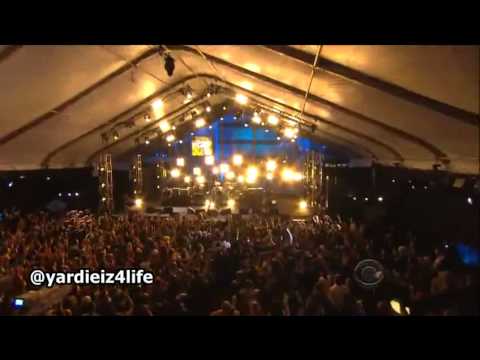 Off Grammy performance of Walk shows band firmly in control of rock and roll and two of their 4 Grammy wins
http://www.youtube.com/watch?v=kH93w9vyzTM
Nothing beats a good, head-banging, rock and roll rave up. Wasting Light won Best Rock Performance and Best Rock Song at the 2012 Grammys.
Dave Grohl and the Foo Fighters are the epitome of rock and roll in their Tent performance of
Walk
outside the 54th Grammy Awards. Sure it's melodic and tuneful but heck it's just straight out rock and roll at full tilt. Dave and the band rock out and the crowd goes wild.
"A million miles away
Your signal in the distance
To whom it may concern
I think I lost my way
Getting good at starting over
Every time that I return
I'm learning to walk again
I believe I've waited long enough
Where do I begin?"
I'm learning to walk again" (lyrics copyright Dave Grohl and Foo Fighters)
The official rock video for
Walk
won Best Rock Video in 2011. Dave expresses his anger and alienation at being stuck in traffic by leaving his old Chevy junker in the traffic and walking away.
http://www.youtube.com/watch?v=4PkcfQtibmU
It's a great video but can't match the raw energy of the band rocking out in front of the crowd. In the video Dave gets even with murderous and ironic results.
As an alt-rock band, Dave Grohl and the Foo Fighters have covered a lot of bases.

In 2006, Grohl joined Bob Dylan on the
Never Ending Tour
. The band played acoustic, which followed the half acoustic 2-cd album
In Your Honor

(2005).

Where to buy

There is something seriously missing in the logic that you can't buy the Grammy Awards video performance of Walk or any other song. There is a CD but it doesn't have the actual performances. In many cases like the Foo Fighters, those live performances were awesome. Lost forever except for YouTube and your PVR.