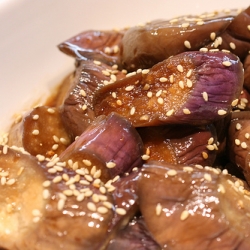 You can publish this article on your website as long as you provide a link back to this page.
This article was last updated on April 16, 2022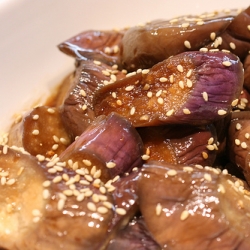 Chilled Eggplant
Ingredients:
1 lb eggplants (about 5)
1 tbsp soy sauce
1 tbsp sesame oil
1 tbsp sugar
1 tsp salt
½ tsp ground ginger root or prepared ground ginger
¼ tsp MSG
Directions:
Remove stems from eggplants and place eggplants in cold water to prevent discoloration.
Steam whole eggplants until tender (15 or 20 minutes)
Tear each eggplants lengthwise from top to bottom into quarters. (it is easier to tear than to cut, and tearing prevents smashing)
Mix all remaining ingredients to make sauce. Pour sauce over eggplants and chill before serving.