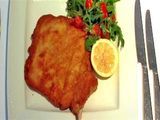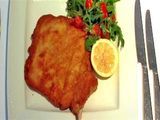 Milanese Veal (breaded)
Ingredients:
8 large veal cutlets (milk fed veal for tenderness)
salt and pepper
2 eggs
1 cup dried bread crumbs
4 tablespoons grated romano cheese
3 tablespoons butter
2 tablespoons olive oil
1 whole lemon cut in wedges
Directions:
1• Pound veal (already portioned by butcher) with a meat mallet until an even thickness has been achieved.
2• Beat eggs add salt, pepper and pour in a dish.
3• Dip each chop in the batter, coating it on both sides. Shake off the excess batter.
4• Coat the veal in the bread crumb mix. Pressing each side firmly into the crumbs.
5• Heat the butter and oil in a large frying pan and heat. Add the the veal and fry gently for 3 minutes on each side or until the bread crumbs are deep golden.
Serve immediately with the lemon wedges.
Preparation Time: 10 minutes
Cooking Time: 10 minutes
Makes 4 servings